Central Ohio Regional Page
Part of The Ohio Regional Road Pages
Central Ohio is Sandor Gulyas' current home area.
---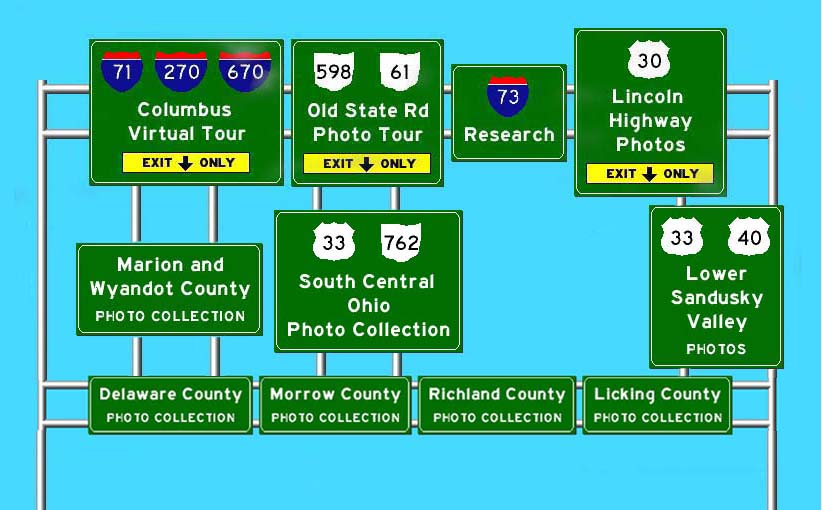 If site map above does not work, use the list of links below
The Columbus Virtual Roadtrip
Lower Sandusky Valley
Marion and Wyandot Counties
Delaware County
Licking County
Morrow County
Richland County
Old State Road
Lincoln Highway
Interstate 73 in Ohio
Pickaway and Fairfield Counties
---
Central Ohio related road links
Ohio Maps & Freeway Proposals - Maps of various proposed freeway systems in Ohio from the Mid 20th Century
ODOT district 6 (West Central Ohio)
ODOT district 5 (East Central Ohio)
ODOT district 3 (Far North Central Ohio)
Central Ohio Regional Planning Agency - Columbus (MORPC)
Richland County (and Mansfield) Regional Planning Agency
Licking County (and Newark) Area Transportation Study
US 33 org - U.S. Route 33 Access Management Study from near Groveport to north end of the "Lancaster Bypass."
"Lancaster Bypass" Construction site - ODOT page covering the construction of a new route for US 33 around Lancaster
I-71.org Home Page - Construction project on Interstate 71 from Columbus to Cleveland
David Smith's Columbus Roads - Local Lingo, Lane Diagrams for the local freeways, Photos, and more about "C-bus."
National Road - A Photo Essay by Adam Prince
2003 Delaware Trip notes by Eric Stuve
U.S. 22 - The William Penn Highway by the Federal Highway Administration
---
Double Gantry Exit Sign collection artwork created with Signmaker by Kurumi.
This site created Friday, April 2, 1999/Moved to roadfan.com April 14, 2001/Central Ohio Roads named August 29, 2001/Remade as Central Ohio Regional page on December 1, 2002/Last revised July 6, 2006
Questions and comments can be sent to Sandor Gulyas
Return to The Ohio Regional Road Pages