Ohio Maps and Highway Proposals
---
The following are maps that I've found at the the State Library (of Ohio) in Columbus. All of them are copies from the Ohio Department of Highways (ODH), Ohio Department of Transportation (ODOT), or The Ohio Turnpike Commission (OTC) documents. I apologize if the quality on any of these aren't the greatest, Most of the material here could not leave the State Library, so I had to xerox the material first then scan then in.
On this page, You click on any of the smaller maps to see their larger copy.
1810 Map

This is a replica of an early map of Ohio's trails, paths, and traces. Some of the routes on this map have lasted all the way to the 21st Century.
This map from a 1946 document entitled, "Needed Improvements on the State Highway System," by the Ohio Dept. of Highways
1912 Map

This is a replica of the "First" road map produced by the State of Ohio (they even printed the name of the legislative bill that allowed the printing to occur on the map). This replica was from one of Ohio's promotional pamphlets concerning highways in 1967. (The title was Ohio Highway Needs for Tomorrow's growth.
You can get a better copy of this map Here (but you need special hardware and alot of time and hard drive space to see it)
1926 Map
This map shows a portion of Northeast Ohio. Notice how US 22 was to be routed over US 422 and US 121 was to follow Ohio 14. Neither of these routings actually existed.

1946 Map

While we here at Roadfan have collected the national plans from the Interregional Highways Book, none of us had come across any regional, state, or local maps showing any details for this proposal. Finally, Sandor found the proposed routes for the Interregional System in Ohio. It should look quite familiar to all of us familiar with Ohio's highways (sans the Interstate designations).
From the Invertory of Needed Improvements on the State Highway System, Dec. 1946 (By ODH)
1954 Turnpike Map

This is the map of the proposed Ohio Turnpike commission project #2. This would of built a toll road from Cincinnati to west and then north of Columbus to south and east of Cleveland on up to Conneaut, along with a spur from going from NW of Columbus on north to Toledo. Both routings never came to fruition due to 1956 Interstate Highway act, but the SW to NE route followed a route similar to one on the 1946 map and that of present day I-71, 271, and 90.
1961 Maps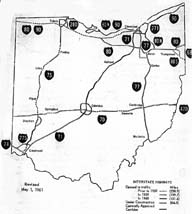 I guess you can call the map on the left, Interstate plan version 2. It shows the recently extended/added I-77 from Canton south. It still has I-80 following the Oh 18 corridor from Youngstown to Norwalk. It also shows an alternate(?) route for I-77 west of Akron along US 21. It also has I-80 N following Oh 43/14 to I-271. Rand McNally (see below) used this version for it's 1962 map of Ohio
The map on the right shows national interstates, state interstates, and arterials. Some of the state interstates would, in the next year or two, become national interstates (look between Cleveland -Akron and Cincinnati)
Both maps from Ohioways by the ODH, published in Feburary, 1961
1962 Map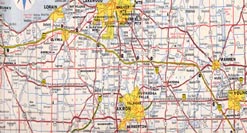 When you look at the map, I-80 was to continue westward through Akron, then parallel Ohio 18 to Norwalk where it would presumedly turn northward to join the Ohio Turnpike. I-80N was to branch from I-80 southeast of Ravenna, following the Ohio 14 corridor to today's I-271, then following current I-271 North, I-480 West, the cancelled Bedford Freeway northward, cancelled I-290/Clark Freeway westward onto today's I-490, then I-90 West to and onto the Ohio Turnpike, ending where I-80 was to join the Turnpike between Norwalk and Sandusky.
Later, the southern routing of I-80 became a continuation of I-80S from Pennsylvania which ultimately followed an upgrade of the already mostly-extant relocated US 224 to I-71, (although it was briefly proposed to run on a new alignment north of US 224 near Wadsworth). I-80S became today's I-76 in 1972 (see below). I-80N became I-80 and was rerouted to follow the Turnpike from I-80S to today's I-480, then along the length of I-480 and back to the Turnpike. Today I-80 follows the Turnpike from Youngstown on west through Ohio.
Also see Cleveland Maps for more details on this.
1962 Maps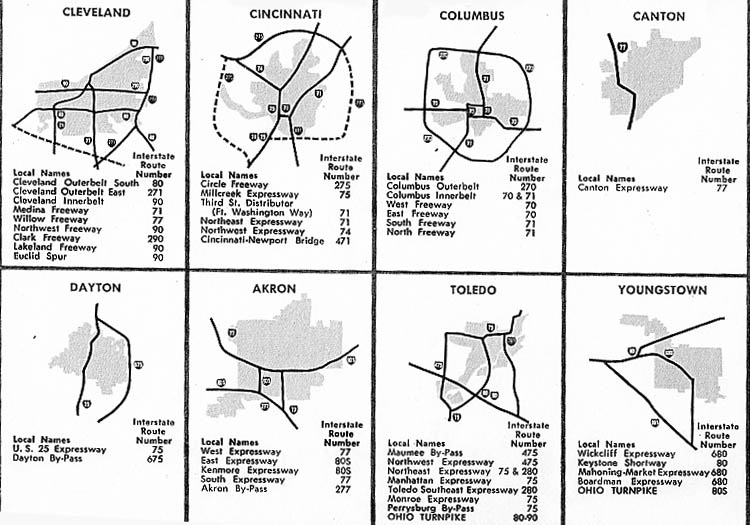 Have you ever wondered what the name of that interstate through your town was? This map/diagram came from a 1962 pamphlet about the interstate system in Ohio. The naming ranges from bland directions to destination names or names of streets being replaced by the freeway. In some cases, names are missing (the Columbus innerbelt had 4 names, one for each section).
From 1956-1972 Interstates, by ODH - 1962
1965 - 67 - 74 Maps
All three versions show similar proposals. Each shows the core Interstates (which hasn't changed after all these years), Ohio freeways, and major arterials. Some of the Ohio freeways on this map have come to fruition, several are still on state planning books today, and others have faded into oblivion. The version on the far left show all the current highways and propsals. The middle map shows the propsals only (but lacks identification). The version on the far right shows new highway proposals (but only shows difference between interstates, "state routes," and Appalachian Corridors (it was originally in color).
There are differences in the proposals from map to map, but the majority of the routes stay the same.
Left map - Map of proposed Major Highway System and Guidelines for Interchange Development (ODH)
Middle Map - Ohio Highway Needs for Tomorrow's Growth (ODH pamphlet)
Right Map - Focus on Highways. (ODOT)
Urbana-Bellfontaine-Marysville Plans
These maps date back to 1969 and these counties were refered to as the Lower Sandusky (River) Region. Planners suggested, in their report that much of this region highways would need to be expanded to freeway standards by 1990 (so far that has happened for only one route). "They" proposed making US 33 and 68 entirely freeways, Oh 4 from Marysville on south, and US 36 from Marysville on east (to Delaware?). Also proposed were beltways around Urbana, Bellfontaine, and Marysville. To date, only US 33 has been widen through here, however there are constant rumbles that the US 68 freeway will be extend from Springfield on north to Urbana and eventually to US 33 and Bellfontaine.
From the Logan-Union-Champaign Regional Plan, 1969
---
Bonus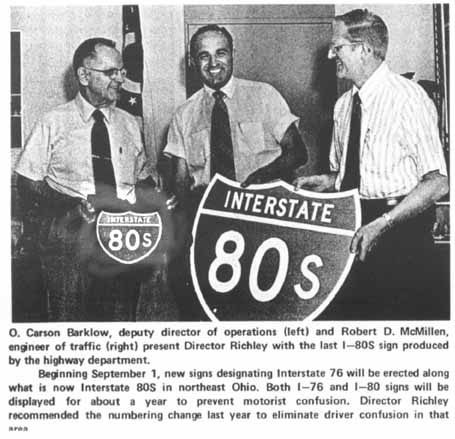 This comes from the Ohio Department of Transportation's own newsletter in 1972. The caption under the photo says it all.
For me, this is the closest I've come to seeing an I-80S shield. [See also this page by the Federal Highway Administration - MGF]
---
Links
Other Ohio Highway Maps & Plans on Roadfan - Cleveland Maps | Columbus Maps | SW Ohio Maps | I-73 proposed route
"Original" National Freeway Plans (Interregional Highways & "Yellow Book" Scans)
ODOT Offical State Maps (from 1912 to the present)
ODOT Division of Planning and STIP (Statewide Transportation Improvement Program) Collection Page
Sherman Cahal's Ohio Map Scans
---
Page created on January 22, 2003/Last updated on December 7, 2003/Minor revision June 24, 2005
Questions and comments can be directed to Sandor Gulyas or Marc Fannin
Return to the Ohio Regional Pages zoo porn beastiality sex incest porn domains catalogue Crack, keygen, serials