Maps and Plans of SW Ohio
Featuring Cincinnati and Dayton
---
The "Yellow Book" Map
I-275 was kept to just a northern bypass between I-74 and I-71. There was also to have been a southern river freeway between current I-71/75 and I-471 in Kentucky. This maps also shows I-71 too close to the Ohio River before reaching present day I-471. This map was produced in 1947
For more about the "Yellow Book" of Interstate plans, go here
Source for this map: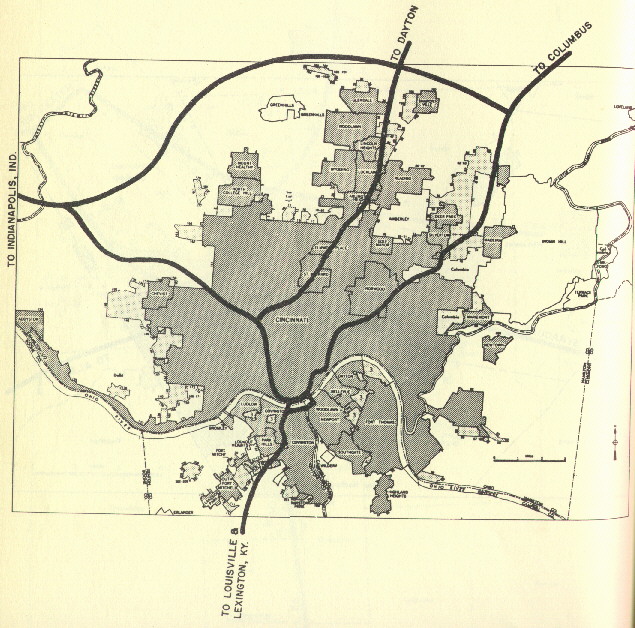 1957 Interstate Proposal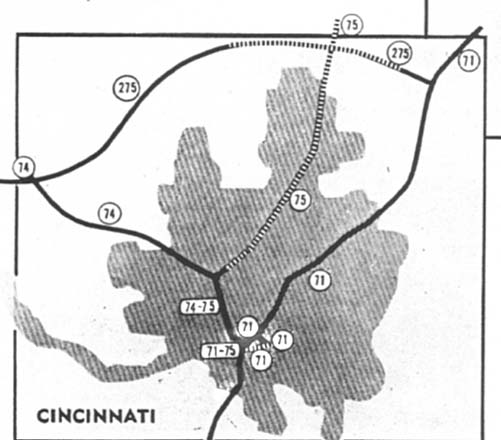 Sort of putting numbers to the routes on the Yellow Book map above.
Two items of note, I-74 was originally co-signed with I-75 to I-71, and what is with the double I-71 in the middle of the map (There is a black line and beneith it a cross-hatched line, both with I-71 designations)?
From the 1957-8, Ohio Highways Biennial Report (Ohio Dept. of Highways)
Rand McNally map of Cincinnati (1962)
1962 was a watershed year for Rand McNally. In that it was the first year they started showing the Interstates. For Cincinnati, I-275 was still just a northern by-pass between I-74 and I-71. At this time, a by-pass US 50 still existed in Northern Cincinnati and Oh 32 was still Oh 74 (renamed due to Ohio disalowing multiple occurances of the same route number). There was also an Ohio 4W (following Spring Grove and Colrain Aves along I-75).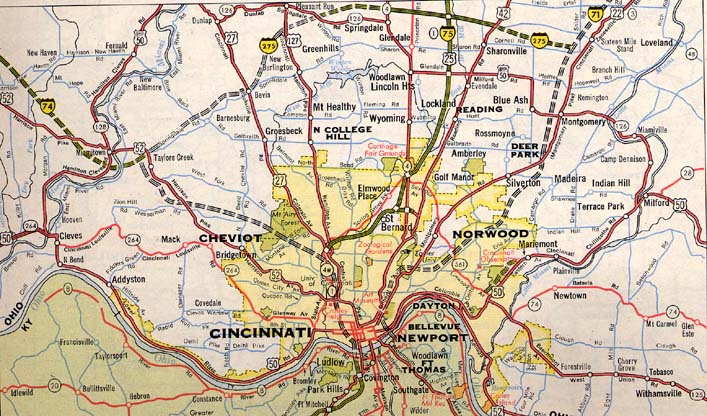 Early 60s map of proposed freeways in and around Dayton.
You can see their creativity when it came to naming the roads there. It has only been since the early 1990s that the western US 35 expressway was completed. I do not believe anything came of the Wolf Creek Expressway proposal
I-675 Proposals
The two original proposals for I-675 were half loops going either to the east or west of Dayton (and connecting to I-75 both times). The powers-to-be decided to go with the eastern routing, however that path got changed several times before I-675 was finally completed in 1987.
Also see Brian Polidaro's page with more about I-675.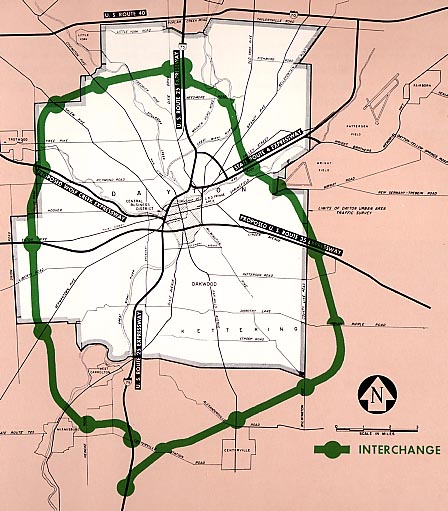 Source for both of the Dayton maps
Also see Roadmaps of Ohio
---
Page created on January 17, 2003/Last updated on January 23, 2003
Questions and comments can be sent to Sandor Gulyas
Return to SW Ohio Roads