Historic Cleveland Maps
---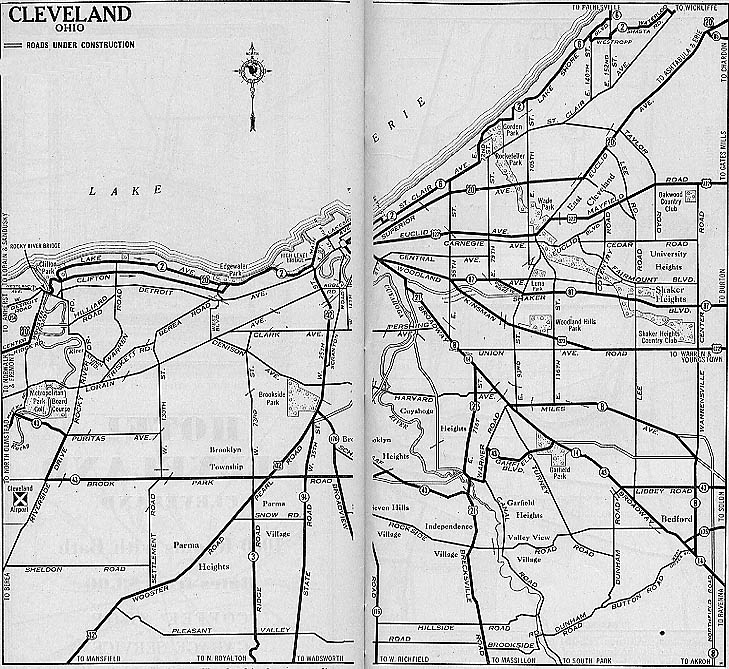 This map of Cleveland dates to 1931 (thus don't go looking for US 6 on this one). There are plenty of other route changes on this map from what we think of Cleveland today as well. (Publisher unknown)
1944: Go to The 1944 Cleveland freeway plan page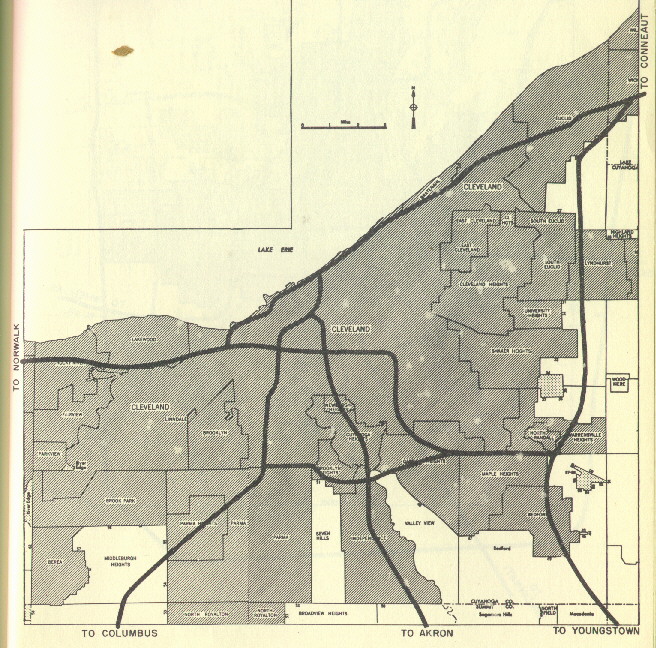 The "Yellow Book" map of proposed freeways in Cleveland. From General location of national system of interstate highways, including all additional routes at urban areas designated in September, 1955 by the United States Bureau of Public Roads, Washington (source here)
Here is a map of the whole country, plus other cities, from that book.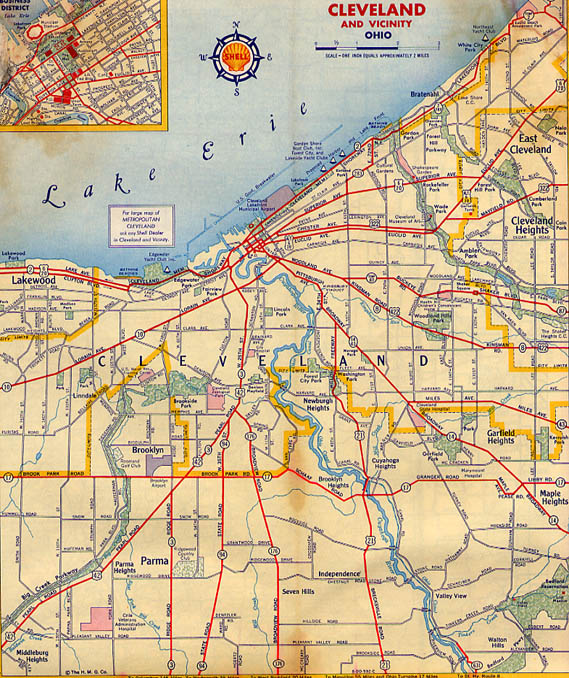 This map of Cleveland dates to 1956, just on the eve of the Interstate era. In fact only two freeways/expressways are partially built (Willow Freeway (US 21) between Oh 17 and Oh 14 and the Shoreway (Oh 2) from Edgewater Park on the west to Gordon Park on the east. There are also Temp routings for Oh 87, between Woodland Ave and Shaker Blvd, and Oh 2 near Euclid Beach Amusement Park (Shell Map, Gousha publisher?)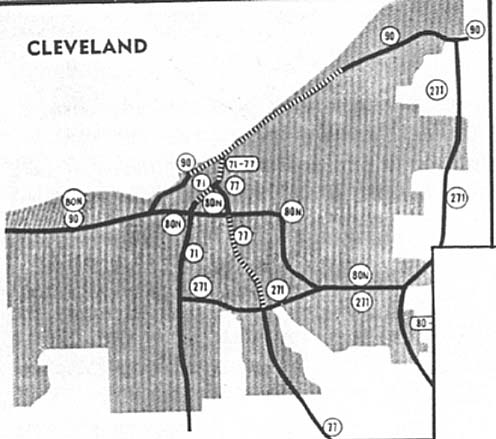 This map comes from 1958. It just shows all the interstate designations proposed for the Cleveland area. Of note, I-71 AND I-77 were to be joined the last couple miles of the innerbelt and end at Deadman's Curve junction of I-90. I don't know what the dash after 80 on the far left of the map is attached to (North?)
From the 1957-8 Ohio Department of Highways Biennial Report
An alternate plan showed I-177 - see this page.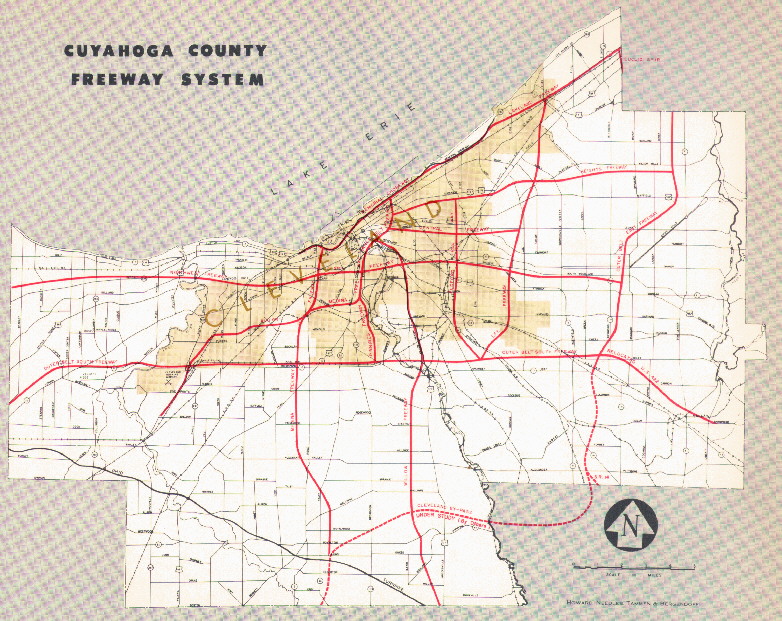 Proposed location of freeways and expressways in Cleveland. From Expressways: limited access highways by Howard, Needles, Tammen & Bergendoff; Kansas City [Mo., 1962] (source here) See also this page for a semi-detailed history of the proposed-but-not-built highways shown above; see also this Cleveland Plain Dealer article (7/6/04).
This assignment goes into detail about the Central Avenue Freeway/Chester Avenue Parkway controversy of the 1940s.
This page goes into detail about the fates of the Clark, Lee, and Heights Freeways, and includes some maps.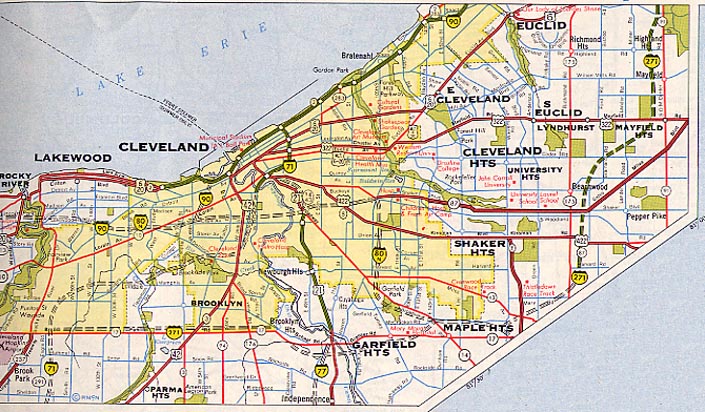 This is from the 1962 Rand McNally Road Atlas. This shows a closer view of the proposed I-80N routing through Cleveland. It also shows I-90 following a portion of a cancelled freeway between its present route and the Cleveland Memorial Shoreway West east of West 65th Street, making the Innerbelt Freeway I-71 (explaining why traffic reporters usually refer to the Innerbelt as I-71 and not I-90 to this day). Lastly, notice that I-271 turns westward onto today's I-480 to end at I-71 near Cleveland Hopkins (International) Airport.
Also see the Jennings Freeway page as well as the Statewide plans on the Ohio Maps page
---
Links
Commercial Survey Company -- Cleveland map maker that publishes exemplary atlases for all of Northeast Ohio. Atlases cover one or two counties. Publications by other companies are also available through CSC.
Cleveland Digital Library: Cleveland Cartography - "Information about historical and contemporary maps and map-related happenings in and about Cleveland and the Western Reserve region of northeastern Ohio" (in other words most of Northeast Ohio)
---
Page created on December 26, 2002/Last updated on March 3, 2005
Questions and comments can be directed to Sandor Gulyas or Marc Fannin
Return to Cleveland Virtual Roadtrip