Click on the colored region of your interest (or follow the links below the map)
---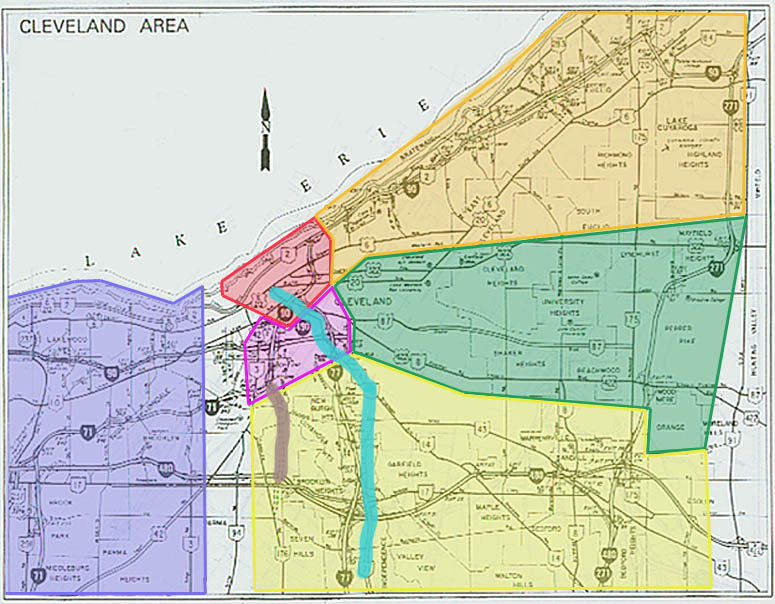 DT Cleveland - Red region | NE Cleveland - Orange region | East Cleveland - Green region | Cloverleaf / SE Cleveland - Yellow region
Airport / West Cleveland - Blue Region | Near South Cleveland - Purple Region | Jennings Freeway - Brown line | Old US 21 - Aqua line
Not shown on map - Cleveland Bridges | Cleveland Freeway Plans | Cleveland at the Turn of the 20th Century
These regions are geographically based and DO NOT represent local naming customs. Go here for neighborhood information.
---
Links
Traffic conditions
ODOT - District 12 (includes Cleveland)
City of Cleveland
Cuyahoga County Planning Commission
Cuyahoga County Engineer's Office
NOACA - Northeast Ohio Areawide Coordinating Agency (for Cleveland and surrounding counties)
EcoCity Cleveland - The "BLUE" Project (an alternative view for planning)
Euclid Corridor Transportation Project
Cleveland Plain Dealer newspaper
Cleveland Highway History
Bridges, Highways, and Streets from the Encyclopedia of Cleveland History
Garrett Morgan and the traffic signal by Ian Taggart - Claims that while the Clevelander did invent a version of the traffic signal, he did not invent the first one. (Encyclopedia of Cleveland History entry)
Cleveland Digital Library: Cleveland Cartography - "Information about historical and contemporary maps and map-related happenings in and about Cleveland and the Western Reserve region of northeastern Ohio."
Cleveland Landmarks Press Inc. Gray and Company, and Kent State University Press - Three local publishers whose books include many historic and contemporary road scenes in addition to the general landscapes. Also see Cleveland: A Concise History 1796-1996 by Carol Poh Miller (Indiana University Press)
Other Cleveland Photography
Cleveland Photos by Sam West
Road Trip USA US 20 Cleveland section
Western Reserve Exit Guide Page - Collection of Exit Guides by Marc Fannin, Brian Powell, and Nicholas Rothfuss
---
This page created Saturday, July 1, 2000 / Last revised July 15, 2006
Questions and comments about this page can be sent to Sandor Gulyas or Marc Fannin (alternate)
Return to Northeast Ohio Roads