Northeast Ohio Regional Page
Part of the Ohio Regional Road Pages
Both of the co-creators of this page have lived in Northeast Ohio at one time or another. Sandor Gulyas grew up north of Burton and moved away in 1982 to "suburban" Columbus, Ohio. Marc Fannin moved to the area in 1987 from Southwest Michigan and has lived both in a location just east of Mentor and in Kent. This page was originally created by Marc Fannin (see bottom for the old introduction), and has since been expanded through the work and submissions of others.
---
Click on the site map, or use the links below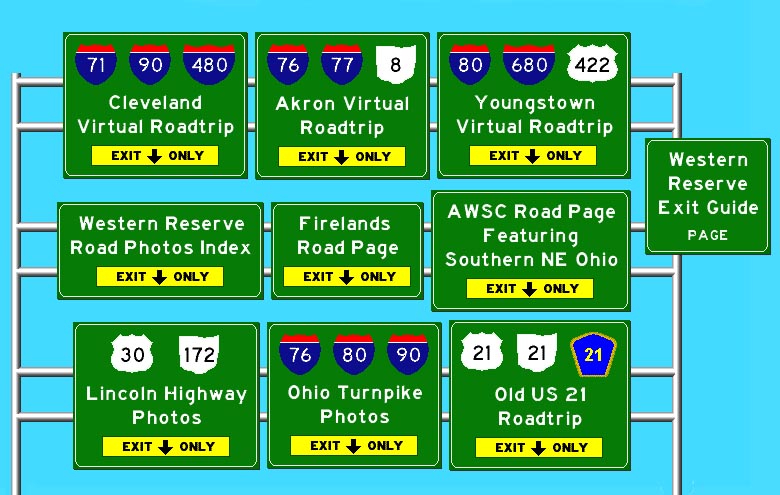 City Virtual Tours - Cleveland | Akron | Youngstown
County indexes - Western Reserve (east of Cleveland) | Firelands (west of Cleveland) | AWSC Page (south of Cleveland) Highway Specific Pages - Lincoln Highway | Ohio Turnpike | Old US 21
Exit Guides
Western Reserve Exit Guide Page - Marc Fannin, Brian Powell, Nicholas Rothfuss
Ohio Highways - Jeff Kitsko
Links
Ohio Maps and Highway Proposals (on this site)
Commercial Survey Company -- Cleveland map maker that publishes exemplary atlases for all of Northeast Ohio. Atlases cover one or two counties. Publications by other companies are also available through CSC.
Cleveland Digital Library: Cleveland Cartography - "Information about historical and contemporary maps and map-related happenings in and about Cleveland and the Western Reserve region of northeastern Ohio" (in other words most of Northeast Ohio)
ODOT Districts
District 3 (Ashland, Crawford, Erie, Huron, Lorain, Medina, Richland, and Wayne Counties)
State Route 57 Steering Toward Tomorrow - Project to reconfigure SR 57 in the Lorain/Elyria area from US 20 to north of SR 254 including the I-80/Ohio Turnpike/Midway Mall/I-90/SR 2 area.
District 4 (Ashtabula, Summit, Portage, Stark, Trumbull and Mahoning Counties -- includes Akron, Canton, and Youngstown)
RoadWise - Page covering the Ohio 8 rebuild in Akron, the Ohio 711 completion project near Youngstown, and the I-77 widening between Akron and Canton.
District 11 (Belmont, Carroll, Columbiana, Harrison, Holmes, Jefferson, and Tuscarawas Counties)
District 12 (Cuyahoga, Lake, and Geauga Counties -- includes Cleveland)
Project Study Areas - A listing of the pages covering projects such as the Innerbelt Study in Cleveland, the US 422 two-lane expansion project in Geauga County, the Ohio 86 rebuild project south of Painesville, and the Ohio 2 freeway rehabilitation in Lake County. (Go here for I-90/Ohio 615 interchange information)
Metropolitan Planning Organizations
Northeast Ohio Areawide Coordinating Agency (Cuyahoga, Geauga, Lake, Lorain, and Medina Counties)
Akron Metropolitan Area Transportation Study (Summit and Portage Counties, Chippewa Township in Wayne County)
Stark County Regional Planning Commission
Stark County Area Transportation Study (SCATS)
Eastgate Regional Council of Governments (Mahoning and Trumbull Counties)
Other road links
State Route 2 Major Investment Study -- Study to improve the flow of the freeway carrying easternmost Ohio 2 in Lake County.
Cleveland Live Traffic -- Check live reports on the traffic conditions in Metro Cleveland.
US 6
The Ohio Lincoln Highway League
US 30 Information Site - This page covers the plans to upgrade US 30 between East Canton and the Ohio 11 freeway north of East Liverpool.
Selected Northeastern Ohio Bridges - Mostly along the Chagrin and Grand Rivers.
Roadfan Stuff by John N. Dziurlaj - Mostly Akron coverage, but an expansion is planned.
U.S. 22 - The William Penn Highway by the Federal Highway Administration. US 22 was originally planned to end in Cleveland, taking the route of today's US 422 (map).
Ask the Rambler: Was [the Eastern] I-76 Numbered to Honor Philadelphia for Independence Day, 1776? by the Federal Highway Administration. Explains the evolution of I-80S to I-76. (Two of the maps referenced in the article are located here; see also the bottom of this page)
Road Trip USA US 20 Ohio (Cleveland section)
Midwest Living Magazine: "Driving I-80 Throught the Midwest: Ohio"
Great Lakes Construction Company - Hinckley-based contractor involved with many area road projects.
Selected area newspapers
Cleveland Plain Dealer (covers whole region) (see also Streets and Highways article index 1983-1999)
Akron Beacon Journal
Canton Repository
Youngstown Vindicator
Lorain Morning Journal
Sandusky Register
Mansfield News Journal
Kent-Ravenna Record-Courier
Willoughby News-Herald
Ashtabula Star Beacon
(Go here for others not listed)
Semi-original introduction to NE Ohio Roadsigns page by Marc Fannin
---
Triple decker exit gantry artwork designed with Signmaker by Kurumi
This page originated on Friday, April 2, 1999/Moved to roadfan.com April 14, 2001/The Unofficial Northeast Ohio Highways Webpage contents added August 29, 2001 (that page was originally created December 19, 1998)
Remade as NE Ohio Regional Page on January 15, 2003/Last updated on December 7, 2004
Comments and questions can be sent to Sandor Gulyas or Marc Fannin (alternate)
Return to the Ohio Regional Road Pages