The Airport and On West
---
Cleveland Hopkins International Airport
Map of the area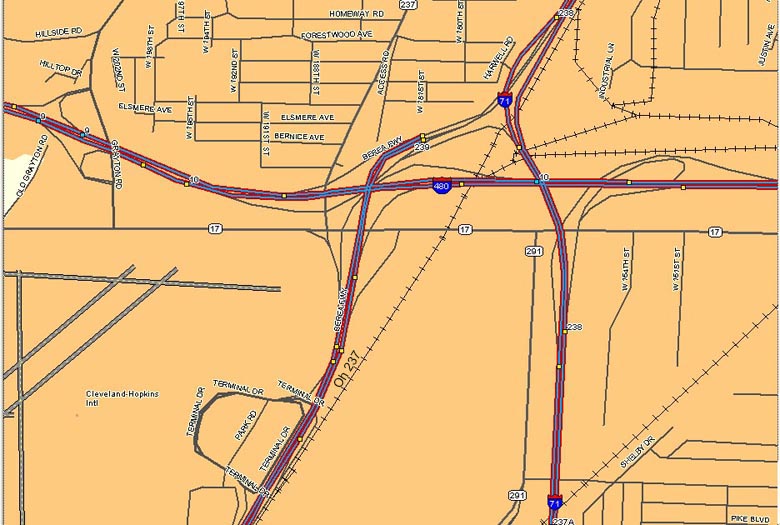 For as many access ramps there are in the area, there are still some connections missing.
Hopkins International Airport is going through an expansion, which includes a shift of Brookpark Road (SR 17).

Approaching the airport
Just like on I-670 Eastbound approaching I-71 in Columbus (see the I-670 portion of the Columbus Virtual Roadtrip), through traffic must "exit" to the right while traffic going straight leaves I-71.


Overhead connection
When I-71 branches to the south from the Airport freeway, it must immediately cross train tracks (freight and RTA) which it had been paralleling. A ramp from I-480 Eastbound joins I-71 Southbound directly above the tracks. The roadway on the bridge with the construction signs is I-71 Southbound, the one off to the left is I-71 Northbound, and a few supports for the 480E-to-71S ramp bridge may be seen in the center background.
Abandoned Ohio 237 north of the airport
Originally Ohio 237 runs where it does now north of the airport and I-480, but for a time it ran just to the east to connect directly to today's Airport Freeway, complete with a cloverleaf at Ohio 17/Brookpark Road. When the current interchange configuration was built to accomodate both I-71 and I-480 (see map link above), Ohio 237 was shifted back west. A short stretch of the interim 237 remains, used now for parking for area industries. Also in the area appears to be a demolished neighborhood, with streets and power lines still extant.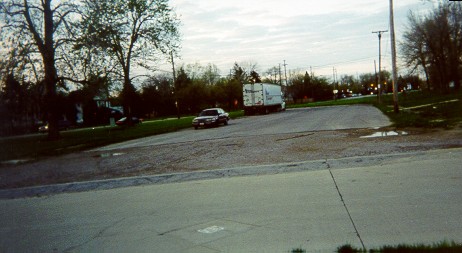 Looking north
Current 237 is in the background.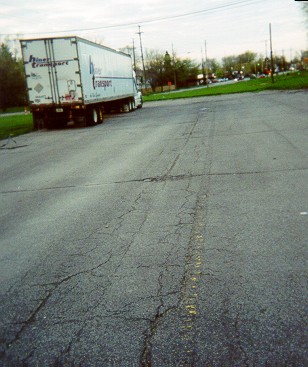 Close-up
Note the faded pavement markings.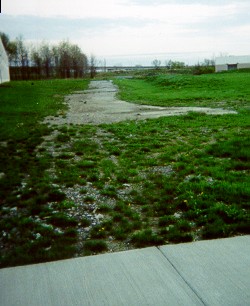 Looking south beyond the stretch
This area does not align with the stretch above, but it does appear that a road was once here. In the background are ramps for the I-480/Airport Freeway section of the interchange complex.


The overhead guide signs at Hopkins Airport are standard except for being red instead of green. Note: By August 30, 2002, these signs had been replaced by non-standard light blue signage, some with green inlays where route markers are used.


Fresnel lens traffic lights
Certain traffic lights are made so that their indications may only be seen when looked at directly, like these at the entrance to Hopkins. They are used where traffic might think signals are for them when they're not, like when roads meet at a shallow angle. Notice that the red indications in the middle pair are barely visible, and those of the leftmost pair are even less. There is a new version of this type of signal which more closely resembles a conventional traffic light (I even know of an intersection which uses both the older and newer versions of the signal). In the background are more red overhead signs.
Link to Topo Map of area and Case Western webpage about Cleveland Hopkins International Airport.
(The Airport Freeway has been converted to full freeway since this map was made.)
---
West Area


Signals at the I-71/West 150th Street exit
The arrow signal heads where the I-71 Southbound ramps meet West 154th Street (connection to West 150th Street) look like reused lane control signals.


I-71 Northbound at Denison Avenue/West 65th Street exit
Originally I-71 was to branch south from the Airport Freeway here rather than just before I-480, and a freeway was to continue north from here to the Shoreway (the northernmost section of this was to be I-90). The only remnants left are a stub of the northern freeway (notice that although the offramp to Denison Avenue from I-71 Northbound crosses I-71 Southbound in the distance, the ramp has already branched off of I-71 by this point) and the long overpass carrying Ridge Road (pictured) which was to accomodate the large interchange. (Aerial photo; see the Maps section for the freeway plan.)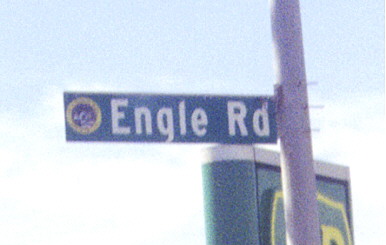 Middleburg Heights street sign
Street signs in Middleburg Heights, like this one for Engle Road (Ohio 291), carry the city seal. Street signs like this are becoming more and more common across the United States and elsewhere. On Bagley Road just west of I-71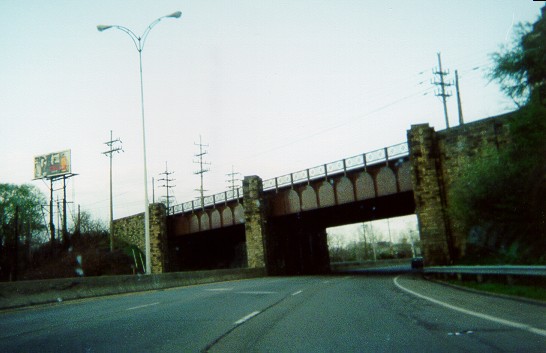 CSXT train tracks over the West Shoreway
This overpass, between Edgewater Park and the West 45th/49th Street exits, is one of several contemporary features on the West Shoreway (here US 6 and 20 as well as Ohio 2) which is one of the area's oldest highways. This is at a feature identified in traffic reports as the "Westinghouse Curve".


Interstate 90 WB at Crocker Road/Bassett Road
Crocker Road forms somewhat of a west bypass of Metro Cleveland (there are plans to build a more formal bypass in its corridor -- see this article). Bassett Road is actually severed by I-90 right where the photo was taken; to the north, it curves just west and takes over the path of Crocker Road to US 6 and Lake Erie.
---
Page created on December 25, 2002/Last updated on July 29, 2004
Questions and Comments can be sent to Sandor Gulyas and Marc Fannin (alternate)
Return to Cleveland Virtual Roadtrip