North(east) Central Ohio
Morrow County
Richland County
---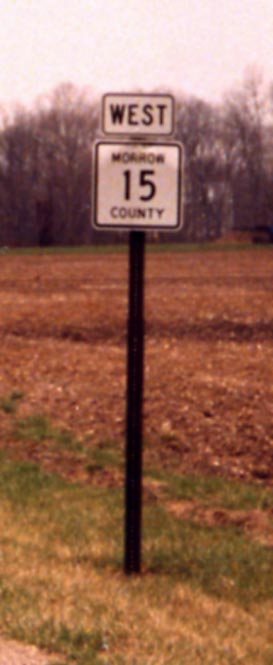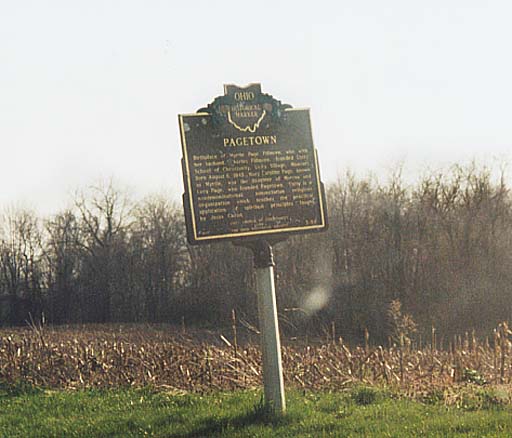 Photo above right - Pagetown Historical Marker. Something important happened at this crossroad. Found along Morrow Co. Rd 26, two miles south of Marengo
Photo left - Directional Morrow County Routes. These have only started popping up since 2000. Now if the county could just PAVE the roads.
(Note by Marc: The placement of these markers is so consistent now that it almost rivals state signage placement.)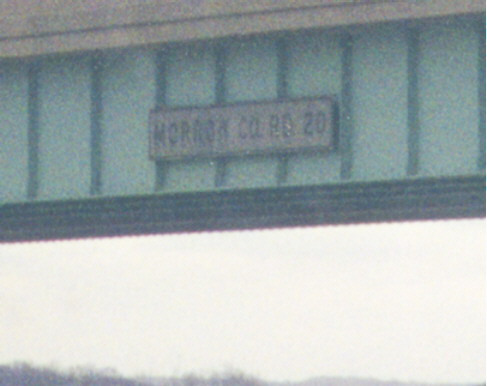 While other states use signs to identify roads and other features that cross its state-maintained freeways, Ohio no longer tries. Occasionally old ones will be found from when ODOT did attempt to do so, such as this "MORROW CO. RD 20" one on Interstate 71. (Note that this statement does not apply to the Ohio Turnpike; that highway actually has new signs like these along the sections where the conversion to three lanes in each direction has been completed.)
Update: In Summer 2000, ODOT discovered what they forgot and proceeded to remove the old signs from the overpasses on I-71 in Morrow County. <sigh!>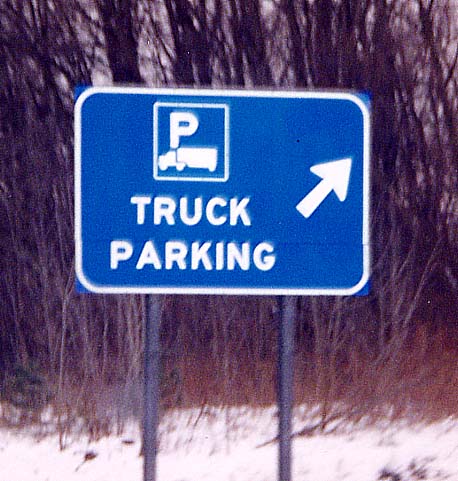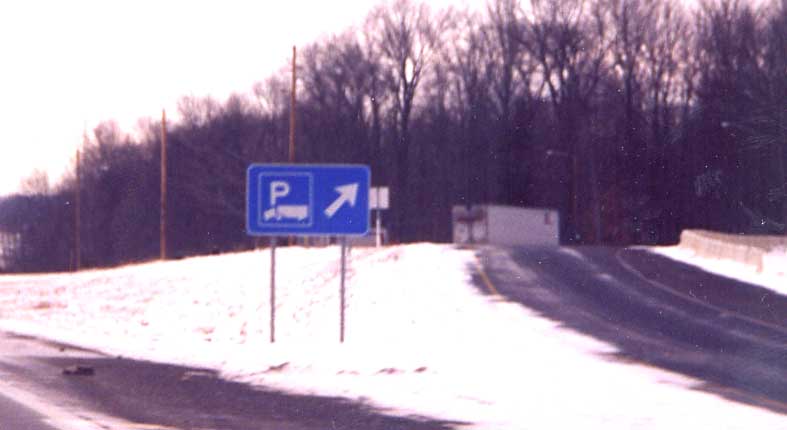 Newly instituted truck parking signs on I-71 SB about one mile south of exit 151 (Ohio 95)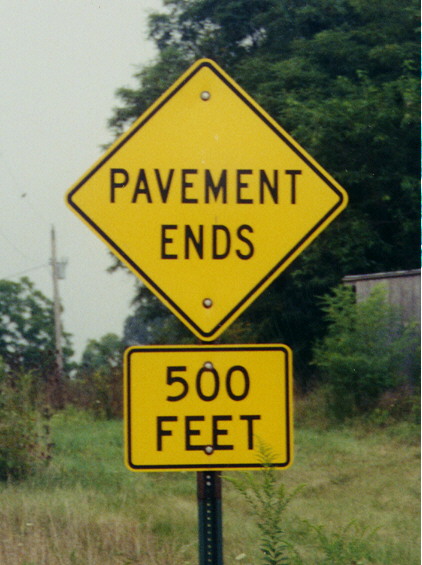 Just because the Pavement Ends, doesn't mean the road ends. Showing that there are still plenty of gravel roads in Morrow County. Along Morrow County Rd 15 in SW Morrow County (2 miles west of my home).
---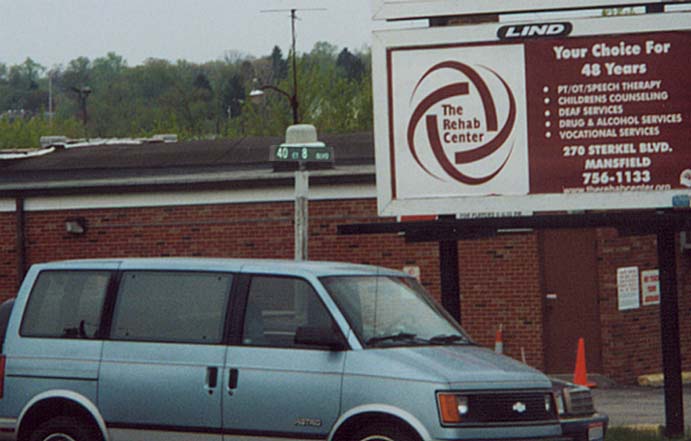 Street name = length? An original idea or too short for something really creative? Along US 42 in NE Mansfield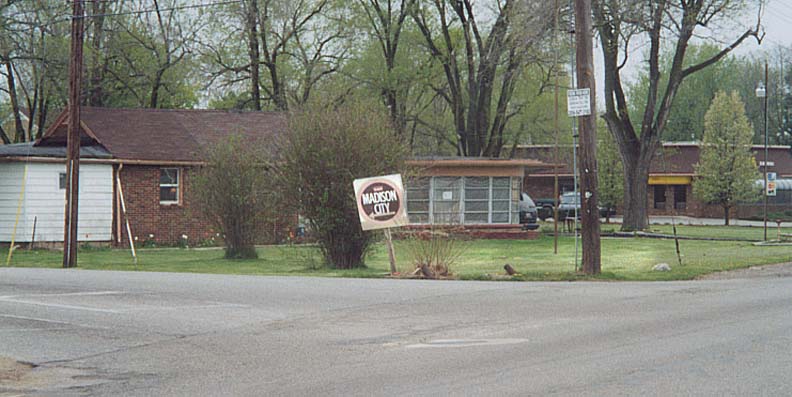 Not your regular white on green highway sign to direct traffic to your locality. It's nonstandard design could be in part because Madison City "not existing" in "official" eyes. Along US 42 north of US 30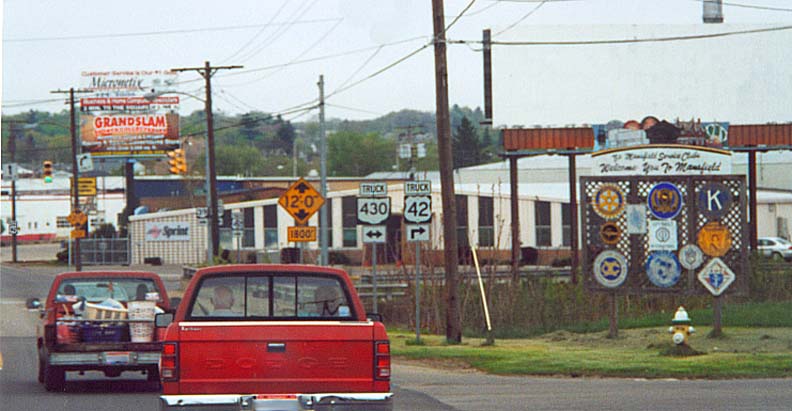 If your town/city/state can't afford to upgrade your bridges, a cost effective alternative is to route traffic elsewhere. In this case trucks are given their own route to avoid a low clearance railroad bridge on the east end of Mansfield. Along US 42 @ Oh 39 in Mansfield.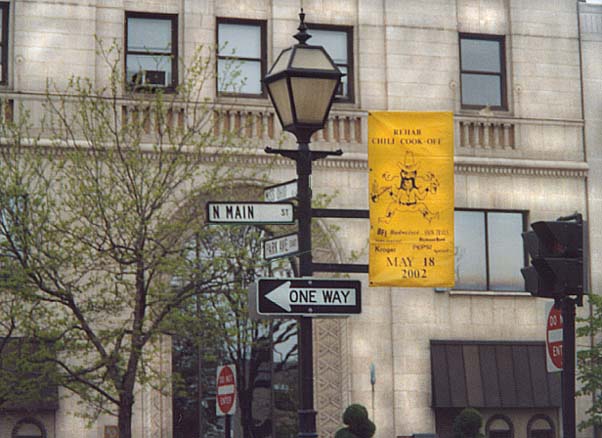 Ignore the old fashion streetsigns and the Chili banner here. In an attempt to keep the Miss Ohio competition in Mansfield, the city fathers redesignated Park Ave (the main E-W throughfare) as Miss Ohio Way(?).
No, the winner does NOT get to parade herself along the street. In downtown Mansfield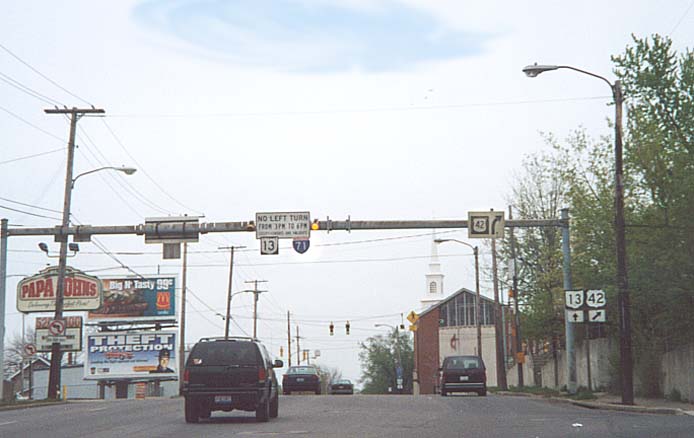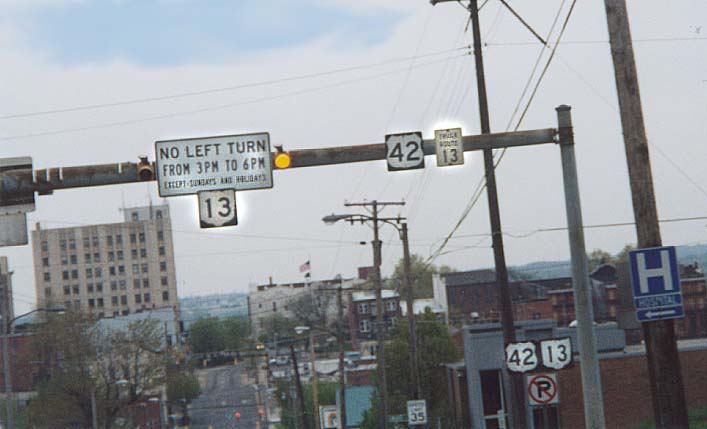 Top Photo is the old style US 42 shield and arrow in the upper right to go along with the hanging Oh 13 and I-71 shields in the middle.

Bottom Photo is on the opposite side and includes a very old square Truck Route 13 sign (Simular to the Fremont City route signs). In both cases there are duplicate route shields with the routes posted above and to the right as well.
Along US 42 and Oh 13 in "south" Mansfield.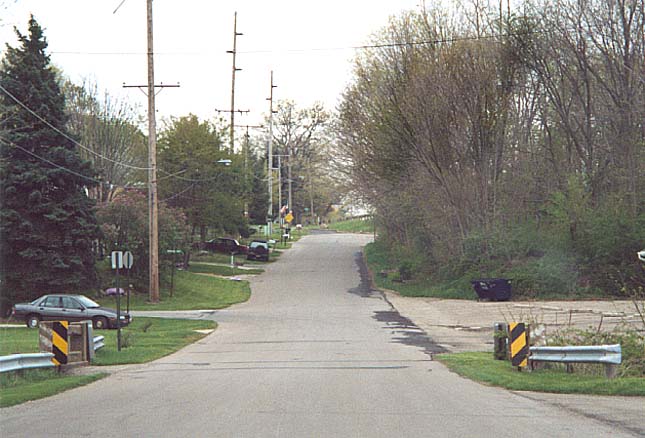 Former routing for Oh 13 before the state decided to reroute and build a new divided highway for Oh 13 from Mansfield south. Near Oh 13 south of Mansfield
An aside. Ohio once had plans to make Oh 13 a divided highway from Mansfield, past Mt. Vernon to Newark. Only two small portions of this plan came to fruition. A bypass of Fredricktown and a connector from Mansfield to I-71.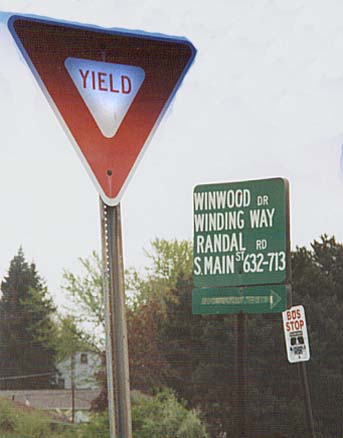 One big Street sign to collect several side streets. Along Old Oh 13 south of Mansfield.
You can also find more Morrow and Richland County photos in the Old State Rd and Lincoln Hwy Collections.
---
Originally part of the Central Ohio collection. This Page created on November 30, 2002
Questions and comments can be sent to Sandor Gulyas
Return to Central Ohio Page