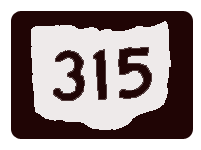 Moody-Jackson Expressway
Olentangy Freeway
John Simpson's History of Oh 315
Submitted Photos
Maps
Nick Rothfuss's Exit Guide for Oh 315 Sandor's Photos Links
Did You

Know?

The idea for an Olentangy River Parkway/Expressway goes as far back as the late 30s/early 40s. Also in the final planning for the new freeway, an Indian mound had to be avoided at Bethel Rd, and the roadway couldn't be higher than the front entrance of Riverside Hospital.
---
Submitted Photos
From Craig Burkin, taken May, 2001
All of Craig's pictures were taken along 315 SB between OSU and I-70/71.

Aproaching I-670 between Kinnear Rd and King Ave.
Near 3rd Ave, Signs for Goodale St appear
At the I-670 East interchange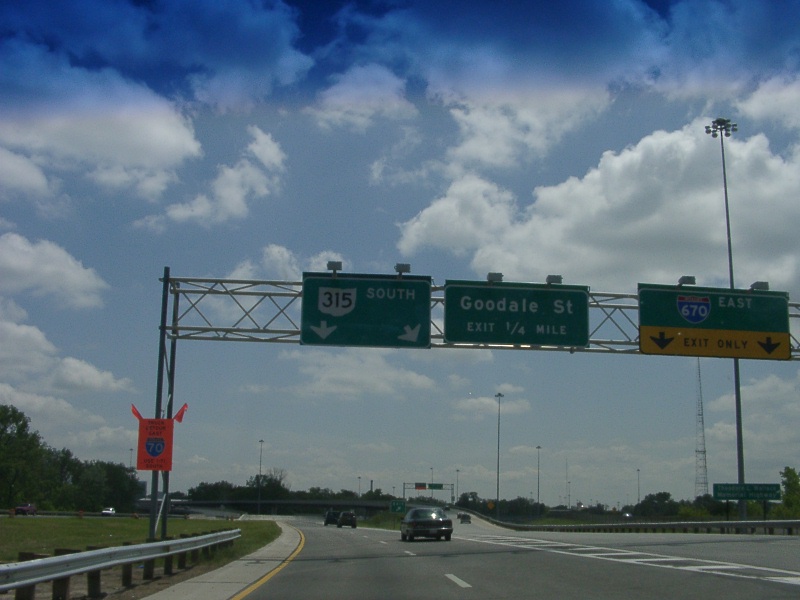 The technical end of Oh 315 at I-70/71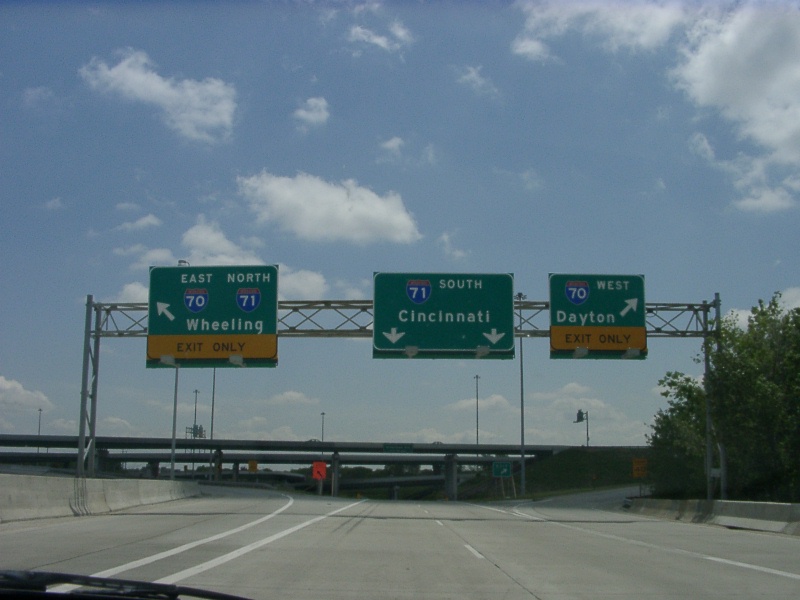 ---
Sandor's Photos
Going North to South (since all but two photos were taken along Oh 315 SB)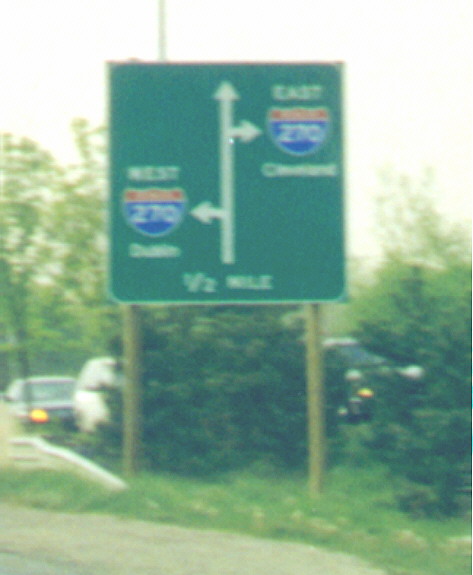 Sort of a temporary sign (due to the wood support posts). I find two things interesting about this sign. First, there are the control cities. A local city (Dublin) for one direction and a regional city (Cleveland) for the other direction. The other item about this sign is that you have to turn left to go west, and turn right to go east. If you are heading South you naturally want to do the opposite. In the time since this photo was taken, a new ramp from OH 315 SB to I-270 WB was constructed, thus the pictured sign doesn't exist anymore (and the new control city for I-270 west is Dayton now).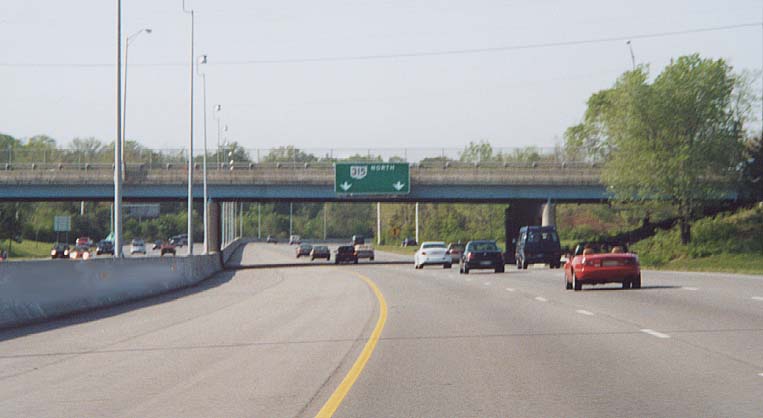 Oh 315 was widen to 6 lanes from 4 lanes between OH 161 and I-270. The BGS in this picture is left over from when

Oh 315 shrunk to 4 lanes at 161. However it still stands, missing a lane.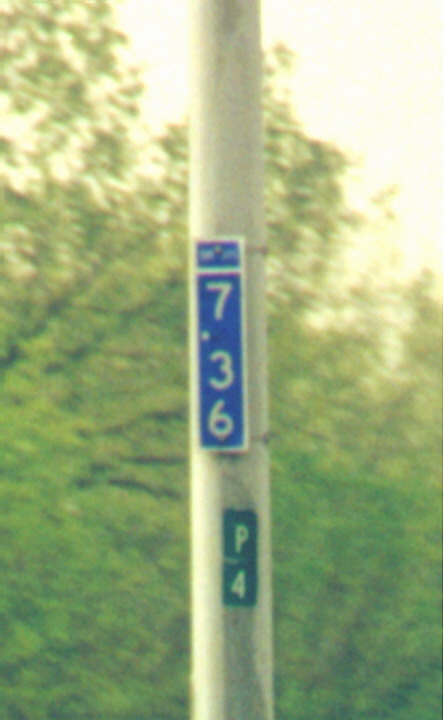 Not a bad picture for driving at 65 MPH! What you can't read above the numbers is SR 315, the numbers, on the blue background, represent the milage for Oh 315 from it's south terminus. The "P 4" represents something in respect to the lightpole it's attached to.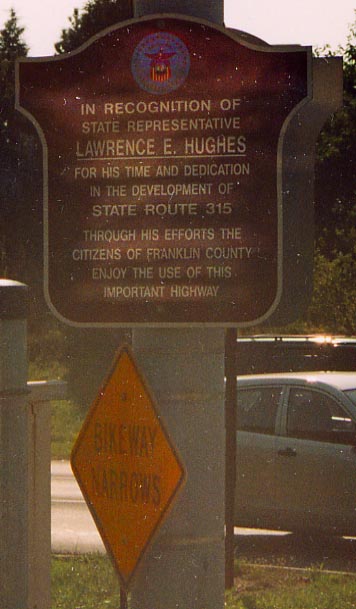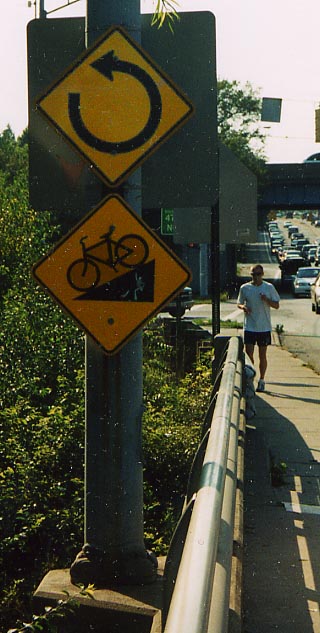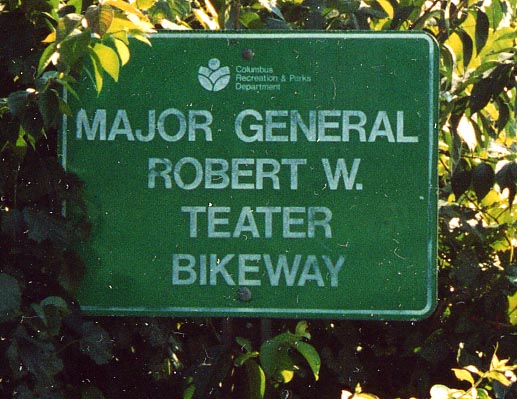 Top Left - Mayor Moody and Safety Director Jackson are given credit with getting Oh 315 built from OSU to I-270 (That's why Oh 315 is named after them). Evidently Mr. Hughes played an important part in getting Oh 315 completed. Not enough to get the freeway named after him, but enough to get this sign placed in his honor at the interchange for OH 315 and Henderson Rd. (Photo from September, 2003)
Top Right - More signage concerning the Olentangy Trail (see the bottom of the Short North page). In this case is the 360 turn diamond sign (at the top). Someone need to turn it 90 degrees to the left to accurately describe the turn people need to take ahead (or else find theirselves facing traffic coming from Oh 315). (Photo from September, 2003)
Left - Another name for Ohio Bike route 47, and the Olentangy Trail. It's also the Major General Robert W. Teater Bikeway. Mr Teater was a member of the Columbus School Board and his wife was a long time Franklin County Commissioner. (Photo from September, 2003)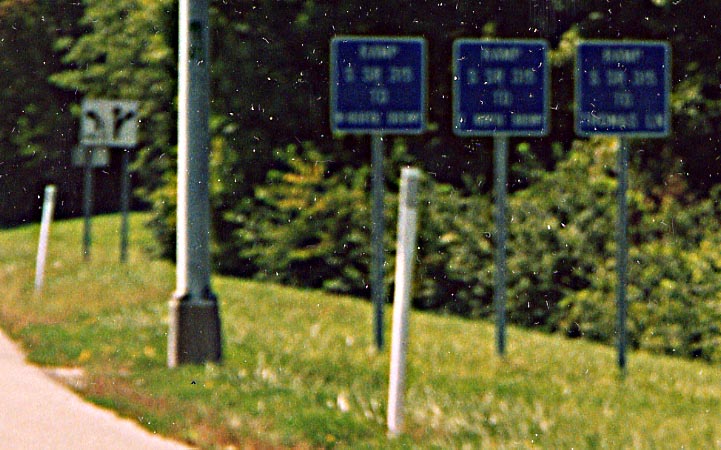 With those blue 2/10 mile marker signs there have been a plethora of blue exit ramp marker signs appearing as well. In this instance, one exit ramp from SB Oh 315 leads to three possibilities: EB North Broadway, WB North Broadway, and Thomas Ln (goes behind Riverside Hospital). Nothing like trying to confuse drivers with information overload. (photo from September, 2003)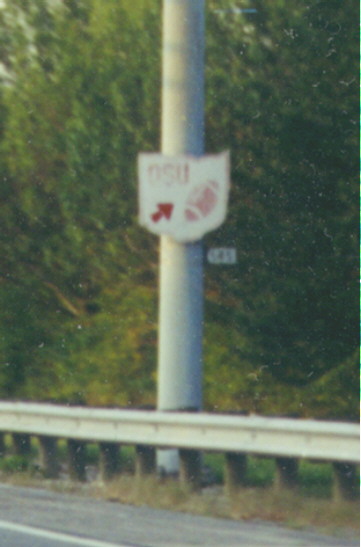 This is an older sign used to direct traffic when finding parking for OSU football (Used 1973-90). It is now replaced by Big Brown Signs directing traffic for "OSU Event Parking" (put up since 2000). Sign in question is on NB 315 exit ramp to North Broadway
New OSU Hospital Exit
ODOT, City of Columbus, and Ohio State have teamed together to construct a new partial interchange from Oh 315 to the Ohio State Campus and more specificly the Ohio State Univ. Hospital Complex (at the SW corner of the campus area). Being constructed are ramps from 315 NB to OSU, and from OSU to 315 SB. For about the interchange see the links below. Otherwise the next 6 photos are from August, 2003.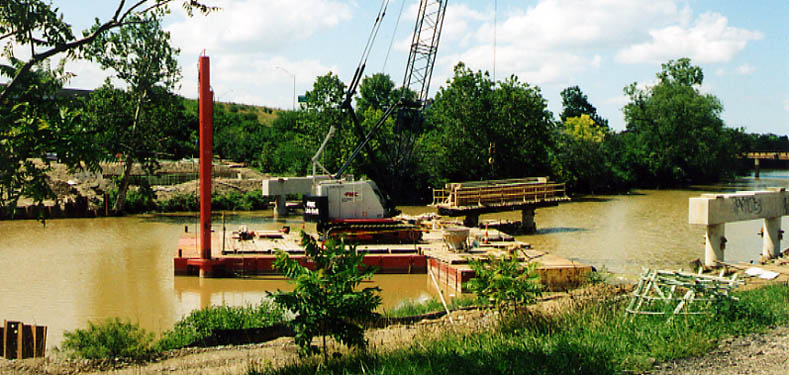 From the east bank of the Olentangy looking west. These pillars will be for a bridge for the ramp directing traffic TO 315 SB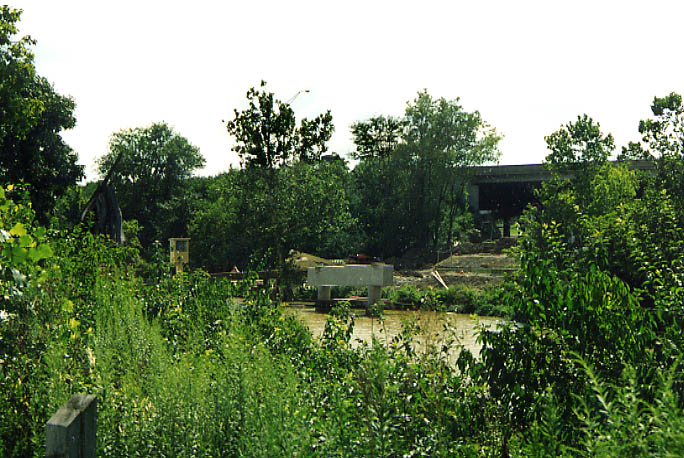 Same pillars/ramp, but looking south now. I liked how the floura & fauna gives a natural border to this photo.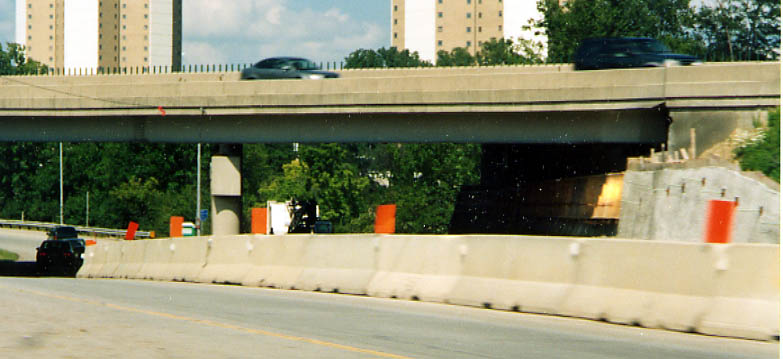 Traffic from Ohio State to 315 SB, once it crosses the river, will share the same underpass as traffic going to 315 NB. You can sort of see the work being done to widen the underpass here.

Now we're looking at the pillars for the ramp from 315 NB to OSU. You can sort of see the concrete retaining wall being worked on the far left.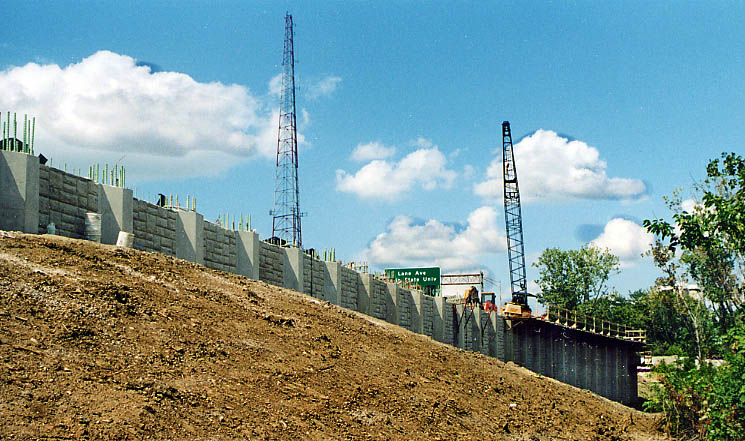 A better view of the retaining wall for the new exit (and 315). Along the way someone has decided that some design work should be done to the wall.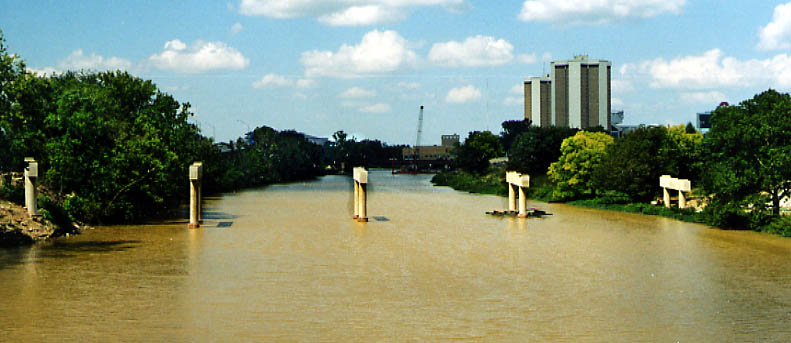 The soon to be crossings of the Olentangy from 315 (looking north from the King Ave bridge). That's Lincoln and Morral towers just to the right. The scoreboard for Ohio Stadium (aka the "horseshoe") is just behind and right of the housing towers.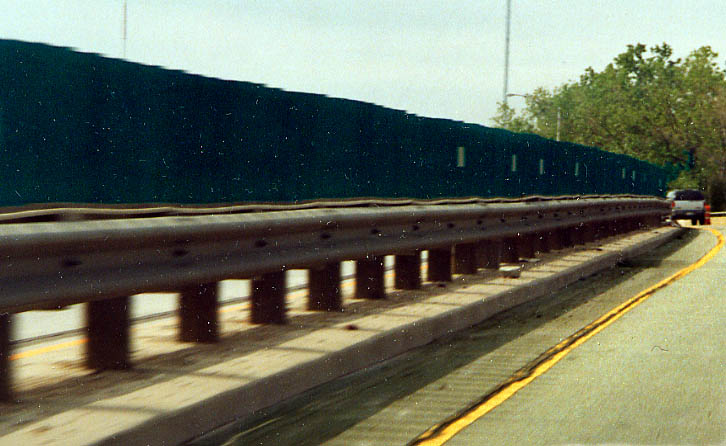 Did someone transport us back to Philadelphia in the 1970s? How's this for median divide? Guardrail with the green glare blockers along the top. This is along the part of 315 that was completed in the early 70s and has yet to be improved (compared to the northern and southern sections of the freeway). Oh 315 SB between Kinnear and Goodale (Photo from May, 2003)
This bike path was once the terminus for the Sandusky St freeway (from the original Innerbelt plans). NB traffic would have a leftside exit to 3rd Ave and Olentangy River Rd from the freeway. However this exit was the first thing to go in the Spring-Sandusky interchange project. Olentangy River Rd (to the right, out of the picture) was extended south to Goodale Ave back in 1993 and new ramps were constructed to direct traffic back by 1999. Photo taken in August, 2003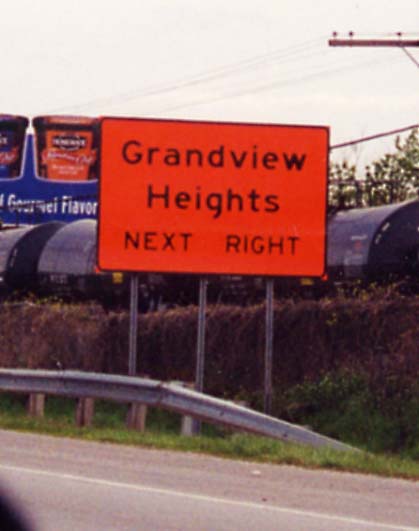 Big Orange Sign to help drivers find Grandview Hts. during 315's reconstruction. There were no signs for Grandview Hts. on any of the area highways before the Spring-Sandusky Interchange construction.
To help drivers find Neil Ave (and then Nationwide Arena). The add-on 670 shield has been removed in light of the reconstruction of I-670 between US 23 and Oh 315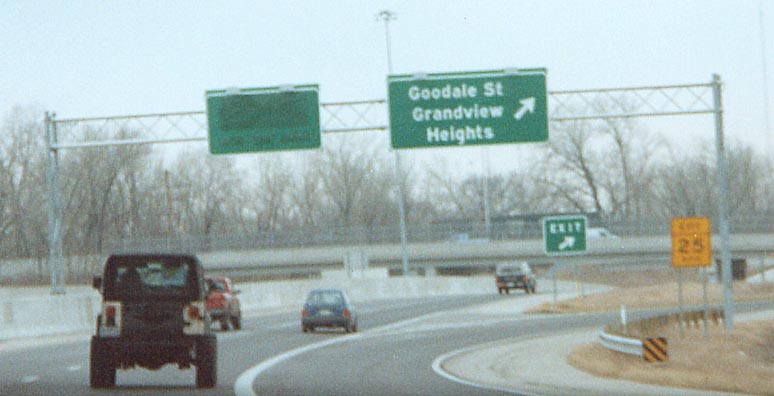 To get to US 33 from SB OH 315, you have to exit here. But what's missing here? (The covered up sign is for I-670 west and is visible now)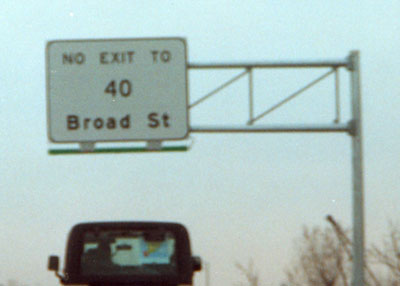 From mainline Oh 315 SB one is not allowed access to the W Broad St exit ramp. That access is restricted to those coming from the ramp from I-670 EB to 315 south. There is something else missing from this sign as well. (This sign has since been replaced by a more visually pleasing model)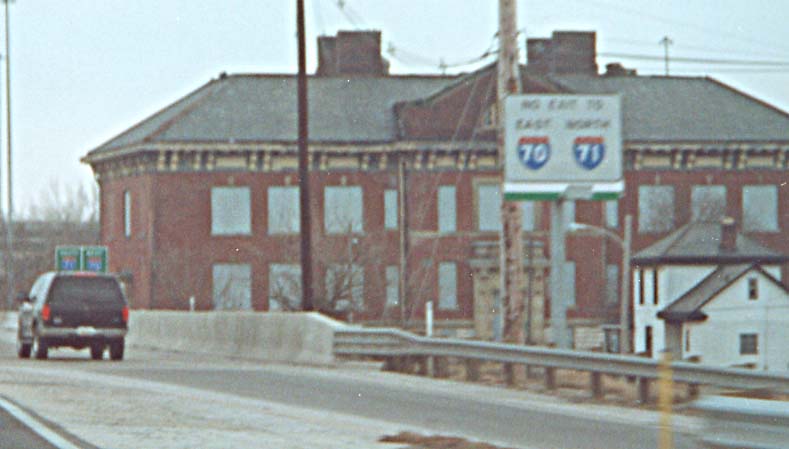 If you take the onramp to Oh 315 SB from Rich/Town Sts (US 62, Oh 3) you can not cross all the lanes of 315 to get onto I-70 EB/I-71 NB (this wasn't in effect before the Spring-Sandusky reconstruction)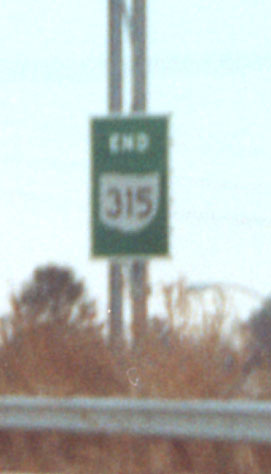 Nice one piece sign assembly, but OH 315 ends under I-70(?) not between Town St and Sullivant Ave.
---
315 Plans (From Kinnear Rd to I-270)
All three of these maps came from this source
| | | |
| --- | --- | --- |
| 315 from Goodale Blvd to Ackerman Rd | 315 from Ackerman Rd to Bethel Rd | 315 from Bethel Rd to I-270 |
Other maps dealing with Oh 315:
Spring - Sandusky Interchange

Mound - Sandusky Interchange (1956-76 version)

New OSU Hospital exit: Discussion

Columbus Crossroads, the I-70/I-71 South Innerbelt Corridor Study (ODOT) - Includes the I-70/I-71/SR 315 interchange

---
This page created on October 31, 2002/Last revised December 6, 2003
Questions and comments can be sent to Sandor Gulyas
Return to Columbus Virtual Tour