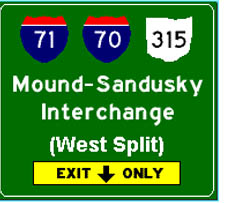 The Mound - Sandusky Interchange
(AKA - The "West Split")
---
This interchange was the first to get a facelift and be reconstructed in Columbus. There are two eras for this interchange, the original era (1954-1976) and the modern era (1976-today). The maps that will be shown below are from the original era.
The change came in part due to the city fathers realizing the original routing for I-70 west wasn't going to work, and that a new routing had to implimented. The new routing for I-70 had it going south from the original routing (between Hague Ave and the Scioto River) between the "Hilltop" and Franklinton regions to near Central Ave and Mound St. then west paralleling north of Mound St. to I-71. Their fateful decision to fund the construction of the new I-70 section over Spring-Sandusky would haunt the latter project for many years.
Here is a map of the original Mound-Sandusky interchange

The following are alternative plans made for this interchange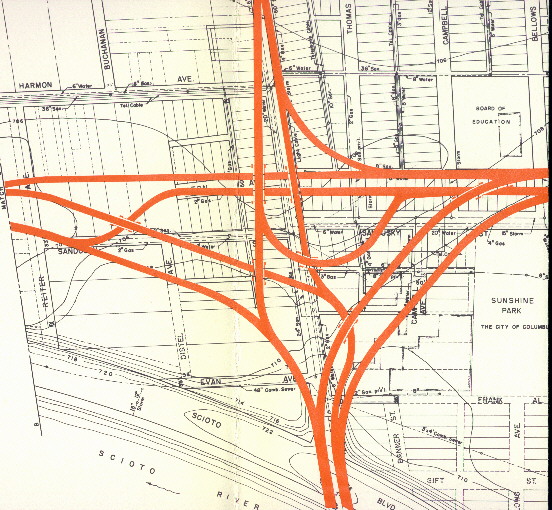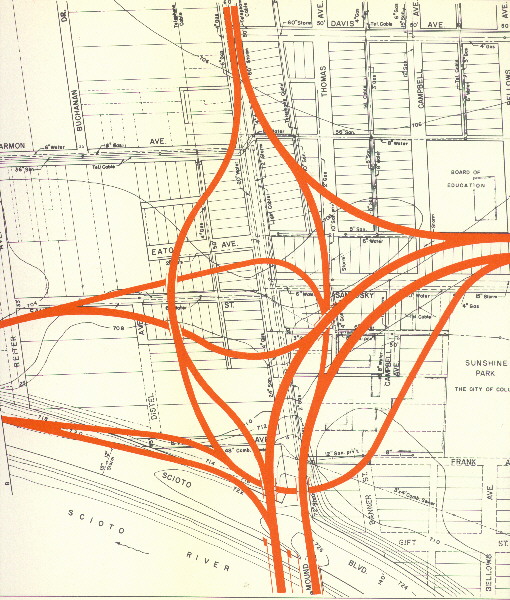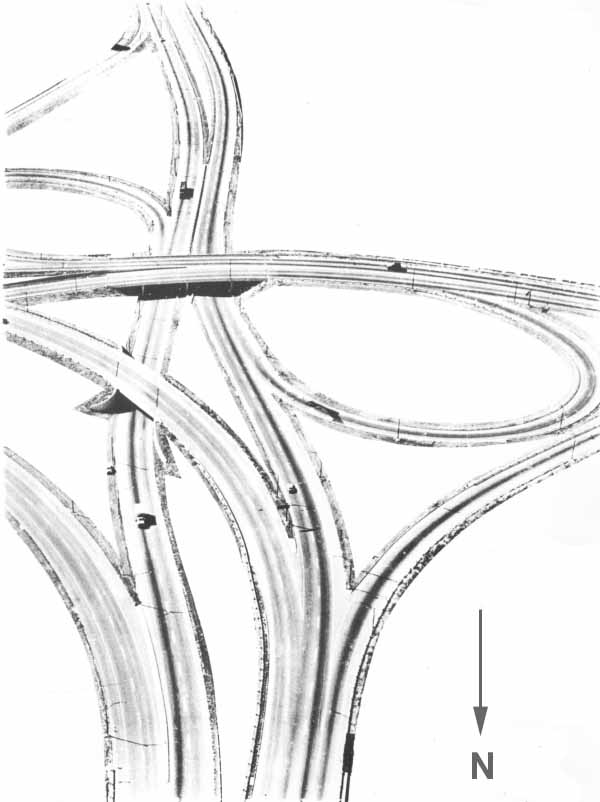 This is the closest thing I've found to a photograph of the original Mound-Sandusky Interchange. This is a xerox of the cover of the 1962 annual report by the Ohio Division of Highways. This ariel picture was taken facing south towards the interchange from above the Sandusky St. Expressway (I-71 then). The innerbelt would continue to your left, I-71 south would be straight, and Mound St. is to your right.
---
When Mound-Sandusky was rebuilt into 70-71 in the early to mid 70s, there were certain parts of the original interchange that were kept. The ramp from I-71 NB to I-70 EB (the one lane through that roadgeeks whine about). The ramp from (present day) OH 315 SB to I-70 EB/I-71 NB. OH 315 (I-71) NB through lanes, and the EB I-70 bridge over the Scioto River.
The following links will show you how the present day West Split looks like.
Terraserver Topo map of the interchange
Aerial photograph of the interchange (from 1994)
Link to traffic camera views of the interchange (from the City of Columbus and ODOT
---
Sources
Columbus, Ohio expressway system, Mound-Sandusky street section and a portion of the Southwest Freeway. Phase 1. by Burgess & Niple Engineering firm, 1955
Ohio Department of Highways Annual Report (1962)
Draft environmental impact statement/Section 4(f) evaluation for Spring-Sandusky Interchange (1981)
Highway sign (at the top of page) created with Signmaker by Kurumi
---
Page created on November 14, 2002/Last updated on January 23, 2003
Questions comments can be directed to Sandor Gulyas
Return to Metro Columbus Plans or Columbus Virtual Roadtrip