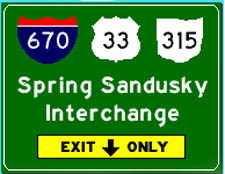 The Spring-Sandusky Interchange
---
This has to be the longest running highway project in Ohio (and one of the longest in the nation). The first documentation of a proposed "Spring-Sandusky Interchange" came about in the 1952 Bergendorf Study by, the then, Franklin County Regional Planning Commission. The original interchange took four years to complete, opening in 1958 (at a cost of 8.3 million dollars). However, with the advent of the National Defense Interstate project in 1956, changes to this interchange would have to occur almost immediately.
(Left, map of Spring-Sandusky St intersection in 1950. Right, map of Spring-Sandusky interchange in 1959)
Before construction of the Columbus innerbelt in the 1950s, Sandusky St was the main throughfare through Franklintown. But the street, the community (and the home of Lucas Sullivant, founder of Franklintown-Columbus) were built over by a freeway.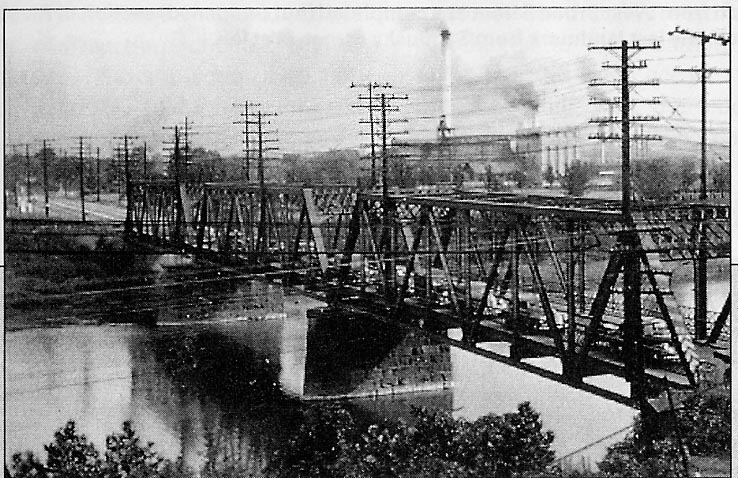 Original Sandusky St. bridge over the Scioto River. Only two lanes.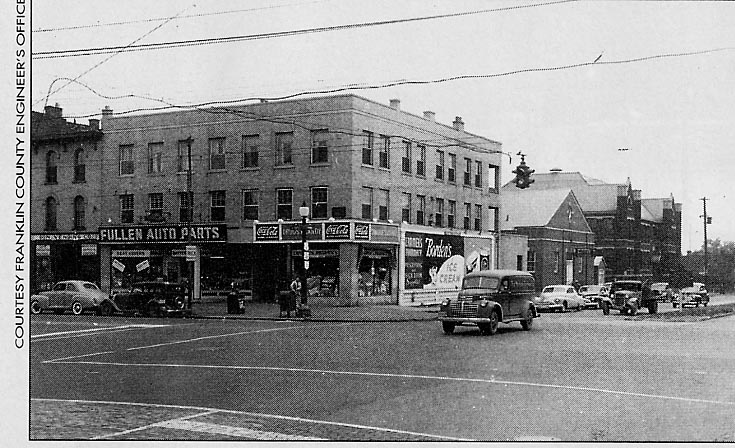 Intersection of Broad St. and Sandusky St. in the heart of Franklintown. Couple of items of note in this picture, the two lense traffic signal and the old time route shields in the middle left (US 40, US 62, and Oh 3)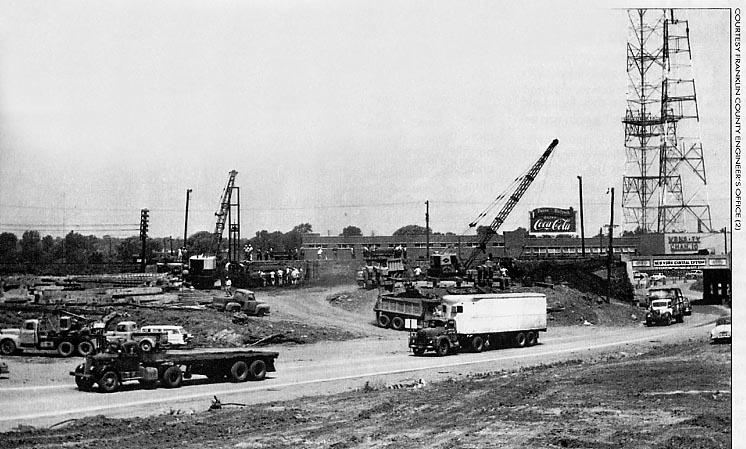 Construction of the Spring-Sandusky interchange. Had to squeeze around the old New York Central rail line
After construction was completed, Spring-Sandusky looked like this: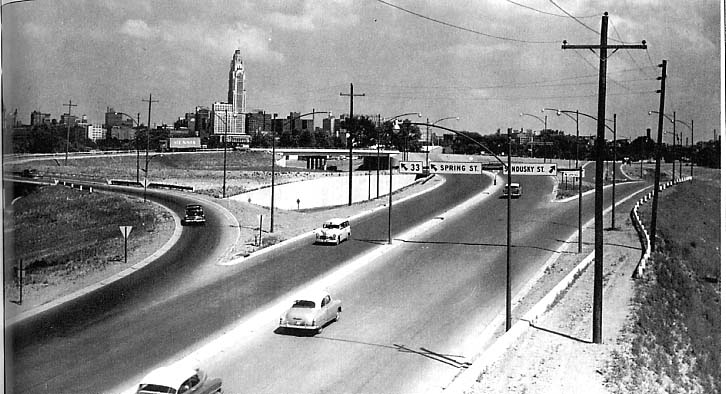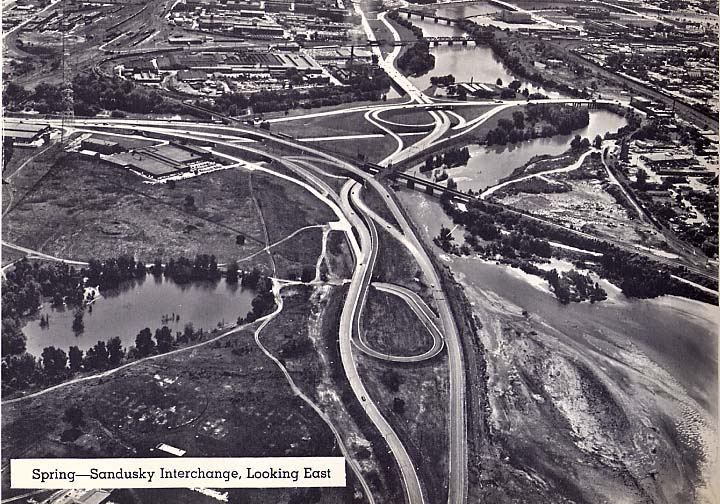 Top picture, low level looking east at the (then) new Spring-Sandusky interchange
Bottom picture, ariel view of Spring-Sandusky interchange - same direction
The only changes to the interchange over the next 30 years were mainly cosmetic. Sandusky St. was designated as I-71 and then later as Oh 315. One ramp from Twin Rivers Dr to SB 315 traffic was closed in the (late)70s or (early)80s. Meanwhile behind the scenes, many options on completing the western half of the Columbus freeways were considered.
1972 map of Franklinton with one of the early proposals for a revamped Spring-Sandusky interchange (within the grey box).
When all of the "Innerbelt" was finally completed in 1964, "Spring-Sandusky" had become a nightmare to travel through. Planners were now worried with plans for I-70 west, Oh 315, and I-670 east possibly bringing even more traffic into "Spring-Sandusky." The first revisions for "Spring-Sandusky" came in 1965 with a new connection for I-70 west (present day I-70 from Hague Ave to I-71) being proposed instead of 'running 8 lanes of traffic into "Spring-Sandusky" '. The 1971 plan, shown above, got throwned out due to enviromental impact and clear water acts by 1973. What was originally supposed to be I-70 (from the dead end at Grandview Ave to I-71/Ft. Hayes) was also to be designated as I-70 as well, then the 1973 master plan for Columbus showed this part as Alt I-70, then finally I-670 came to be in 1975. (see Mound-Sandusky map collection about I-70 west)
However money and beurocracy kept postponing the conclusion for "Spring-Sandusky." The 1973 Columbus Master Plan proposed "Spring-Sandusky" to be completed in 1978. However, money went to rebuild "Mound-Sandusky" into the "West Split (I-70-71-Oh 315)" in the 1970s instead of rebuilding "Spring-Sandusky." It took ten years for ODOT and the City of Columbus to redo and submit again plans for a new "Spring-Sandusky" in 1981 (then estimated to cost 118 million dollars).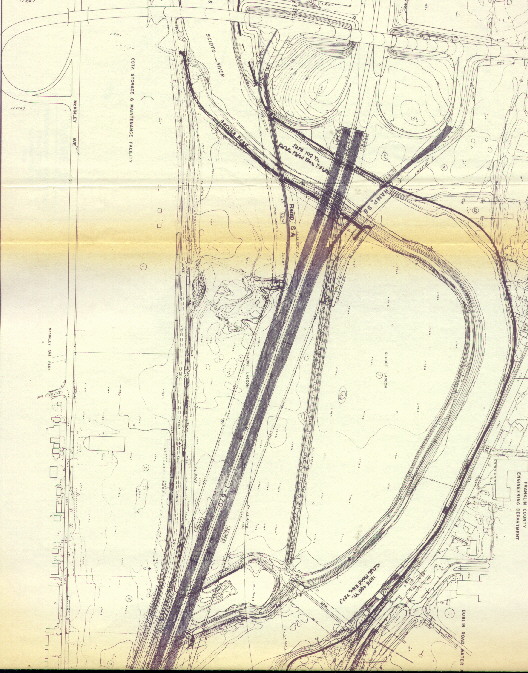 Grandview Ave interchange, going east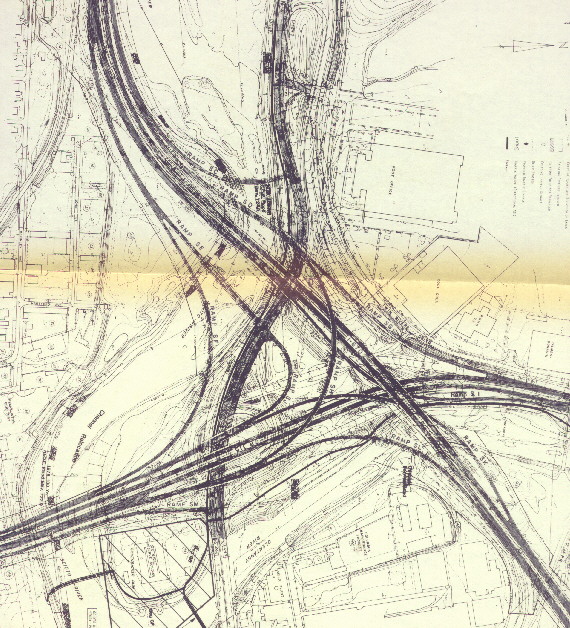 The main interchange between I-670, US 33, and Oh 315. Connections from I-670 EB to Oh 315 SB and Oh 315 NB to I-670 WB never made past the paper stage.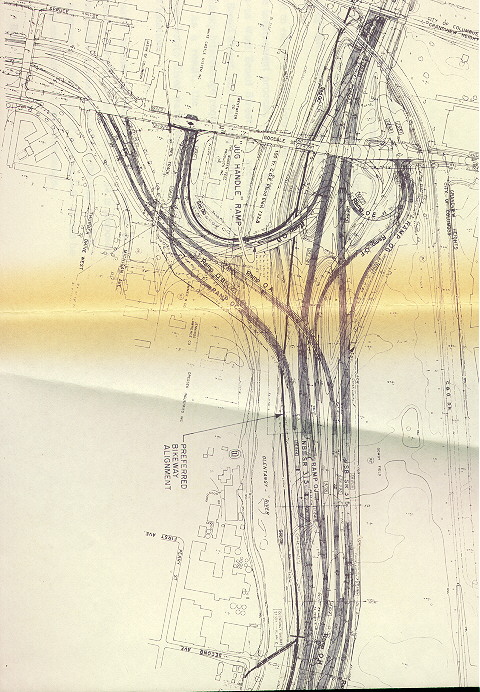 Most of this ended up getting rearrainged. 315 SB to I-670 EB became a right side flyover ramp, all westside connections between Oh 315 and Goodale St were ripped out and replaced by an half-exit futher back.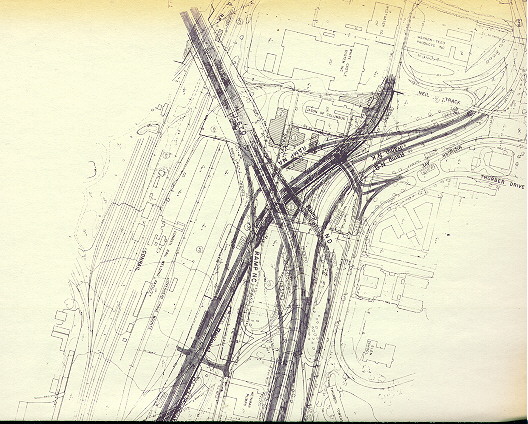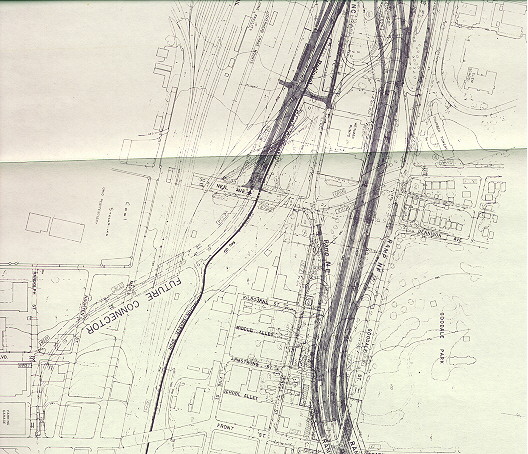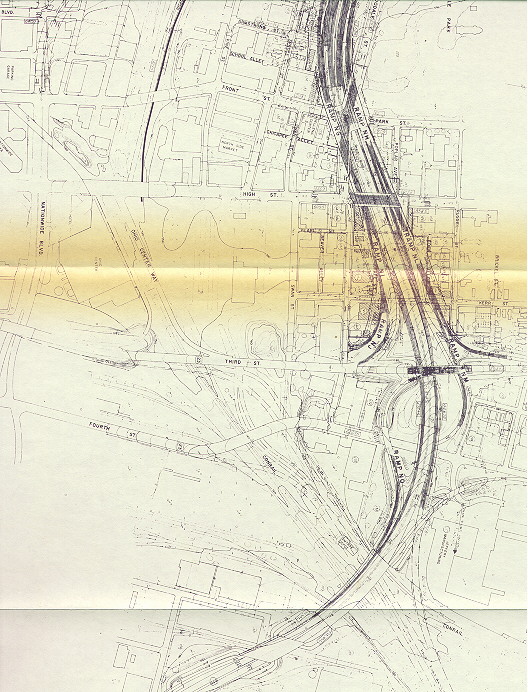 These three maps have held true to form. The only alteration is the future connection (mid-left) has been replaced by Nationwide Arena.
The following plans were an alternative plan for the interchange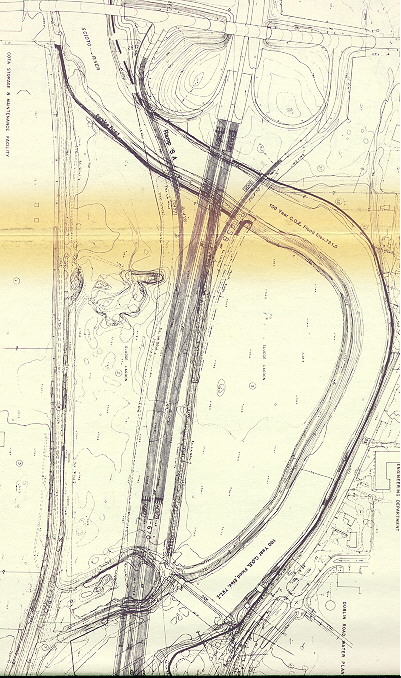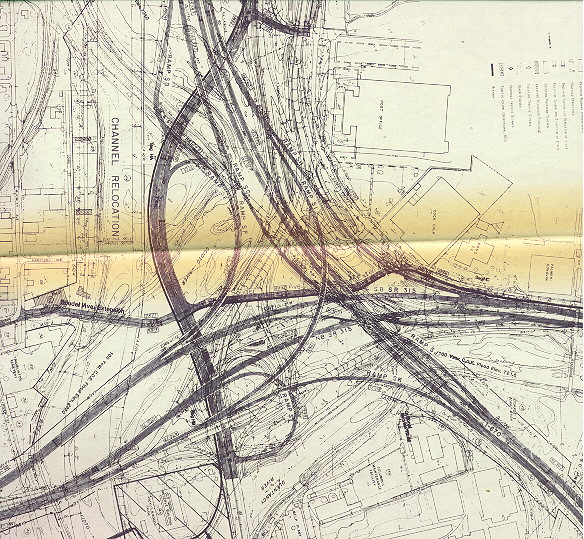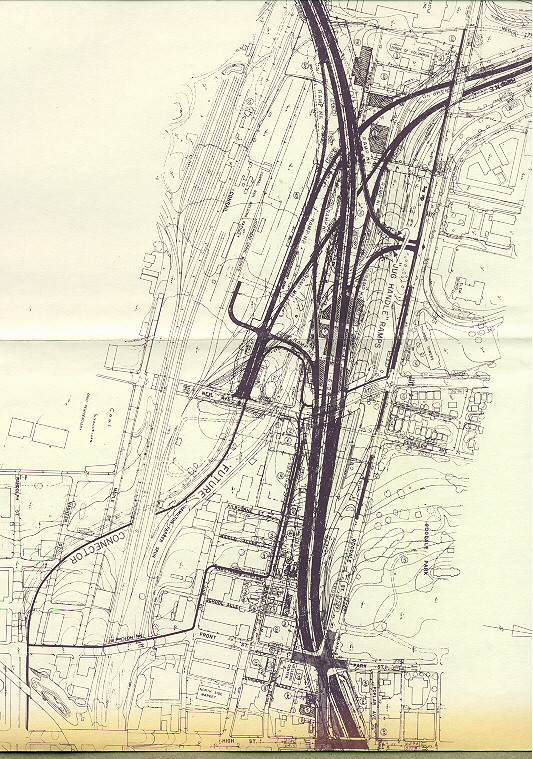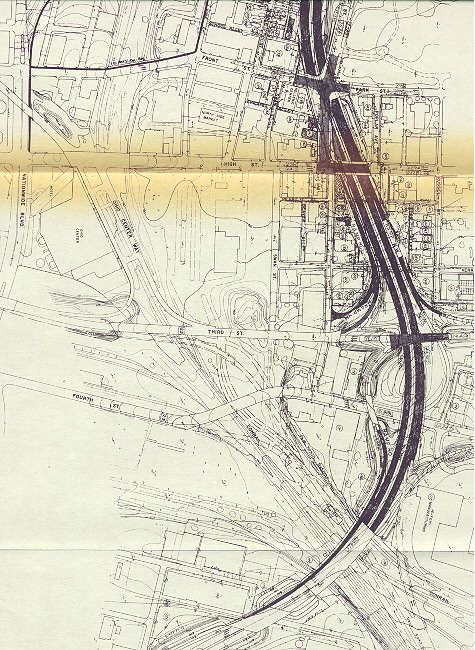 By 1983, the City of Columbus found itself in charge of the "Spring-Sandusky" reconstruction. Through thining budgets, new inviromental problems the finish date for the rebuild went from 1992 to '93 to '95 to '98 to then 2002. The city of Columbus finally start on the project in 1993 with the new extension of Olentangy River Rd, so they thought it had all it's ducks lined up and were ready to go with the project.

Phase 1 held true to form, Most of Stage 2 was completed in 1997, Stage 3 was broken into two parts (670 and 315 were seperated), with Oh 315 closed from 1998-2001 and I-670 being completed from Grandview Ave to 315 in 2002. Stage 4 construction started in 2002.
However within two years, lead contamination, from an old industrial area raised costs and held back progress. Then lack of funding from ODOT in 1995 (Wexner/Easton rules) almost left Spring-Sandusky in a half completed state (with Oh 315 wiped out from Goodale Ave to I-70). However the City of Columbus finangaled the (Ohio) general Assembly to allow tax revenue from the Tuttle Mall (near Dublin) Tax-increment financing (TIFs) district to be useded to keep construction going at Spring-Sandusky. By late 1997, ODOT called a halt to construction to study the environment of the Scioto River in the areas infected by the construction (current and proposed). There was fear of destruction of habitat of various shell fish and the Indiana Bats and the release of slug along the Scioto River near Grandview Ave. Once ODOT kicked in some money for a wetlands project at Ohio State, this controvsey subsided, and work on the interchange started again.
The last controversy was with urban preservationists. Thoy wanted to preserve Neil Ave (through Victorian Village between Ohio State University and Nationwide Arena) as a quiet residental street. They were unhappy with the new interchange because of the loss of several "historic buildings" and a piece of Goodale Park and the perceived fear of increased traffic (and speeding on top of that). The proposed High Street cap over I-670 (between the "short north" and the Convention-Nationwide district) didn't do much to quiet their displeasure. However, the finished product now appears to have taken very little away. Since the last report of discension, via the Columbus Dispatch, in 1999 their roar diminished to murmers then to cheers as the competion of I-670 drew near.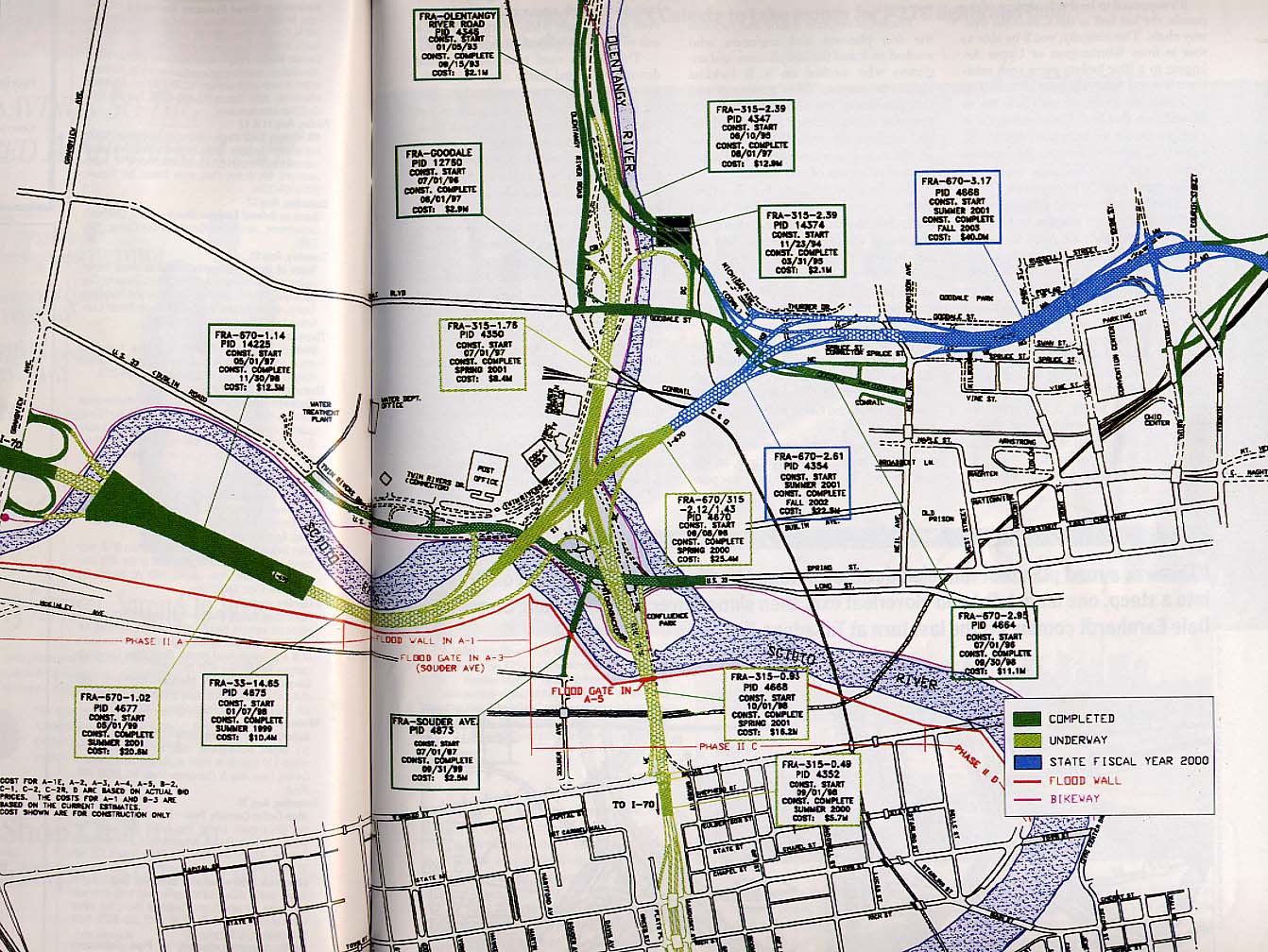 The dates (other than the "Goodale Expressway" portion) are fairly accurate on this map.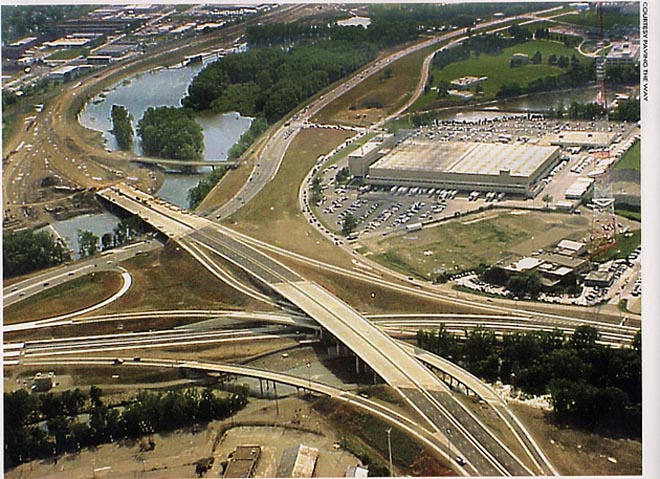 Ariel photo of the main portion of the Spring-Sandusky interchange during it's construction.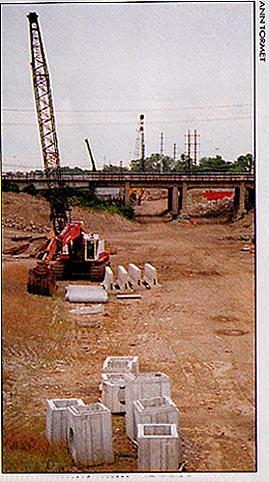 From the Broad St. overpass looking north at a dirt path that was Oh 315 being reconstructed
Oh 315 (Originally Sandusky St), between Goodale Ave and I-70, reopened in 2000. I-670 (originally I-70 once upon a time) between Grandview Ave and US 33/Oh 315 was completed in June, 2002, 46 years after it was first consieved. The last section to be completed was the rebuilt Goodale Expressway (I-670) from Oh 315 to US 23, finally opened on September 19, 2003. (for more photos of the construction see the links below)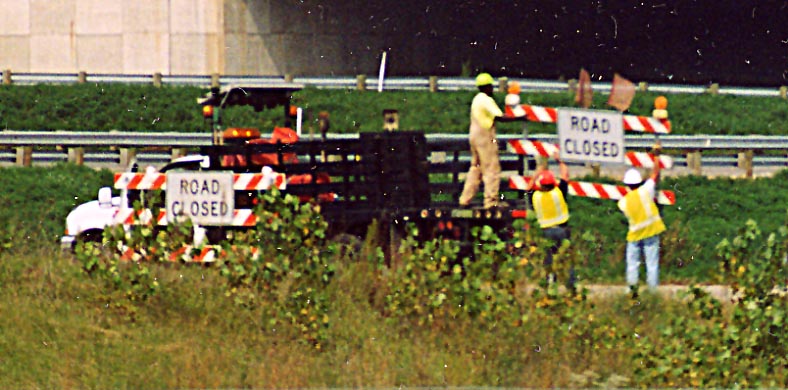 Workers removing the last blockades to traffic onto I-670 from Oh 315 (Photo by Sandor Gulyas)
One last note, according to the Dispatch, the 1/2 mile section of I-670, between Oh 315 and the Neil Ave exit, was the last section of the Federal Interstate System to be completed in Ohio.
---
Sources
"Fixing Spaghetti Junction," by Jeff Long in Columbus Monthly Magazine, August 2000
Draft environmental impact statement/Section 4(f) evaluation for Spring-Sandusky Interchange (1981)
Expressways: limited access highways
The Columbus Dispatch Including these articles:
"At last, work on Spring-Sandusky to begin (January 3, 1993)"
"Northwest bottleneck on Rt. 33 uncorked (August 7, 1999)"
"The Last Piece (January 6, 2003)"
"Let the I-670 reconstruction party begin (August 31, 2003)"
Kurumi's I-670 in Ohio page & Signmaker program (for Big Green Sign at top of page)
Other photos and maps on this page were originally produced by the Franklin Co Engineer's office, MORPC, and Paving the Way and were used in the Columbus Monthly Article about the Spring-Sandusky Interchange, unless noted otherwise.
---
Other Roadfan pages relating to this topic
Metro Columbus Plans | Mound-Sandusky interchange maps | I-670 east maps
OH 315 Photos page | I-670 Photos page
Interstate 670 Construction page (by ODOT)
---
Page created on November 13, 2002/ last revised on November 11, 2003
Questions, comments, and additions can be sent to Sandor Gulyas
Return to Columbus Virtual Roadtrip