Milemarkers in Ohio
A variety of milemarker types are found on the different classes of roads and highways of Ohio. Pictured here are a few types. Also included are other reference markers and state signage (that we couldn't find a better home for).
Freeway Milemarkers | State and Local Milemarkers | Reference Markers | Other Statewide Signage
---
Interstates & Freeway Milemarkers
Standard Interstate milemarker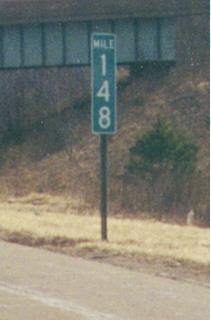 Ohio uses the type of milemarker on its Interstate highways that most other states use. This type is also beginning to be used on non-Interstate freeways throughout the state. On Interstate 71 in Morrow County
Blue Tenth mile Markers
The Ohio Department of Transportation's 8th District (Cincinnati and Southwest Ohio) began using a special type of Interstate milemarker in the Cincinnati area in the mid-1990s which includes decimal mileage. This ODOT page has details including a photo of a marker on I-75, and this page has more detailed info. This style of marker is also appearing in other U.S. metro areas (see below and here), including all those within Ohio by Fall 2003 (article). Our example, from along I-275 in Northern Cincinnati: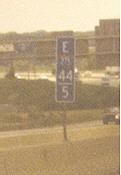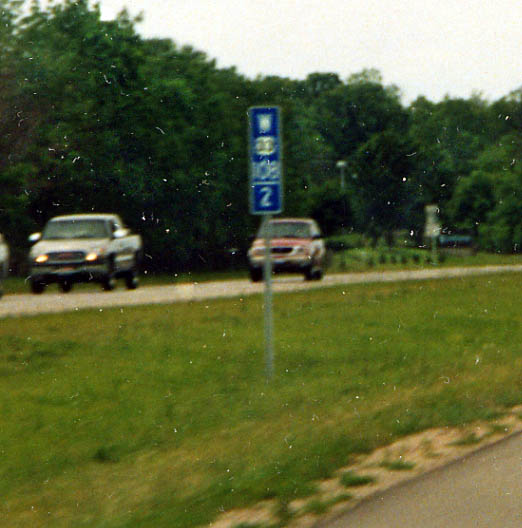 Not only are the interstates getting the tenth mile markers, but also the State freeways as well. In this case the milage for US 33 from the Indiana state line (from the west) instead of just inside the county like all non-interstate highways get. (photo from June, 2003)
(also see Pete Jenior's and Dan Moraseski's Cincinnati Photo pages for other examples of this style)
These following markers are occasionally found on freeways in Ohio at certain features such as bridges or guide signs.
Rural freeway, off a guide sign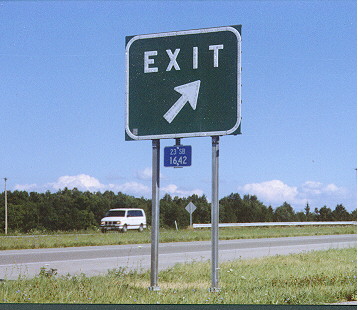 This one reads "23 SB/16.42" or "Route 23 [U.S. 23] Southbound, 16.42 miles north of the county line [in this case the Marion/Delaware County Line]". At Ohio 4 north of Marion
Urban interstate, light post (version 1)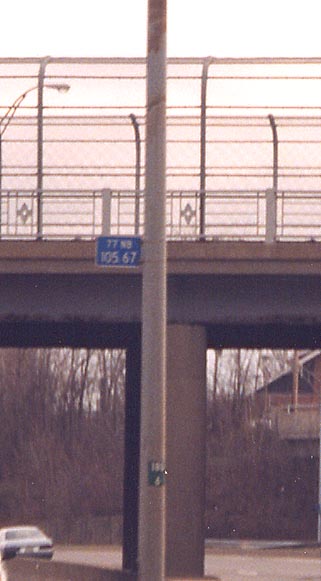 This one reads "77 NB/105.67" or "Route 77 [I-77] Northbound, 105.67 miles north of the state line [in this case the Ohio/West Virginia State Line]". (Also pictured is a streetlight inventory sticker.) At Tuscarawas Street/Ohio 172 in Canton
Urban interstate, light post (version 2)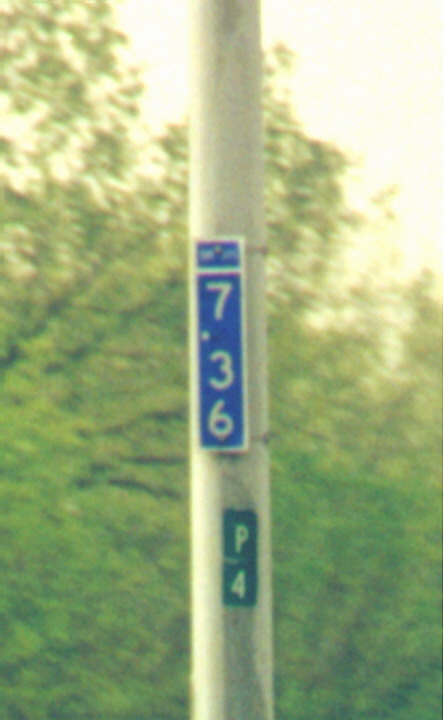 The top field says "SR 315". Northbound south of I-270 in Columbus
Here is an article on these markers just as they started to be posted on highways in the late 1960s. (Another reference from around that time is the 1967 publication by the Insurance Institute for Highway Safety called "Mileposting")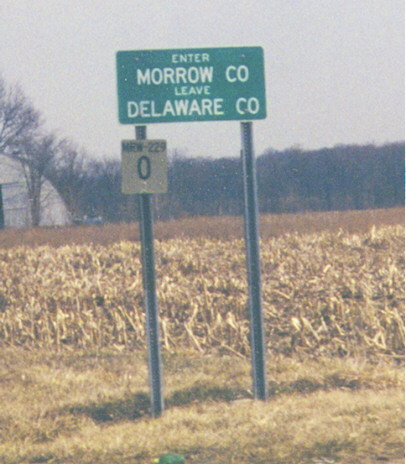 Pictured is the version discussed in the linked article above. The information above the mileage reads "MOR-229", representing Morrow County (or any other 3 letter code Ohio would have for its counties) and the Route 229 . Also pictured is the standard county line sign for non-freeway state highways in Ohio.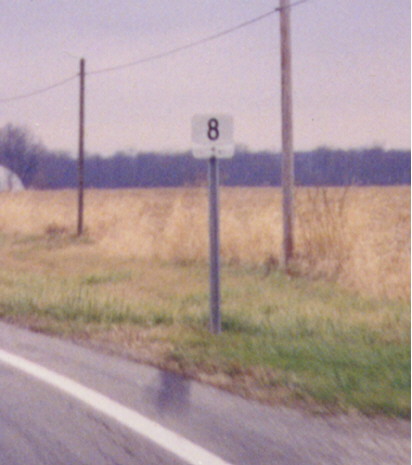 This is a "regular" milemarker, in that there is no information presented here other than the milage (though the number is usually centered on the marker) Around 2001, newer markers started appearing. These are slightly larger with a proportionately larger number.
Ohio considers any state-maintained route as a state route with that number, regardless of class These types are found on Ohio's non-freeway state highways, including U.S. routes. These markers are counted from county lines, not state lines. They increase going north or east, just like Interstate markers.
County road milemarkers
Franklin County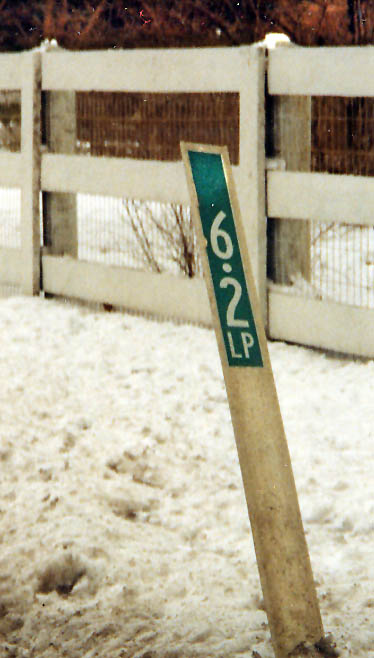 On the photo on the right, the number 9 represents the numeric designation for the road. In this case Franklin Co. Rd 9 (which is Olentangy River Rd)
On the left, the number is the milage of the road from it's southern terminus. The milage will face out towards those driving towards it on it's right side, while the county route designation will face drivers in the opposing direction. I don't know what the letters 'LP' stand for on this sign.
Franklin County places these markers on either side of the road, and in some case the median if applicable. (Photo on right from October, 2002/Photo on left from Feburary, 2003)
The top number (0) is the mileage and the bottom number (5N) is the route number. County roads here are referred to by name by the locals, never by number (though not all Ohio counties hold to this practice).
On Mentor Rd, northwest of Chardon
(Also of note: Ashtabula and Franklin Counties also use this same style of milemarking on their county routes)
Mile 8 on Marion County Road 123 (in SE Marion County).
This marker always appears with the milemarker (and nowhere else).
On Courtney Road Eastbound northwest of Sebring, near Alliance
Tuscarawas County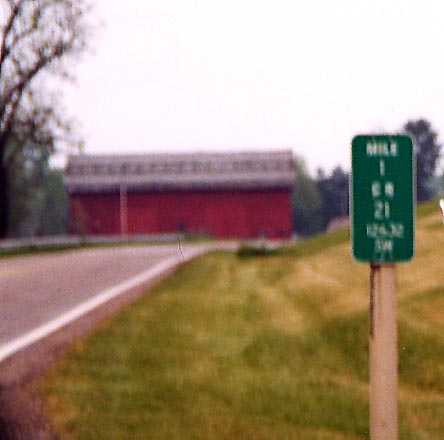 Other Milemarker pictures (from outside of Ohio) that Marc or Sandor have taken can be found on these following pages:
NW Indiana (bottom of page) | Philadelphia (Schuylkill Expwy subsection) | Quebec (Gaspe Penninsula)
---
Bridge marker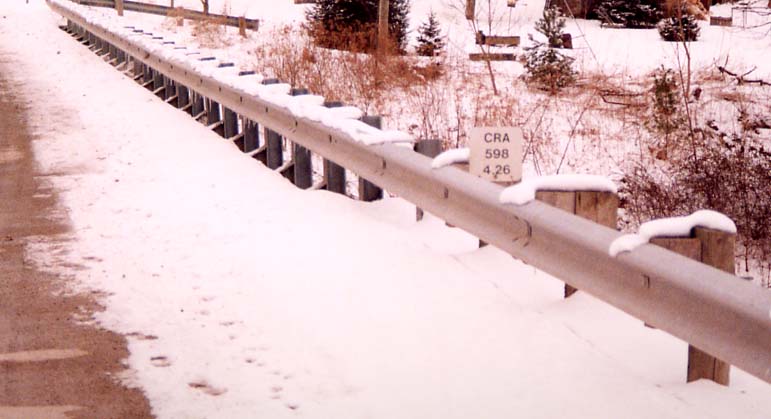 Many, but not all, ODOT districts use bridge markers like this. They list the three-letter county abbreviation, then the route number, then the mileage from the south or west county line crossing.
On SR 598 in Leesville (at the Olentangy River?), in District 3
Old style culvert/bridge markers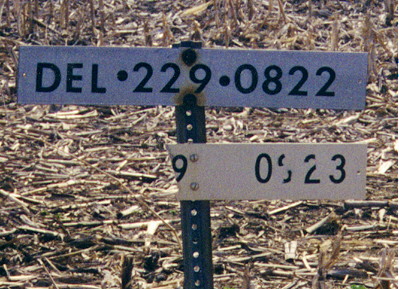 This partially-intact set of reference markers was found by Sandor Gulyas along Ohio 229 In Eastern Delaware County just west of the Delaware/Morrow County Line
According to Brian Powell, "[These are] old style culvert/bridge marker[s]. The last four digits represent the state ID number."
(Note from Sandor: This style of marker is still fairly prevalent around the northern reaches of ODOT district 6)
This is a bridge inventory marker or "...[A] bridge number marker. They are numbered sequentially from the county line. US 30 in Wayne County has these, at least they did until recently." (Brian Powell)
On Interstate 71 Northbound between U.S. 250 and Interstate 76/U.S. 224, over railroad tracks
---
Buckeye Crossbuck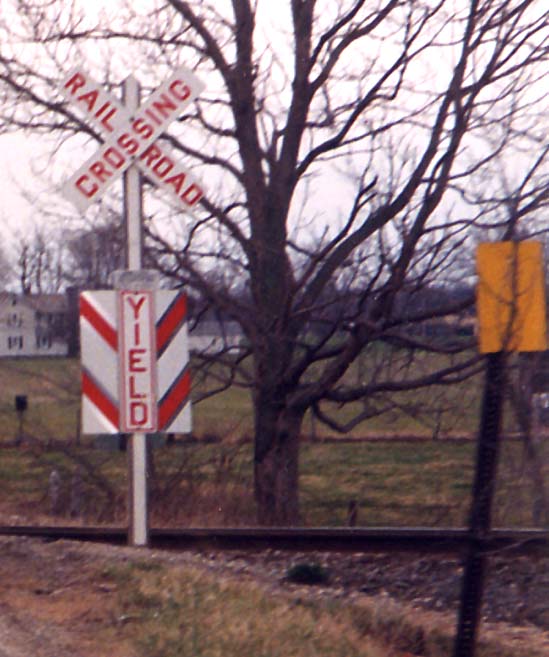 This is a special railroad crossing sign introduced in 1992 in Ohio. The sides of the "YIELD" section are folded back to reflect the flashing lights of the lead engine of an approaching train. All components of the sign assembly are reflective, including the post. Here is a scan of a brochure describing this device. (This brochure has also been transcribed onto this page at the ODOT District 11 website.) Installation of the signs has been part of a research project to compare this type of sign to regular passive crossing signs (no lights, bells, or gates).
On Courtney Road (Mahoning County Road 22) Eastbound at a Norfolk Southern track north of Sebring
Sign announcing the move-over (from parked law enforcement and emergency vehicles) law in Ohio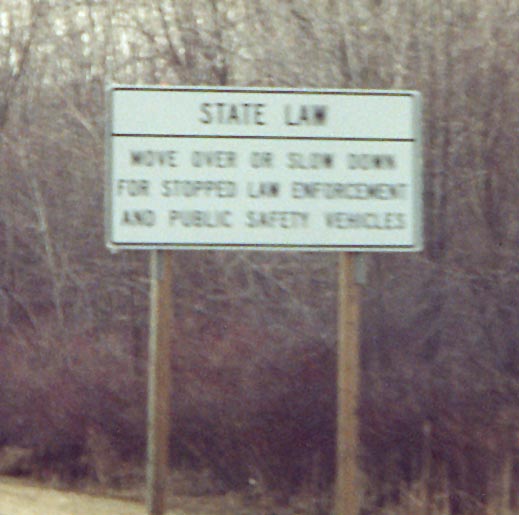 This law was passed in 2001 (newspaper article).
Flourescent yellow-green signs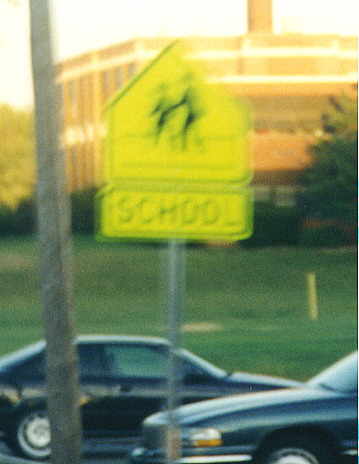 The color flourescent yellow-green was approved, in 1998, as an official sign color for certain warning signs (go here for details). At that time Aurora was one of the first (in Ohio) to use them for school signs (Sandor got a better picture of the same type of sign, in Indiana), and since then they have spread throughout the state as evident from this following articles. News-Herald of Northeast Ohio article about them.
---
This site created Friday, April 2, 1999/Moved to roadfan.com April 14, 2001/Last revised April 16, 2005
Questions, comments, and submissions can be sent to Sandor Gulyas or Marc Fannin
Return to The Ohio Regional Road Pages