Pictures of Conneaut
---
Downtown Conneaut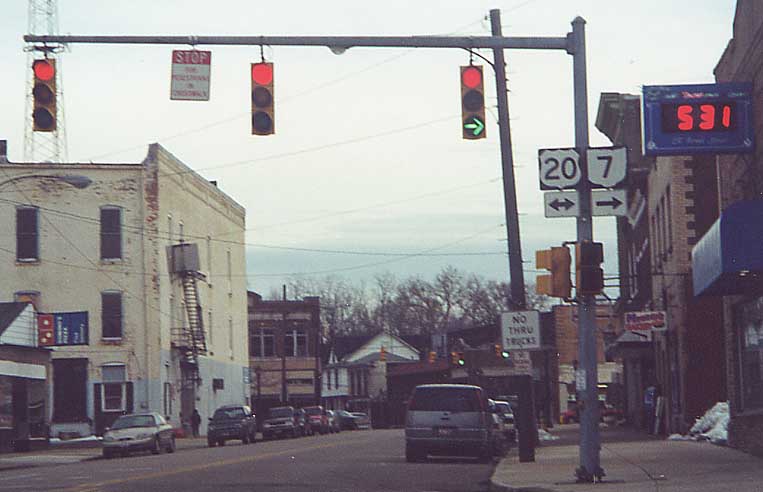 Ohio 7 Southbound at US 20 in Conneaut
Note the red and green at the same time. Downtown Conneaut is straight ahead (US 20 bypasses it one block to the north). Turning right leads to....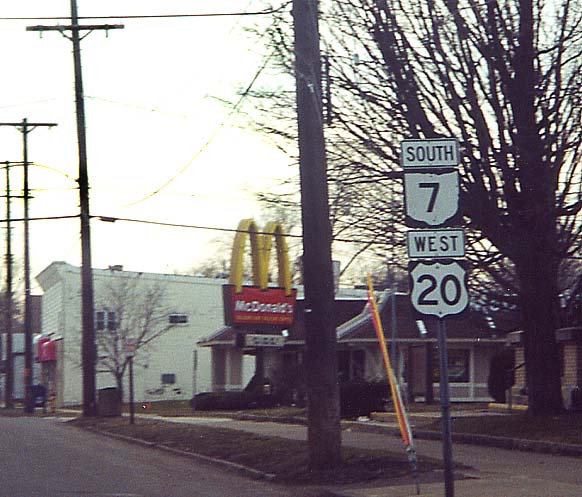 Like we mentioned in Sandusky and Columbus, state routes are supposed to be subordinate to United States routes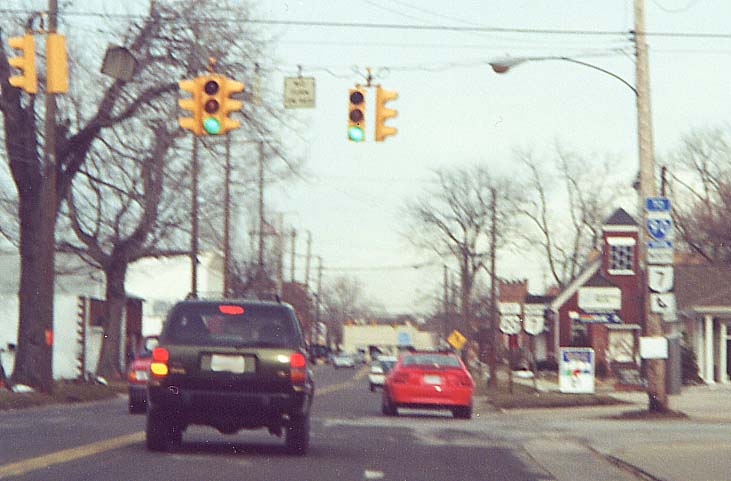 You don't necessarily go north in both directions along Oh 7 here. Also, that is a mighty thin arrow beneith the I-90 shield.
Oh 7 - South Conneaut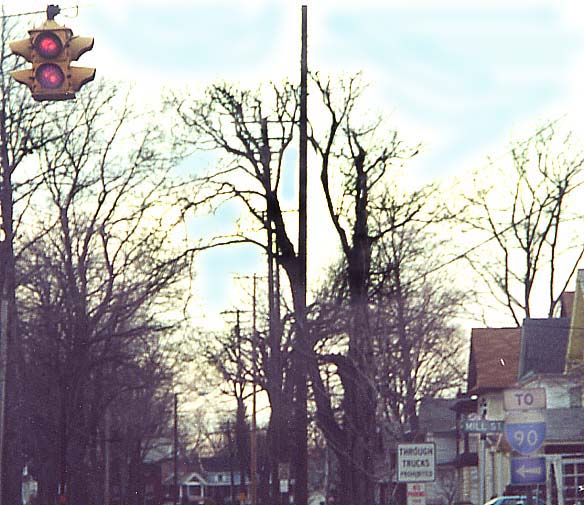 Double lens 4 direction traffic light (no longer there, replaced by modern flasher assemblies by December 12, 2004) and an old I-90 trailblazer (the state name in the Interstate shield gives it away) at Ohio 7 and Liberty St on the south side of Conneaut. Another such shield was just off to the left, but it was replaced between July, 2000 and March, 2001 (as you'll see below).
Same traffic light, but now looking south on Ohio 7. On the right side you see the To I-90 shield and a Ohio Turnpike Trailblazer (63 miles!). Don't believe us? See below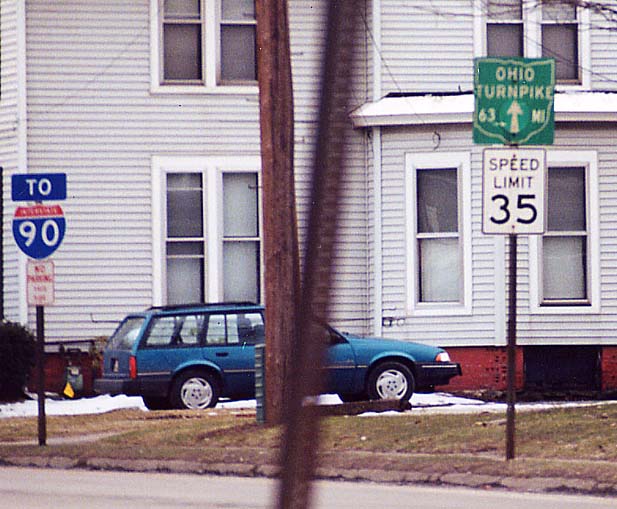 Old Ohio 7 bridge south of Conneaut,
This is the northern of the two Conneaut Creek crossings along Ohio 7 (the southern one is south of I-90).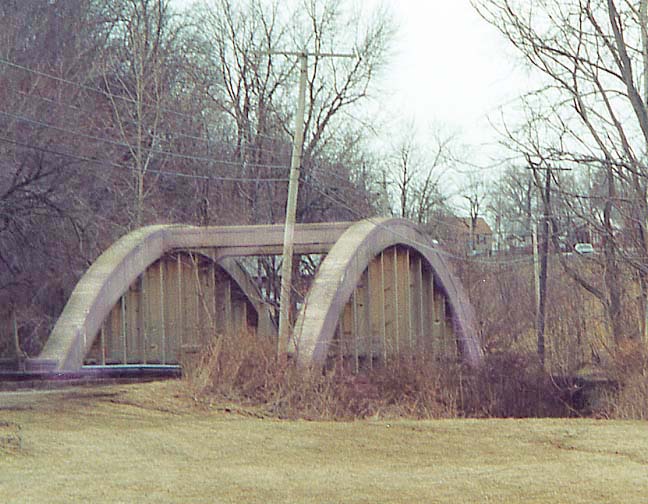 3/4 view from Welton Rd (between Old and current Oh 7)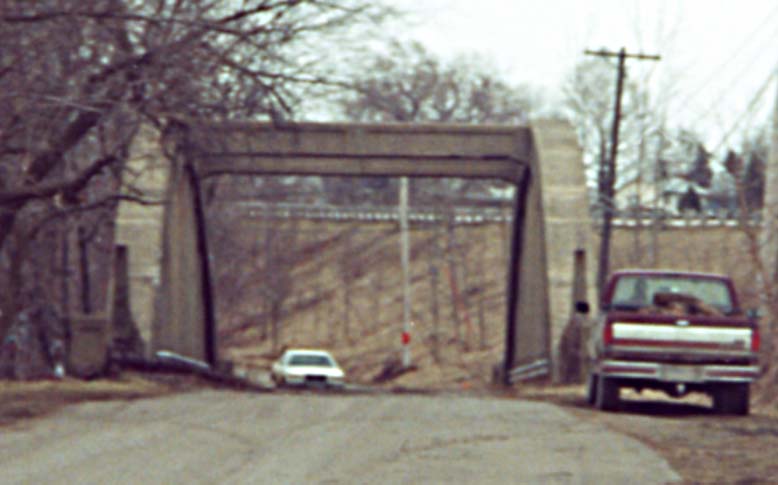 Head on view of the bridge, looking north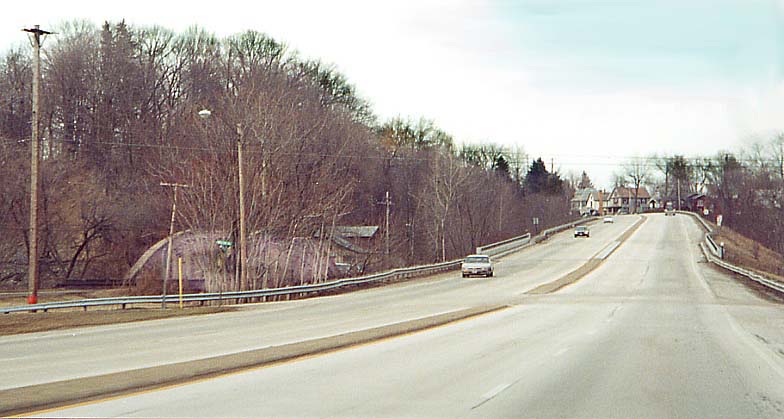 Another 3/4 view along current Ohio 7 NB
US 20 over Conneaut Creek
ODOT replaced the US 20 bridge over the creek on the east side of town with a new one just to the south, which opened sometime between August 9 and December 14, 2004. (Ashtabula Star Beacon articles: 5/24/04 | 8/9/04 ) Go here and here for construction photos. The "Bridges" section of this page shows postcards of the old 1924 span as well as other spans in the town.
US 20 - Pa/Oh state line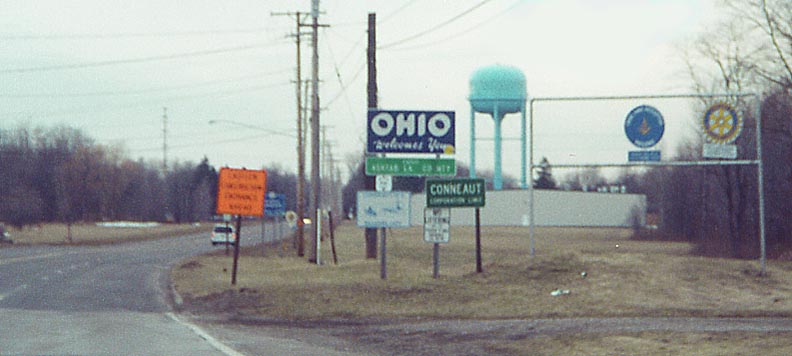 US 20 at the Ohio/Pennsylvania state line (coming into Ohio)
The official name of US 20 in Ohio - Just past the state line
---
Page created on January 25, 2003/Last revised December 14, 2004
Questions and comments can be sent to Sandor Gulyas or Marc Fannin
Return to The Western Reserve Photo Index