Ashtabula County North-Central Photos
FEATURING: The City of Ashtabula
---
Ashtabula (city) Photos
---
New photos are temporarily here (with "atb" in the filenames)
---
The new US 20 bridge over the Ashtabula River
Here is a newspaper article (Lake County News-Herald, 11/10/00) concerning the opening of this bridge and the demolition of the one immediately to the north which it replaced.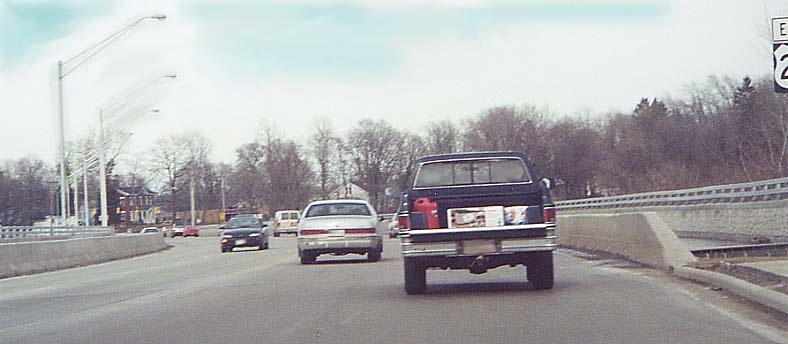 Looking eastbound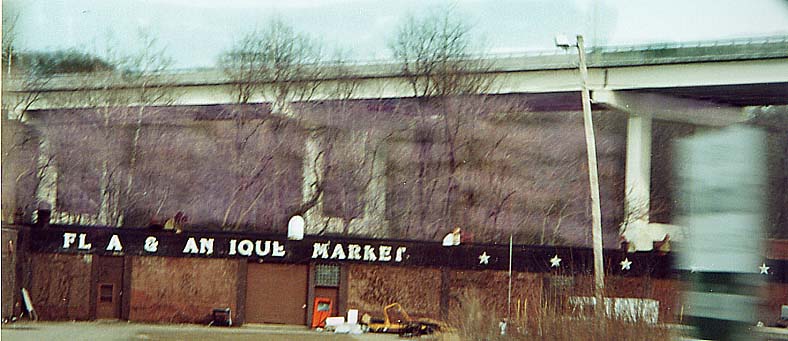 From below, looking south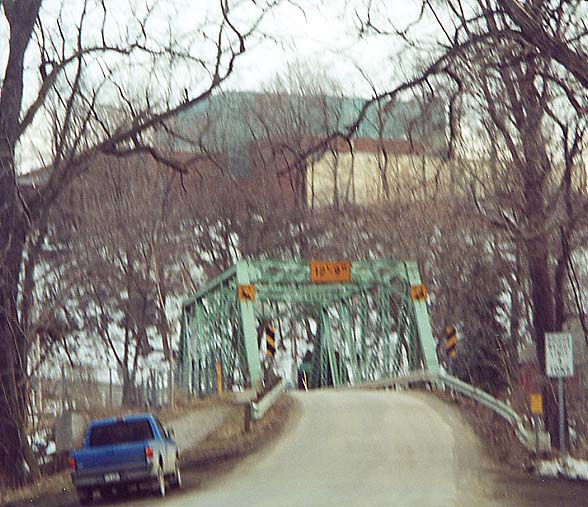 Harmon Hill Bridge just north of US 20, Ashtabula
This newspaper article (Lake County News-Herald, 10/19/00) gives a litle history of the Harmon Hill bridge, which may have carried US 20 very early on.
Ashtabula Traffic lights
Most of Ashtabula's traffic lights are aging, though federal money has been set aside for a computerized system.
The US 20/Lake Avenue/Park Avenue intersection (map of environs), through late 2004. To the north, Lake Avenue used to be Ohio 46. To the south, it used to be Ohio 84. Both routes here joined US 20 to cross the river. This intersection was formerly the location of a gas station whose building was shaped like a flying saucer. See this page for information (go to the "fireplug" entry). In 1999 the building was moved to the Crawford Auto-Aviation Museum in Cleveland. Note: By December 1, 2004, the signals at this complex intersection had been replaced by modern ones.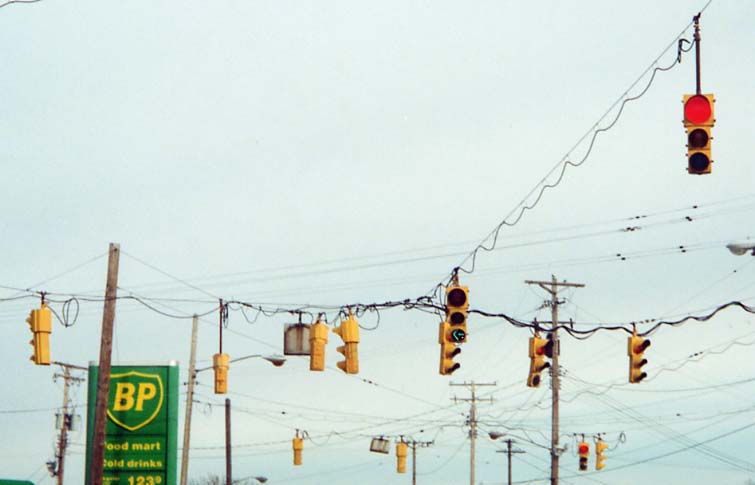 On Lake Avenue Southbound


On US 20 Eastbound, looking toward the new bridge (see above)

While the 12-8-8 setup (along US 20) is standard. The crossing street gets 12" lenses for both the red and green signals. Eastbound US 20 at Station Avenue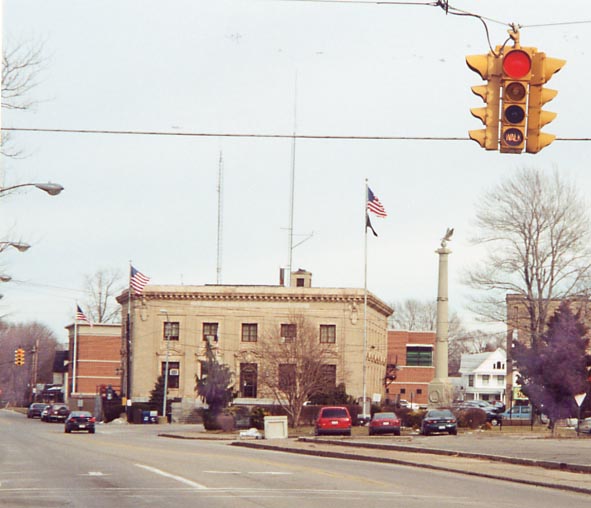 A rarity, A 4-way, 4 signal traffic light! With the bottom signal reading "WALK" Neither one of us have seen this setup active outside of Ashtabula, although Marc has seen what appears to be a non-functioning one at Summit and Lincoln Streets in Kent. The "WALK" comes on as the signal for 44th Street turns from yellow to red, then goes out for a few seconds before Park Avenue gets its green a couple of seconds after it flashes quickly. The signal in the background (at Main Avenue, old Ohio SR 84) also had this setup at the time the photo was taken on March 20, 2001, though the WALK signal seemed to have been deactivated; as of February 25, 2003, the signal had the walk lens housings removed altogether, leaving the signal as just red-yellow-green, and as of April 22, 2003, it had been entirely replaced with modern assemblies. There was an intersection on Ohio 531 in the Harbor district with this setup as well, which also had been replaced with modern signals as of September 9, 2003.
The presence of a pedestrian-only phase such as with this signal, and formerly the US 20 (Prospect Avenue)/Station Avenue above, is sometimes called the "Barnes Dance".
Apparently this style has been around quite a while, judging from the 1961 photograph accompanying this Ashtabula Star Beacon article from July 22, 2004 (also note the US 20 shield). (Here is the same view on August 10, 2004) West 44th Street Eastbound at Park Avenue, just west of downtown Ashtabula
Ashtabula's Eastern Fringes
The north end of Ohio 11
Ohio 11, a freeway its entire length (exit guide), ends at a "T" intersection with Ohio 531. Ohio 46 also ends here, though that route is not signed along its travels with Ohio 11.


As you approaching the end, the Ohio 531 assembly (on top) is missing its arrows sign. Beneath the green sign there's a "Jct" Lake Erie Circle tour assembly as well.

An at-grade intersection, some two-lens traffic lights, some stop signs, and a Interstate-grade milemarker and its milage (with coresponds with Oh 11's entire length).
A photograph of Oh 11's southern end is with the Ohio Lincoln Highway photo collection
The Ohio 11/46 and old Ohio 46 Ashtabula River crossings
Ohio Route 11 (with Ohio 46 hidden along it) crosses the Ashtabula River between I-90 and Ohio 84. Its bridges are being replaced; the southbound span was replaced in 2003 and the northbound one is being replaced in 2003-'04, with the project scheduled to be completed by late Fall 2004 (check this page for updates). Photos from the News-Herald photo gallery:
The Ohio DOT has photos of the project here as well as some from before the project (taken c. 1998) here.
The nearby State Road (old Ohio 46) crossing is planned to be replaced with what would be the longest covered bridge in the U.S. and fourth-longest in the world, with construction starting in 2006 and ending in 2007. Willoughby News-Herald article, 7/21/04 | Map of current crossing | Ashtabula County Engineer 2004 Road and Bridge Program
The I-90/Ohio 11 interchange
For whatever reason, Carson Road paralleling I-90 to the south at the Ohio 11 freeway was not rerouted when Ohio 11 was built; consequently, the two southernmost ramps in the I-90/Ohio 11 interchange meet Ohio 11 at right angles.
Map of the interchange (The map doesn't show clearly, but Carson Rd. goes underneath Ohio 11 here) See also the interchange illustration at the I-90 or SR 11 ODOT straight-line diagrams.
According to this official list (.pdf), this interchange is scheduled to be rebuilt by 2010.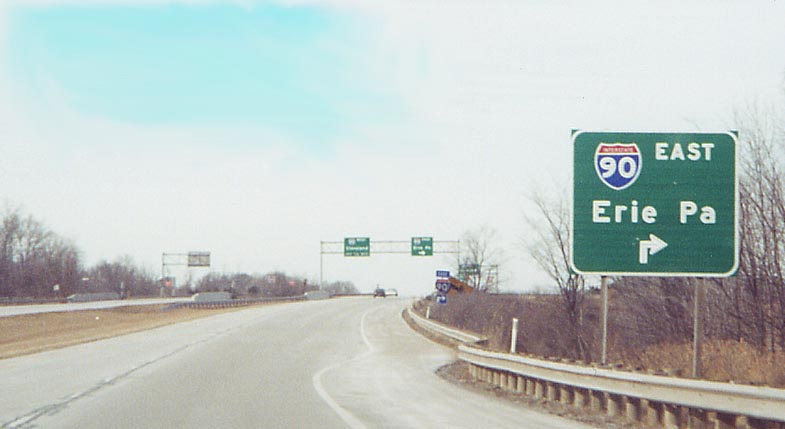 Ohio 11 Northbound approaching I-90. All the signs give you some idea about whats coming if you plan to take I-90 east.

Right upon the ramp to I-90 east from Oh 11 north. Apparently someone didn't pay enough attention to the 10 MPH sign.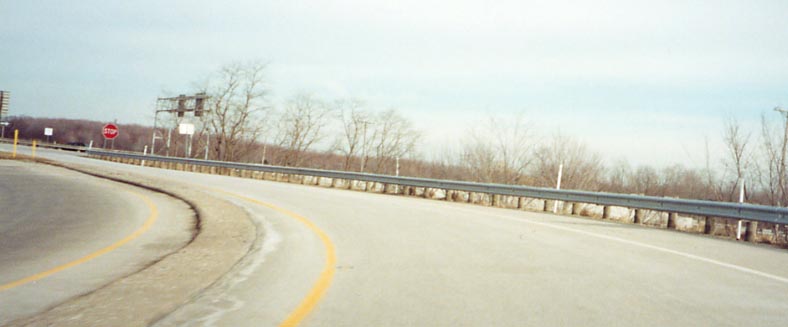 The ramp from I-90 Eastbound to Ohio 11 Southbound. Note the stop sign.
Kingsville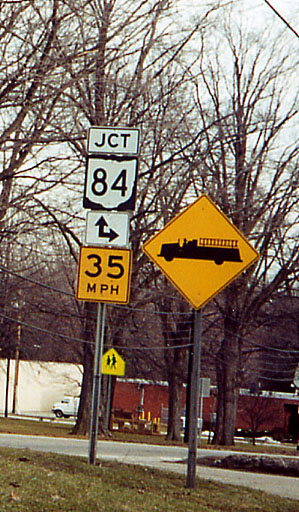 A junction speed limit. Oh 193 Southbound in Kingsville

Ashtabula County street sign and covered bridge sign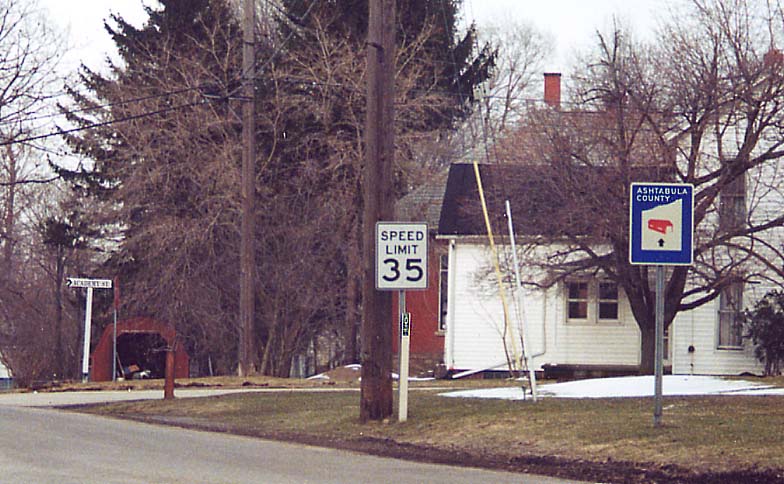 A Covered Bridge sign and Ashtabula County Rd milemarker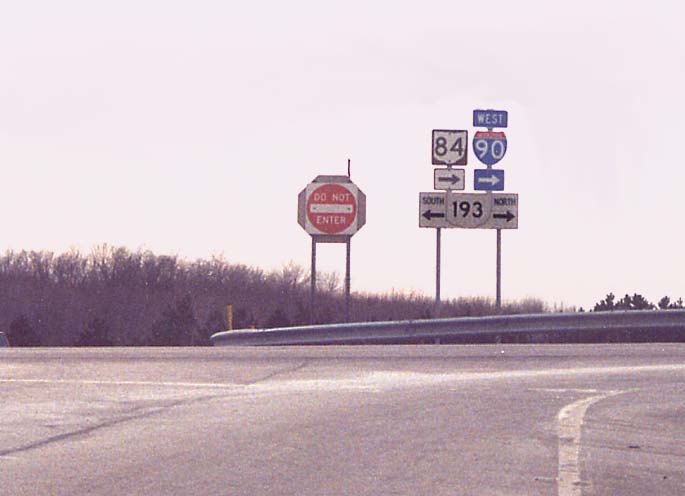 Oh 193 shield here is an error due to the missing black background. Oh 84 turns right and goes west over I-90.
Within the I-90/Ohio 84 - Ohio 193 interchange (Map of interchange)
---
Page created on January 5, 2003/Last revised December 6, 2004
Questions and Comments can be sent to Sandor Gulyas or Marc Fannin
Return to The Western Reserve Photo Index