Mahoning and Trumbull County Photos
Click here to scroll down to the Trumbull Co. collection
---
Mahoning County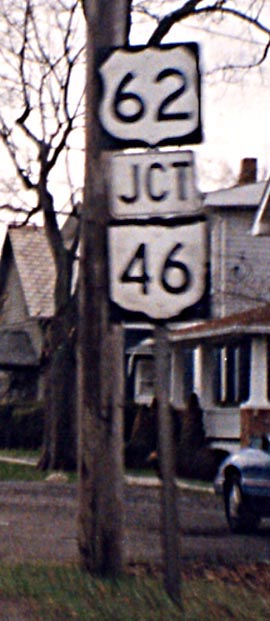 For unknown reasons, the "JCT" banner was placed in the middle of this assembly rather than on top.
On US 224 westbound in Canfield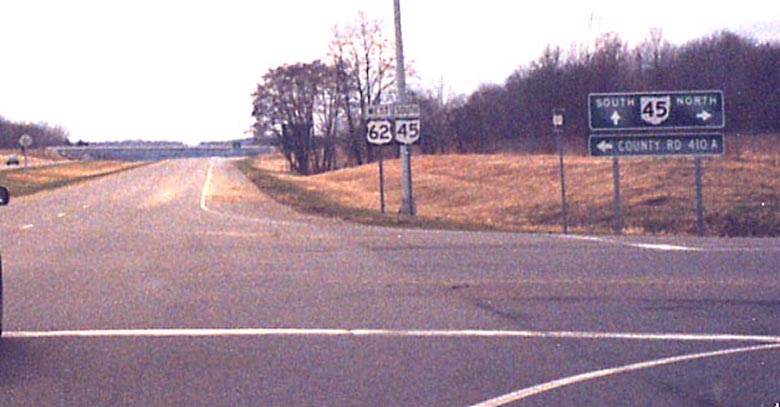 Ohio 45 joins US 62 on the Salem segment at a signalized intersection (foreground), then both exit at a diamond interchange immediately after (background) and the highway continues as Ohio 14 F. The large exit sign for the interchange off-ramp is obscured somewhat by a tree next to the highway. (for more see the Stark Co. page)
Mahoning County only signs its highways at one-mile intervals above milemarkers.
On Courtney Road Eastbound northwest of Sebring, near Alliance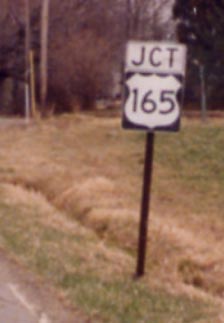 Occasionally U.S. highways in Ohio are posted as state highways (see the Geauga County page). Here is a state highway posted as a U.S. highway.
On Courtney Road (Mahoning County Road 22) Eastbound north of Beloit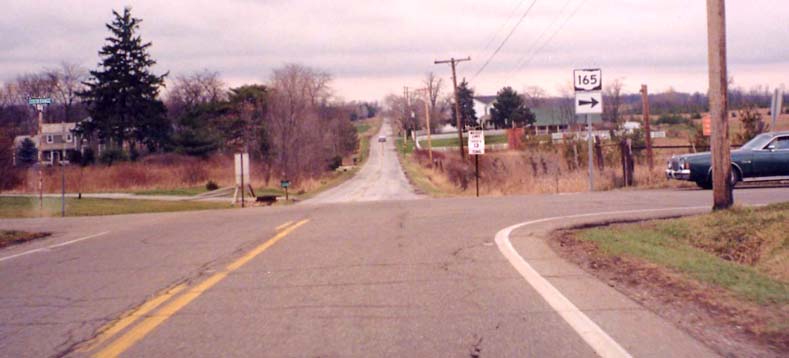 Where Ohio 165 turns from north to east just west of Ohio 534 and Ohio 14 there is this assembly with the oversized right arrow.

---
Trumbull County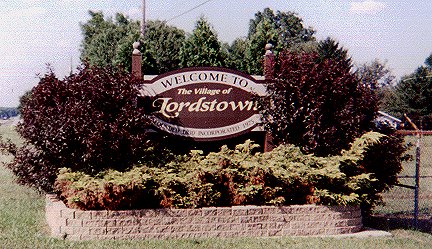 Lordstown is the home of a large auto plant along the Turnpike. Contributed by Matt Walcoff
Center of the World, Ohio, at the western intersection of Ohio 5 and Ohio 82 between the Turnpike and the Warren bypass. Matt Walcoff explains the name:
In case you're curious, the area's name comes from an eccentric store owner who painted the words on the side of his building. When the railroads came through, putting him out of business, he moved to a house he called "End of the World."
Contributed by Matt Walcoff
Warren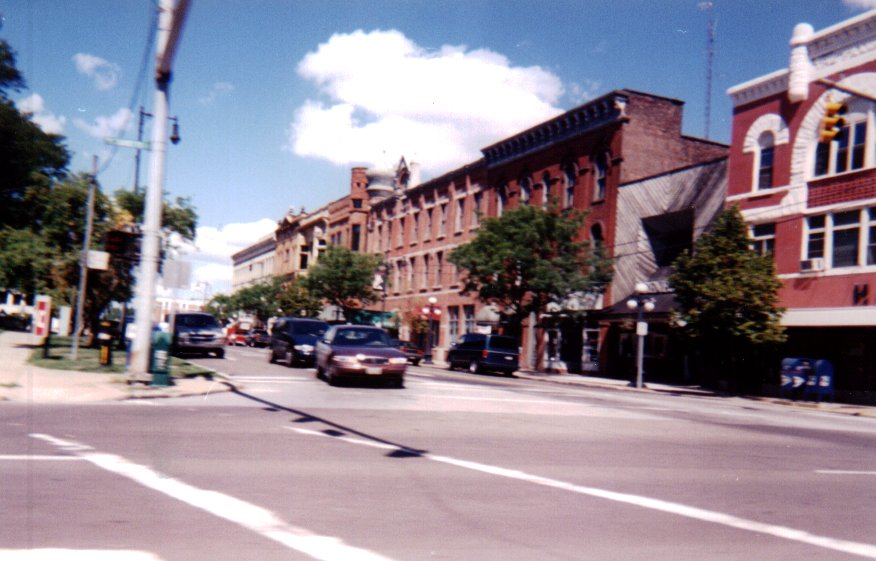 Warren streetscape - Contributed by Matt Walcoff
The second set of traffic lights in this photo is a rarity in Ohio, a 5 light vertical traffic light assembly! Normally Ohio uses a "dog house" style for 5 light assemblies. On US 422 in NE Warren (Photo from September, 2003)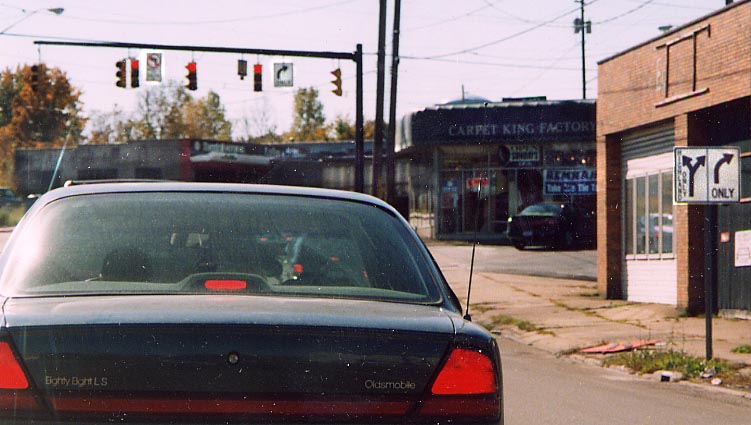 The directional sign on the right is sort of misleading. Even with the text it appears one can turn left, when in actuality you can either go straight or turn right (see the No Left Turn sign with the traffic lights on the upper left?). A strange make up. Intersection of Highland, South (US 422), and Market Sts (US 422, Old Oh 5 & 82). Photo from September, 2003.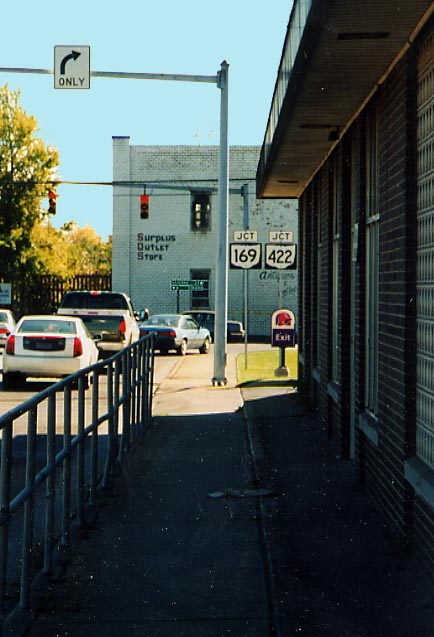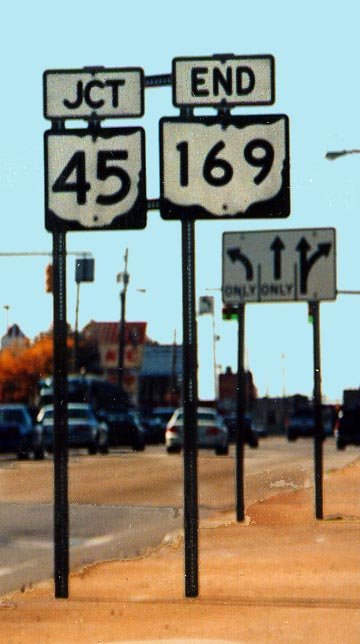 Left Photo: New shields and new error. That should be US 422, not a state route (though Warren has been devalued as well in the last 30-40 years)
Right Photo: The north end for Oh 169. Oh 169 joins with US 422 for it's last couple of miles through Warren (Both photos from September, 2003)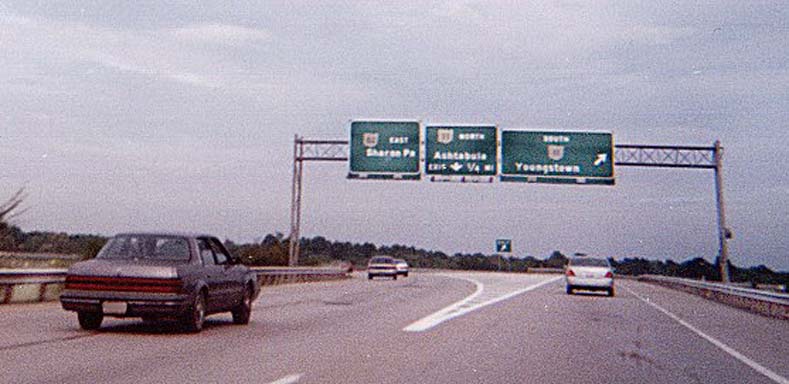 Ohio 82 Eastbound at Ohio 11 east of Warren - Contributed by Matt Walcoff
With the north end of Oh 169 in Warren, the south end of Oh 169 is at US 422 in McKinley Hts (east of Niles).
Interestingly, US 422 was always routed as a bypass of Niles, while Oh 169 was the through route to Niles.
And how does one removed the lense covers on a traffic light? I notice 4 missing in this photo. (From September. 2003)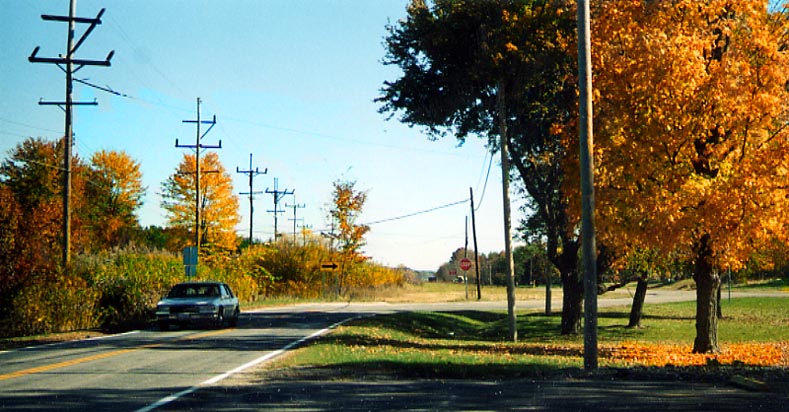 Northwest of Warren, there is a former routing of US 422 from Southington to Delightful and is quite open to traffic. (Photo from September, 2003)
Speaking of Delightful. Is there anything Delightful about a cemetery? Yes, boys and girls this does exist along Warren-Burton Rd (Old US 422, see above).
Photo from September, 2003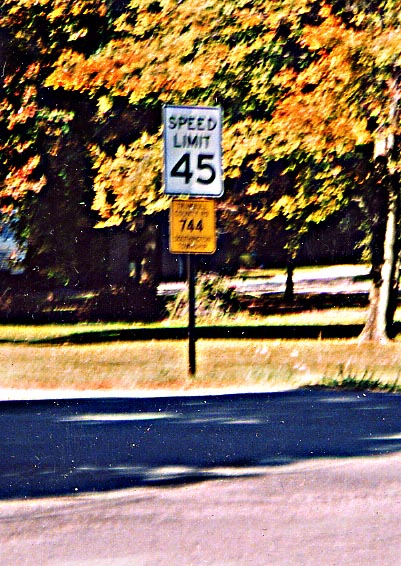 The standard Trumbull County roadsign. (Photo from September, 2003)
---
Links
The I-76/I-80 Corridor Study by ODOT District 4
---
Page created on December 30, 2002/Last revised January 29, 2004
Questions and comments can be sent to Sandor Gulyas or Marc Fannin
Return to Youngstown Virtual Roadtrip or The Western Reserve Photo Index