Lorain County Photos
Elyria | OH 2
---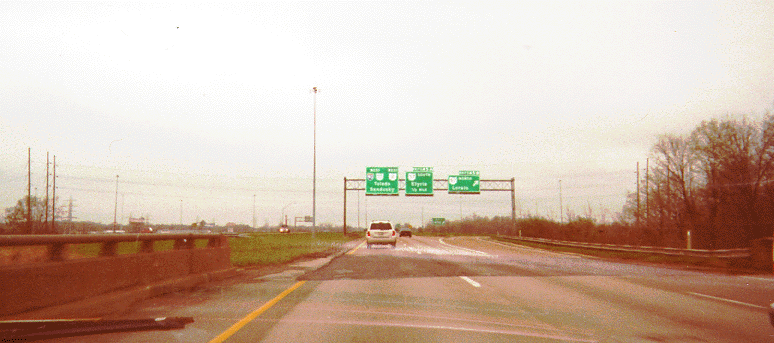 The shield next to the I-90 shield is an Ohio Turnpike shield. Prior to the construction of the Ohio 2/Ohio Turnpike connector (see below) around 1976, I-90 traffic had to use Ohio 57 to access the Turnpike.
In 2003 the loop from State Route 57 SB to I-90/SR 2 EB in this interchange was removed and replaced by a left turn to simplify traffic movements on SR 57, and the opposite loop had been removed by 2004 to make the interchange a six-ramp parclo, as part of the ODOT SR 57 project.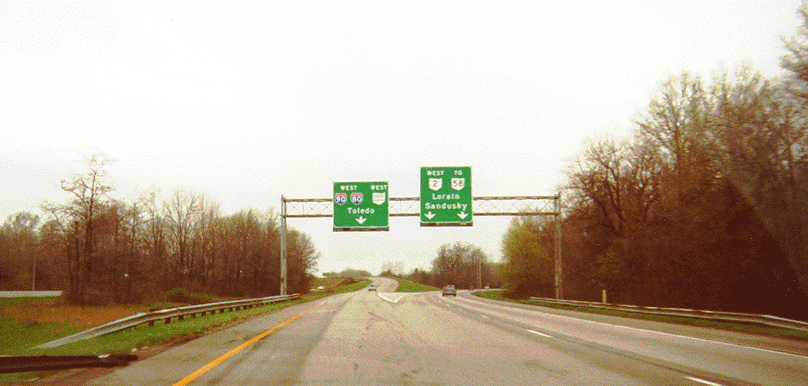 Here, I-90 follows the Ohio 2/Ohio Turnpike connector (map). Approaching this split, I-90/Ohio 2 Westbound only has two lanes, and both continue as Ohio 2 Westbound. I-90 follows a single branching ramp which soon becomes two lanes. The opposite direction is exactly the opposite: I-90 Eastbound narrows from two lanes to one and merges into the right of Ohio 2 Eastbound's two continuous lanes. Since this photo was taken, I-90 and SR 2 freestanding signs were placed in the area just after the split (the gore).
Elyria traffic signals
Some of Elyria's traffic signals use interesting combinations of 8-inch and 12-inch lenses. The following ones are located in the vicinity of Midway Mall.

Tillotson Street Northbound at 49th Street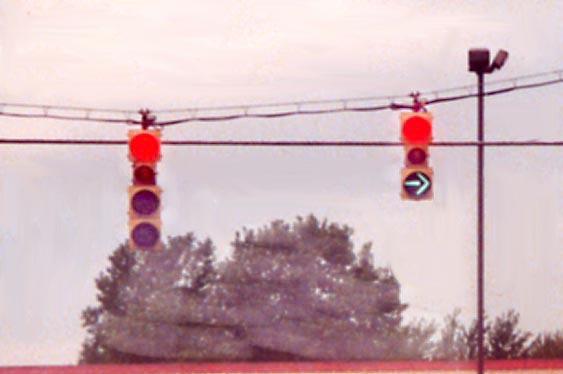 49th Street Westbound at Leona Street (Red and green at the same time!)

Overhead signs on the at-grade Elyria bypass (John F. Kennedy Memorial Parkway)
Abbe Road Northbound is Ohio 301.
---
OH 2 through Lorain County
Exit Numbers - Lorain/Amherst/Vermilion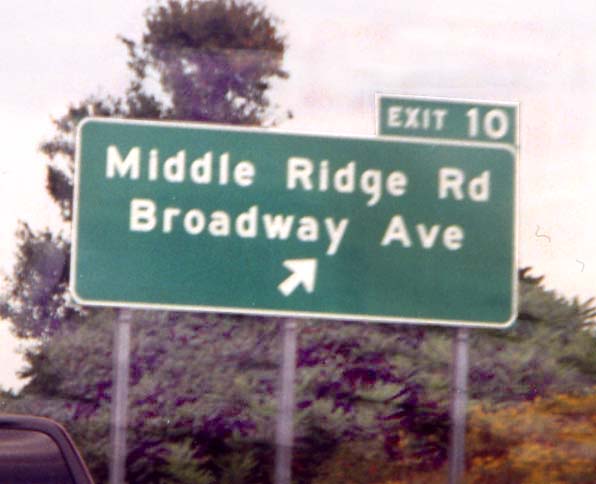 Yes, it appears that Ohio is adding exit numbers to its non-Interstates, at least in Lorain County. The only problem: Non-Interstate milemarkers reset at county lines, so the exit numbers would have to reset also. In Lorain County, there are three such exits: Exit 10 (pictured) and nearby Exit 7 (Ohio 58) on Ohio 2, and Exit 3 (Ohio 83) on Ohio 10. There are also exit numbers along US 33 near Athens as well.
James Hunt Memorial Bridge (Amherst)


On February 25, 2000, a man named James Hunt stopped to assist a motorist on this Ohio 2 bridge over Norfolk Southern railroad tracks and Crosse Road between the Baumhart Road and Oak Point Road interchanges near Amherst; in the process of helping out, a vehicle came towards him, forcing him to jump over the bridge, which proved fatal. (News article) In Summer 2000, Mr. Hunt's son persuaded local and state officials to name the bridge after his father. Mr. Hunt is remembered by a plaque placed on the bridge structure underneath Ohio 2.
Looking Eastbound
Baumhart Road - Lorain/Vermilion
Baumhart Road is a road on the west side of Lorain. It runs past the Ford Motor Company Lorain Assembly Plant. The presence of the Ford Plant led to the construction of the Baumhart Road interchange (Exit 135/old Exit 7A) on the Ohio Turnpike in the late 1990's. From 1970 to 1976 Baumhart Road carried Ohio 2 between the present Ohio 2/Baumhart interchange and US 6 before the Ohio 2 freeway was extended westward.
Ohio 2 - Baumhart interchange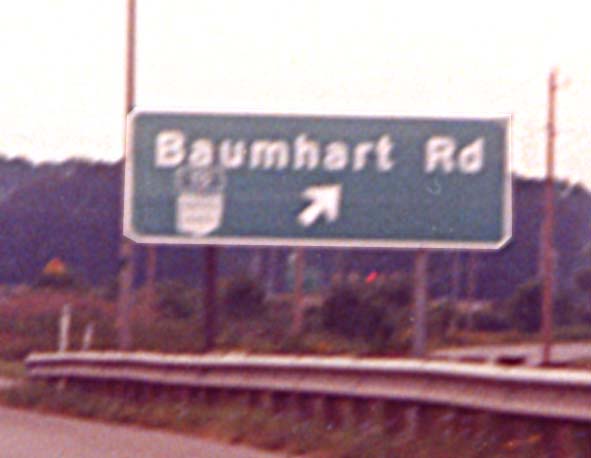 Note the Ohio Turnpike marker assembly attached to the sign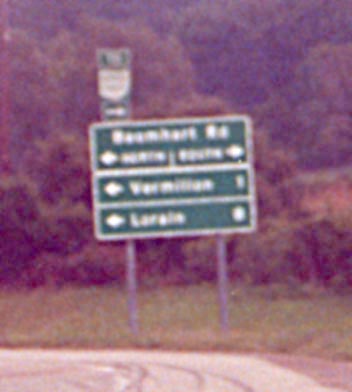 This is standard Ohio freeway ramp signage, featuring mileages to towns. The Turnpike marker appears again.
Baumhart Rd items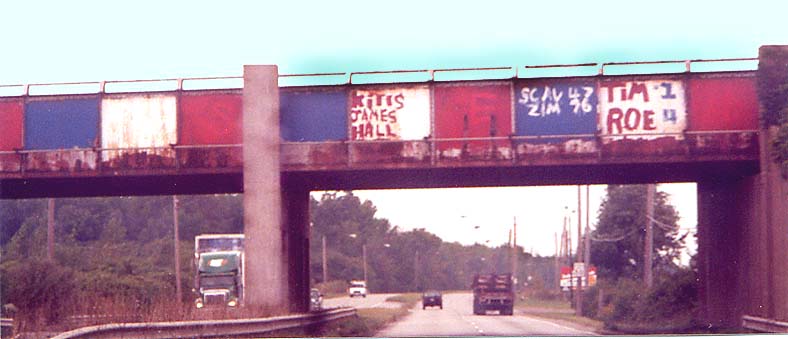 Colorful Norfolk Southern overpass - Northbound just north of Ohio 2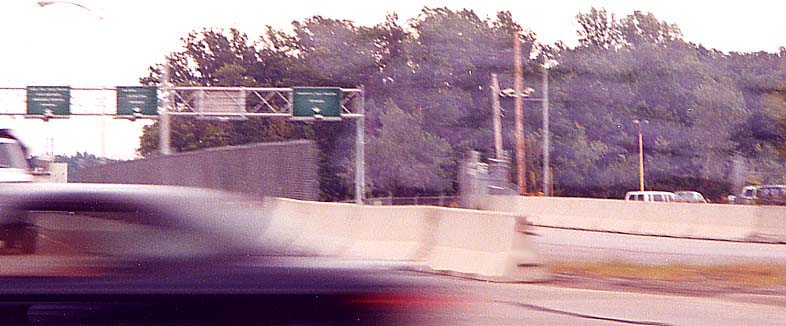 Overhead green guide signs within the Ford Plant complex, from Baumhart Road
Everything's to the left -- literally (Vermilion)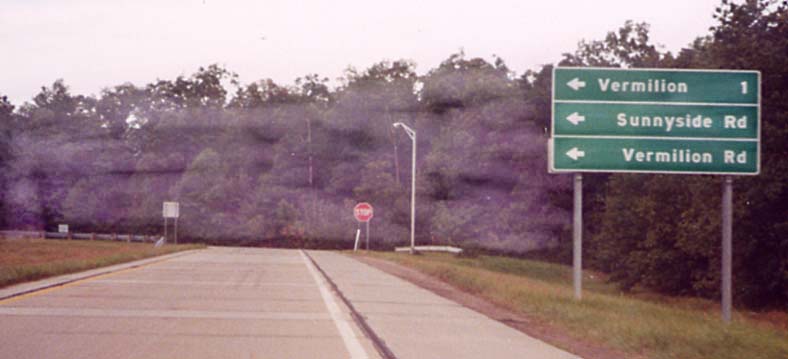 Here is a diamond interchange with no roadway to the north. The very short roadway to the south ("Vermilion Interchange Rd." according to the ODOT SR 2 Lorain Co. straight-line diagram) accesses Jerusalem Road, which itself functions partly as a connector to Vermilion and Sunnyside Roads (map).
---
State Route 57 Steering Toward Tomorrow - Project to reconfigure SR 57 in the Lorain/Elyria area from US 20 to north of SR 254 including the I-80/Ohio Turnpike/Midway Mall/I-90/SR 2 area.
---
Page created on January 2, 2003/Last revised August 4, 2004
Questions or comments can be sent to Sandor Gulyas or Marc Fannin
Return to The Firelands Photo Index