Kenmore Lateral
East Expressway
---


The new East Expressway

In the mid-1990's, the East Expressway in Akron (I-76 east of the Central Interchange) was fully reconstructed. The highway was widened, sight distances were improved, and exit ramps were rebuilt to improve safety. Here is a view of the new and improved freeway.
Westbound between the Market Street/Ohio 18 and Martha Avenue/Kelly Avenue exits
---
Note: The next two I-76 entries contain four signs, taken March 21, 2000, which had been replaced before November 17, 2001, according to Ryan Dalessandro. He provides photos, from then, of the replacements.
On I-76 Westbound approaching I-277/US 224
Apparently there was a breakdown in communication somewhere regarding the former signage here.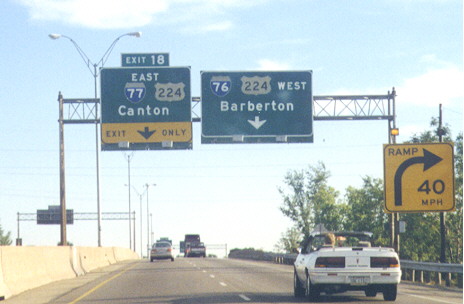 "No, I said 'Two Seventy-Seven', not 'Seventy-Seven'!" (replacement signs beneith)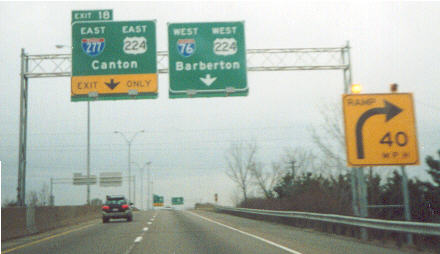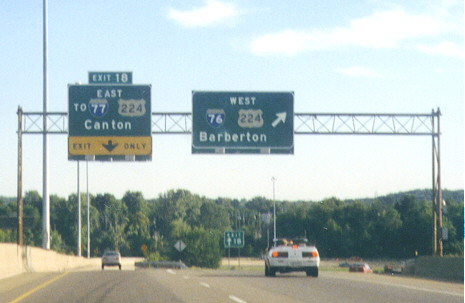 "(That's not what I meant) Oh, never mind...." (replacement signs beneith)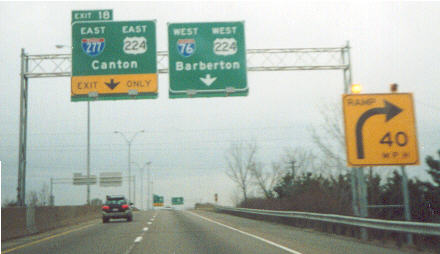 A side note: Because of the way these routes run through this interchange (map), both of I-76's "EXIT 18" signs get straight arrows (see the second set).
On I-76/US 224 Eastbound approaching I-277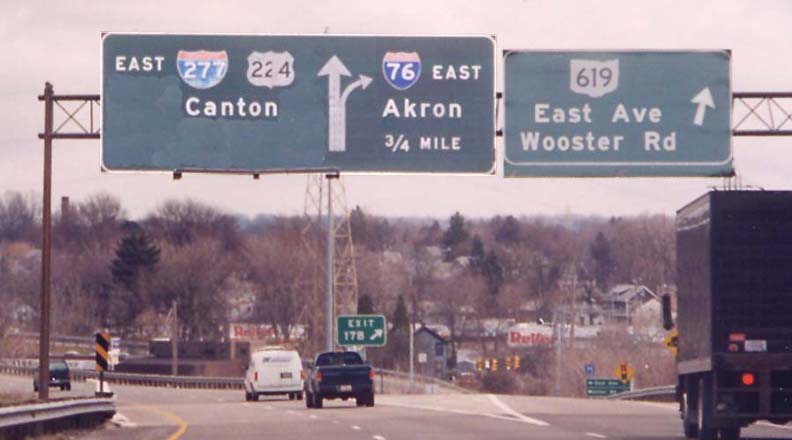 This was one of two advance signs showing the lane pattern at the split, now replaced by conventional signs.
(replacement signs beneath)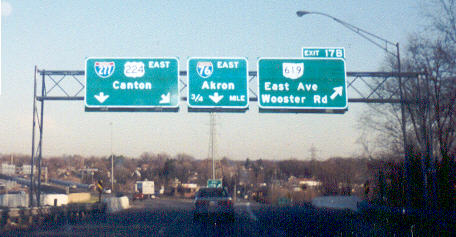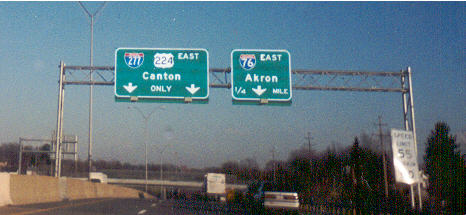 The replacement sign for the the other diagrammatic sign (no photo of) at the I-76WB/I-277 exit. The "only" at the bottom lacks yellow though.
(See The NE Cleveland Page, Fairport - Grand River Page, and Dan Moraseski and Shawn De Cesari's SW Ohio Photos for other diagrammatic signs in Ohio.)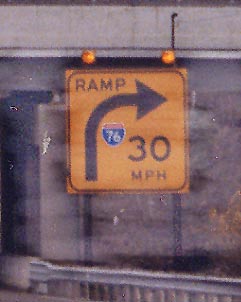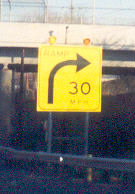 I-76 turns (replacement sign on right)
There was an uncommon warning sign for the ramp carrying I-76 Westbound through the I-76/I-277/U.S. 224 interchange (see photo above). There was a corresponding sign on I-76/US 224 Eastbound approaching I-277 as well, but this one included an I-76 shield on it.
---
Alternate I-76/US 224
This route follows I-77 and Ohio 21 from the western I-76/I-77 interchange to the I-76/US 224/Ohio 21 interchange. It was apparently created to help travellers avoid a large construction area on I-76/US 224 near the Akron/Barberton line, but still exists even though that project has been completed for several years.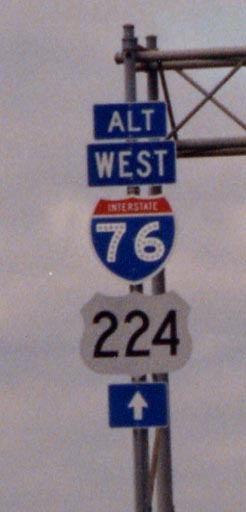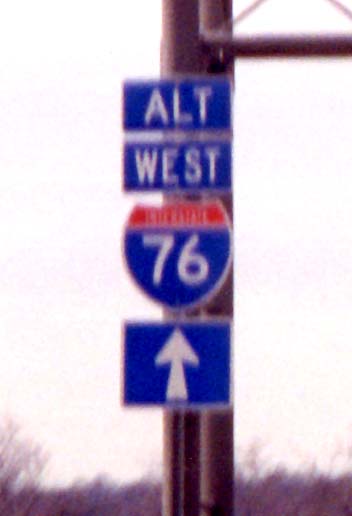 Left Picture - Northbound: Notice the button-copy numerals on the I-76 shield and the US 224 cutout shield meant for a large overhead sign.
Right Picture - The design of the arrow is the same type formerly used regularly in Ohio
Bottom Picture - Signs approaching the I-76/I-77 western interchange on I-76 Eastbound and I-76 Westbound/I-77
---
The I-76/I-80 Corridor Study by ODOT District 4
---
Page created on December 29, 2002 / Last updated on May 19, 2003
Questions and comments can be sent to Sandor Gulyas or Marc Fannin
Return to Akron Virtual Roadtrip