Grand River - Fairport
(NW reaches of Painesville)
---
Grand River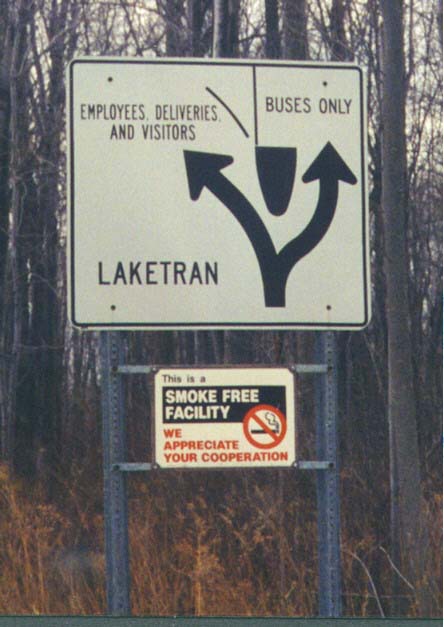 If only signs on public property were this explicit. Located at the entrance to the Laketran garage. (And the "Smoke Free" does refer to the facilities and not the service drive.) Off Ohio 283 in Grand River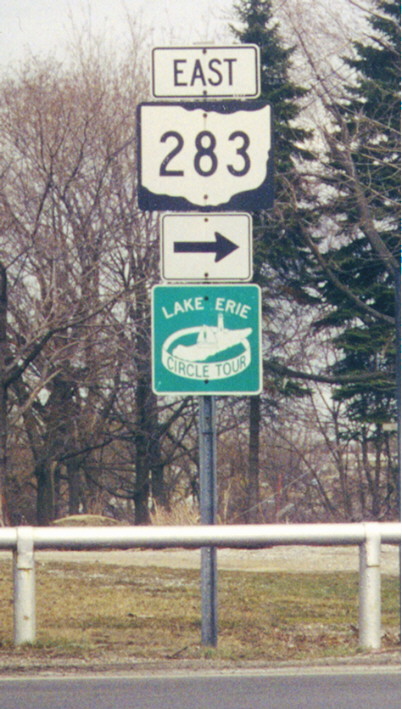 The Lake Erie Circle Tour is part of the Great Lakes Circle Tour system.
Updates: This assembly is gone now as where it sat is now a driveway leading to new condominiums, and the Lake Erie Circle Tour has been replaced by the Lake Erie Coastal Ohio Scenic Byway .
On Ohio 283 Eastbound where it turns in "downtown" Grand River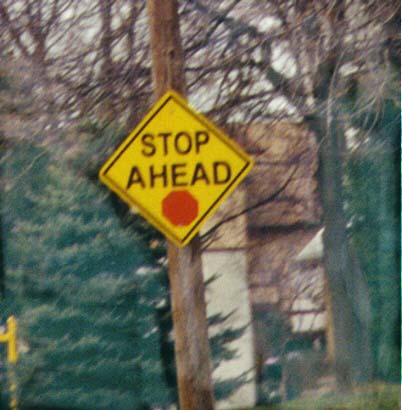 Something just isn't right with this sign. We have yet to figure out why a red octagon was added to this "STOP AHEAD" sign. The warning signs posted by the village of Grand River must be an in-house job because they have a strange look to them. Ohio 283 Westbound approaching the turn in the picture above
North end of Ohio 44
Ohio 44 comes to an end at Headlands Road (a non State or US designated road), and the roadways continue north as the main entrance/exit roads for Headlands Beach State Park and the US Coast Guard Station for Fairport Harbor on Lake Erie.

Approaching the end northbound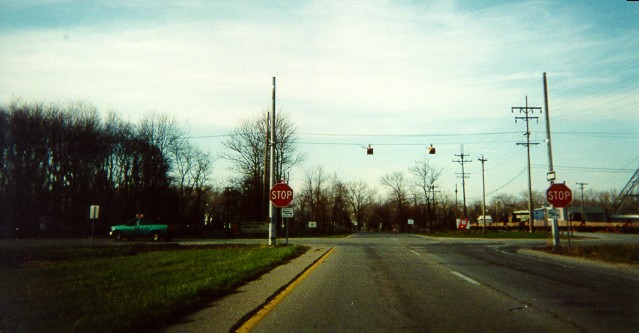 Looking north
Looking northeast
Note the Morton Salt facilities in the background.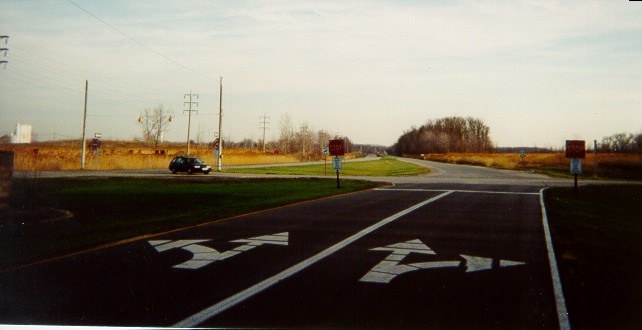 Looking south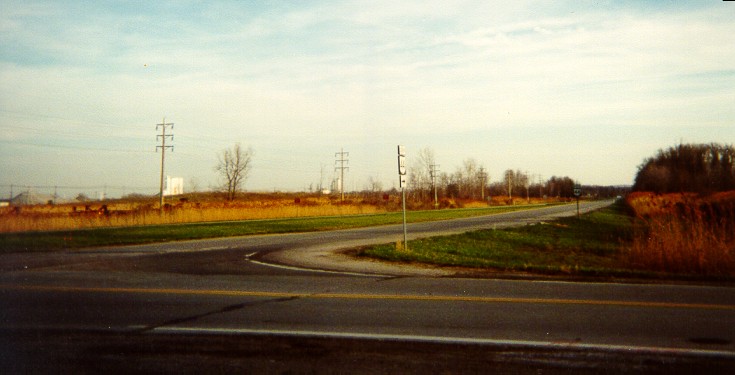 Looking south beyond the beginning/end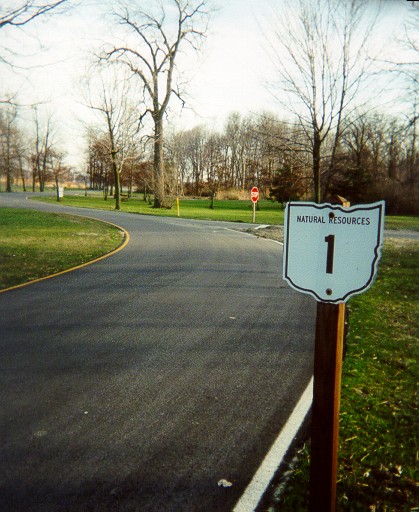 Ohio state parks have these markers to guide their visitors. This marker is in Headlands Beach State Park (in the background is the north end of Ohio 44).
The eastern Ohio 2/44 interchange
This is one of the few "stacked" Semi-Directional "T" interchanges in the U.S. to involve only state routes. Map
Going east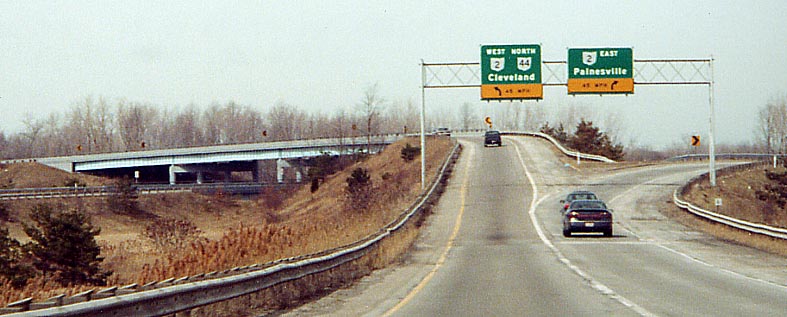 Going north
---
Fairport
Ohio 2/283/535 north of Painesville
Ohio 535, a short, arcing route (see map), has its western end at Ohio 283 immediately north of, but not at, Ohio 2. Ohio 535 is signed east-west, though Ohio 535 Eastbound is actually going northwest at the beginning and vice versa.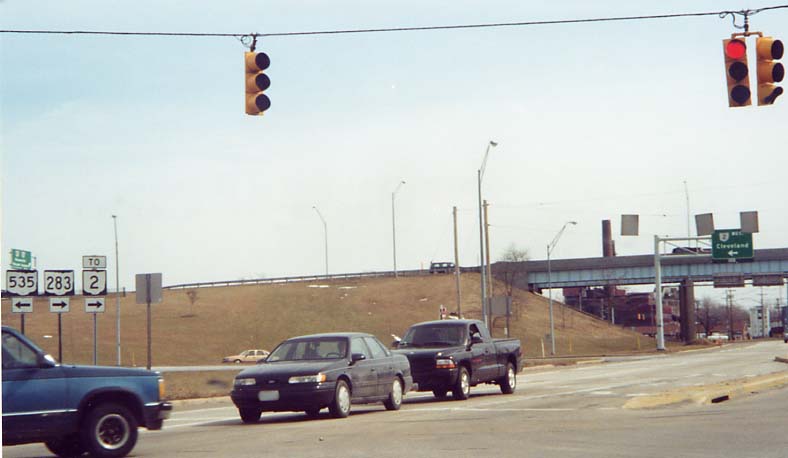 Ohio 283 Eastbound at Ohio 535
Note how close 535 gets to 2 (the [TO][Ohio 2] assembly seems almost unnecessary here).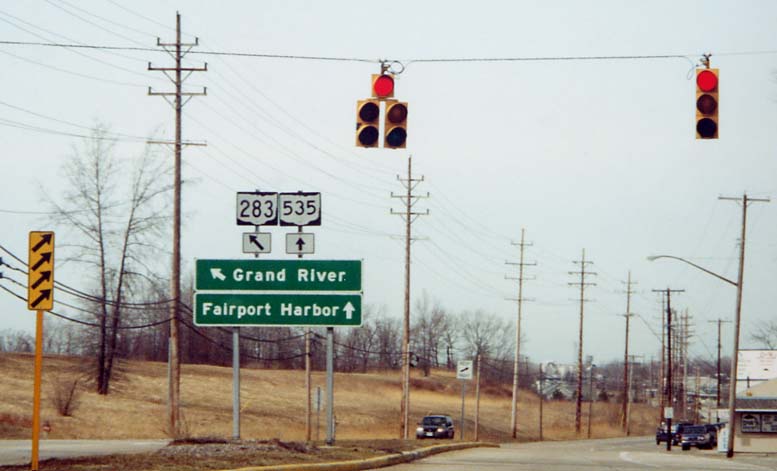 Ohio 283 Westbound at Ohio 535
Note the unusual arrow sign at the left (this might actually be a standard sign in Ohio) and the reflective strip along its post, a practice gaining popularity in the United States.
Ohio 535 western end sign, westbound at Ohio 283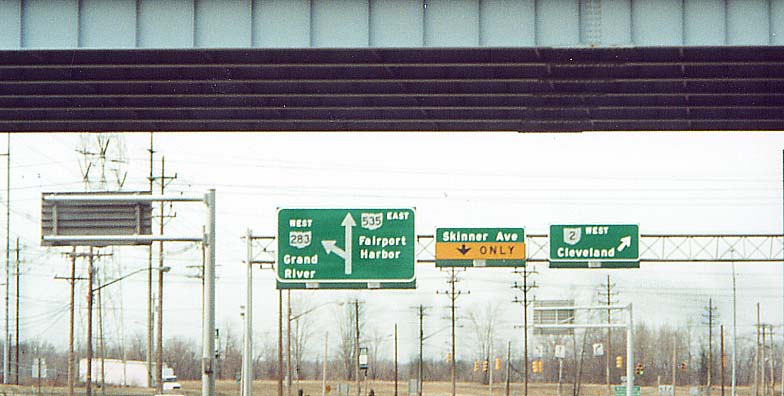 Diagrammatic signs are a rarity in Ohio and when they do show up, it's even more uncommon to find them on surface streets.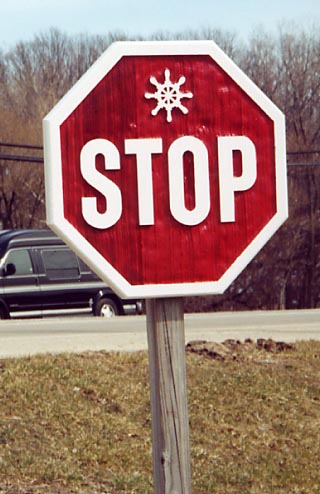 Stop sign with ship wheel. How appropriae for a driveway to a marina.
Along Ohio 535, just north of its western terminus at Ohio 283
---
Page created on January 9, 2003 / Last revised April 23, 2005
Questions and Comments can be directed to Sandor Gulyas or Marc Fannin
Return to The Lake County Photo Flow Chart