Toledo Virtual Tour
---
For news on the I-280 accident 2/16/04 go here or here; for road closure updates go here or here
---
Toledo Suburbs
Toledo Proper
When we passed through this interchange northbound on the trip to Chicagoland, in Sept, 2000, all of the gantry at the split except the left post had been removed for whatever reason (probably knocked down by an overhigh truck), and the crossbar with the signs still intact was lying on the right side of the roadway. Had it been up, it probably would have conveyed what the temporary side markers did not: that US 23 Southbound follows I-75 Northbound to US 20 (the next exit). The sign on the 475/23 ramp is for Ohio 25 (old US 25) to Perrysburg.
The I-75/I-80/90/Ohio Turnpike/Ohio 795 interchange south of Toledo
In the mid-1990's a direct interchange was built between the Turnpike (I-80/90) and I-75; until then, drivers wanting to access one highway from the other needed to follow signs along highways like I-280 and I-475. When the interchange was built, it also included access to Ohio 795. Collector/distributor (C/D) lanes were built along I-75 so that Ohio 795 and Turnpike traffic wouldn't have to interact with I-75 through traffic at the entrances/exits, just each other (aerial photo).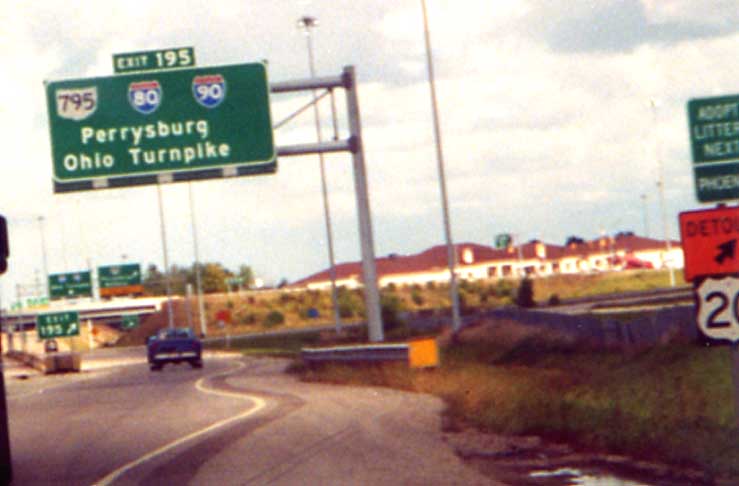 There should be an up-right oblique arrow on the sign (there is space for one, so it probably fell off). Note the standard Adopt-a-Highway sign along the right edge of the picture.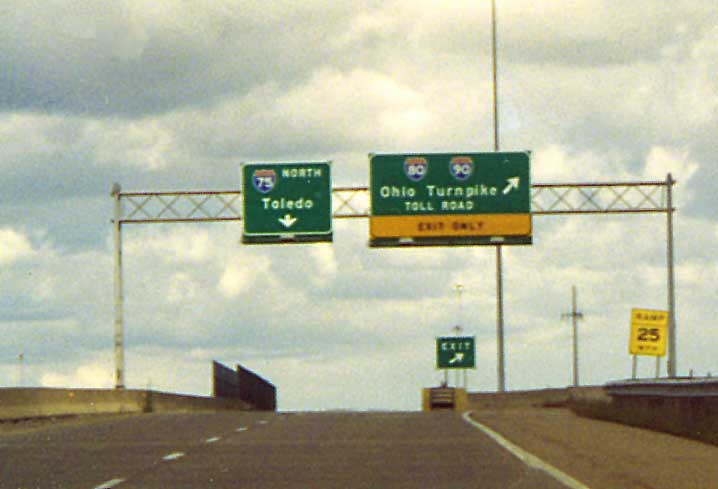 I-75 Northbound mainline is just over the jersey barrier. Note that there are no control cities present on the Turnpike sign (at this point they would be "Chicago" and "Cleveland").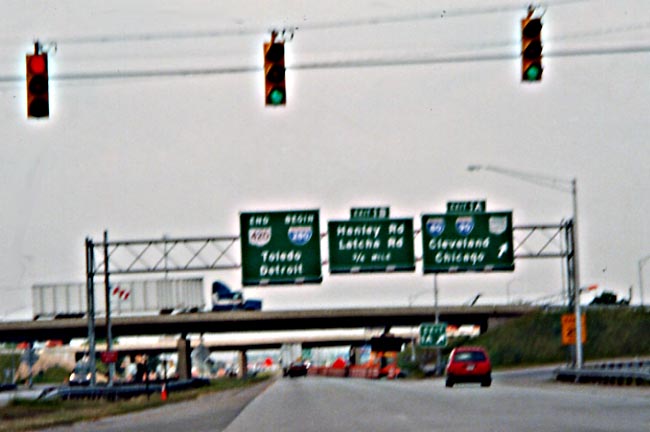 Same road, End one route begin another. Oh 420/I-280 @ Ohio Turnpike.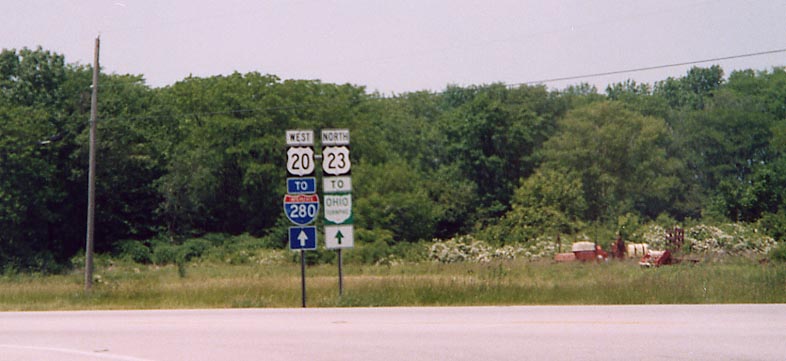 Follow US 20 to get to I-280 and the Ohio Turnpike (if you really care). US 20 @ US 23 between Woodville and Lemoyne
---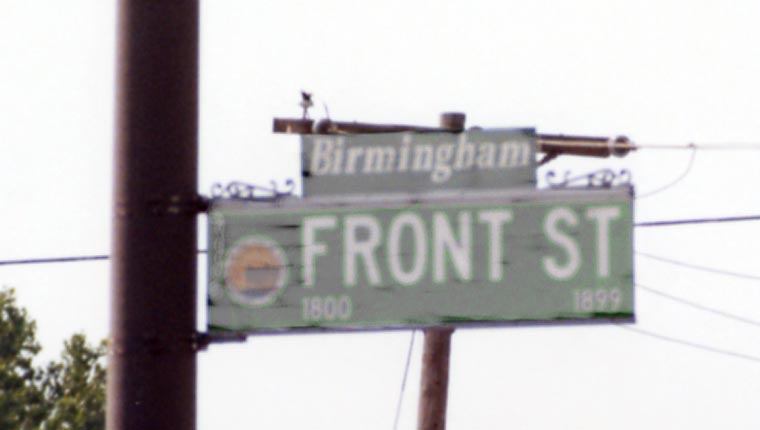 Historic neighborhood added above the street sign. Also, the city shield (of Toledo) is on the leftside of the streetsign.
Front St in front of Tony Packo's near I-280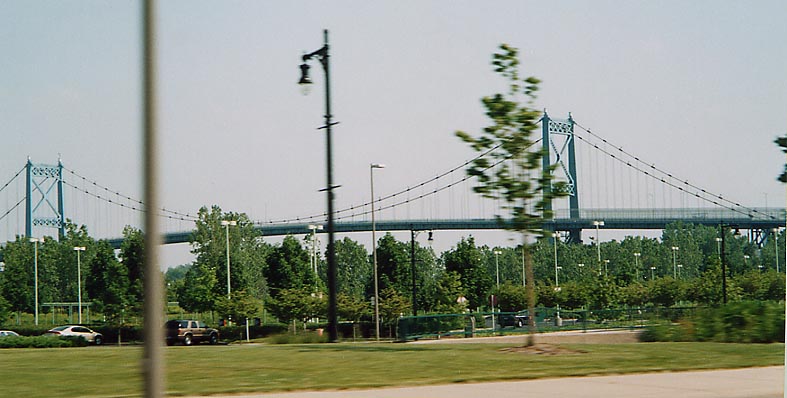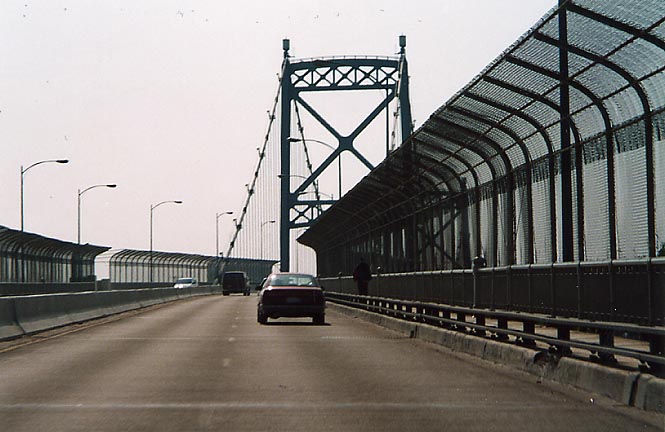 Suspension bridge over the Maumee River for Ohio 2 in Toledo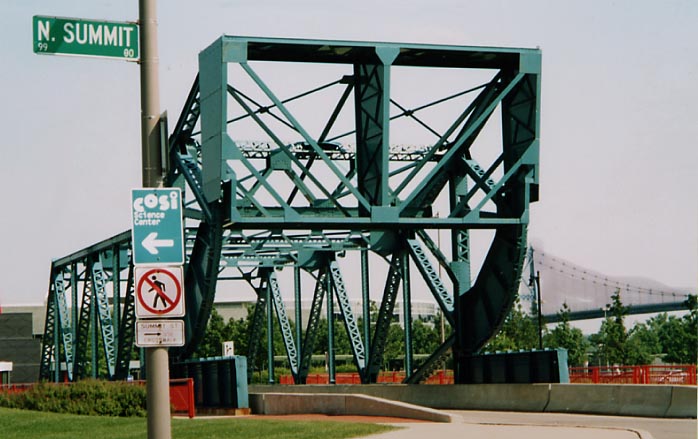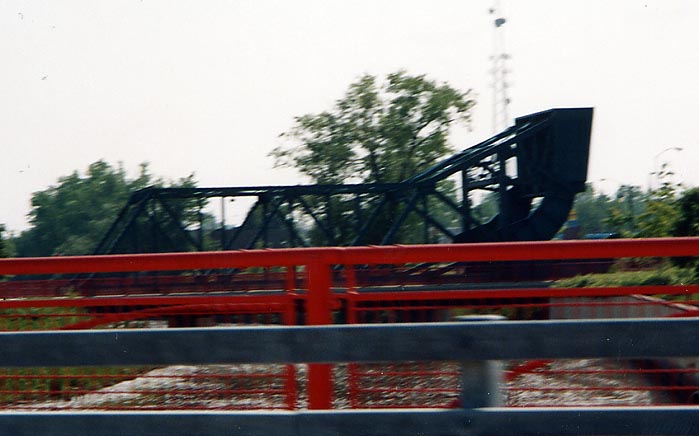 In front of the HQ(?) for Owens Corning is this steel girder bridge with a curved end pointing up. At first glance, it appears that this was part of a Railroad drawbridge that has been refurbished and reused for automobile use.
Anyone with any more information about this bridge, please write.
Greenbelt Parkway
At the June Toledo MTR meet, a group of us went down to the current end of Greenbelt Parkway at I-280. Other than the replacement of the I-280 drawbridge over the Maumee River (near where these photos were taken), this is the only road project going on in Toledo.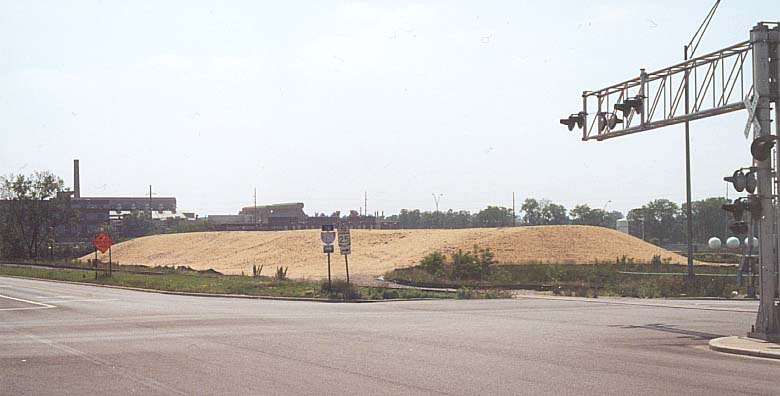 This graded hill is not a pile of grain, but to be used for the new I-280 bridge over the Maumee River.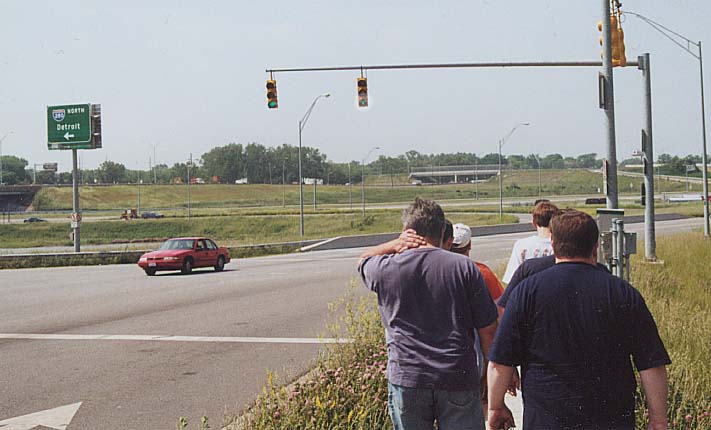 Walking to Greenbelt Parkway. The traffic light on the right, uses an arrow instead of solid green bulb for those going straight.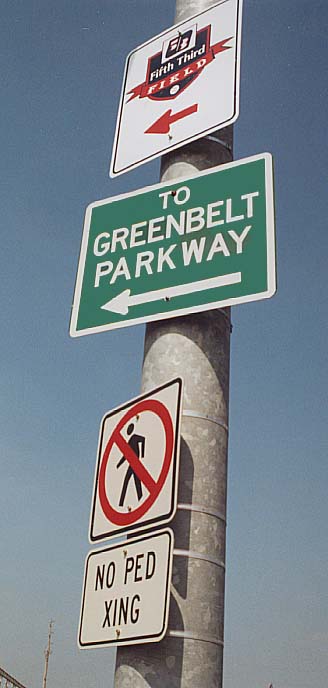 Bunch of signs. The new Toledo Mudhens ballpark gets its own stylistic sign. Greenbelt Pkwy gets a sign (though it doesn't look "technically" correct). Also no pedestrians crossings here, so we all must of been breaking the law. But, as Sean Lyons told us,"Look around, would (should) anyone care?"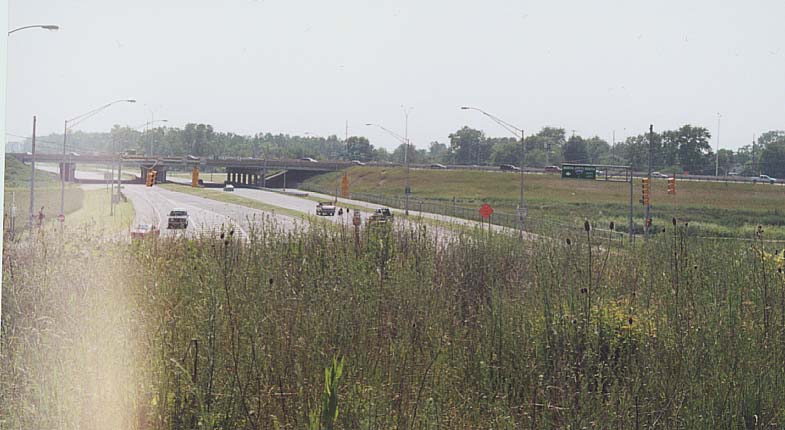 The (current) eastern terminus of Greenbelt Parkway. I'm standing on a bluff that would be used for Greenbelt if it were to get extended.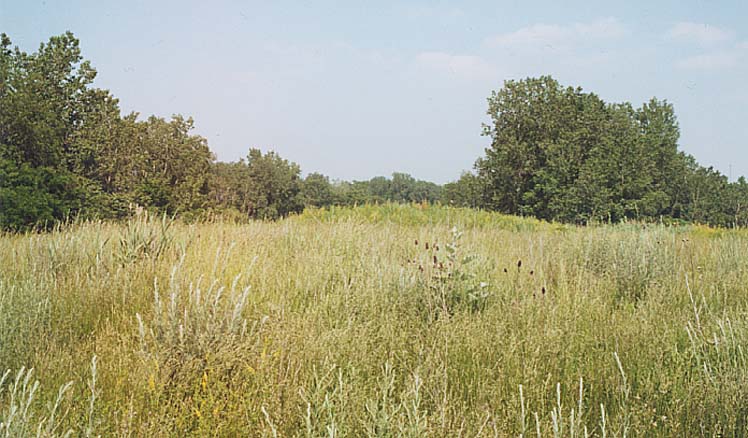 A pairie in Toledo? Actually this field is graded for an eastern continuation for Greenbelt Pkwy, if Toledo were able to fund it.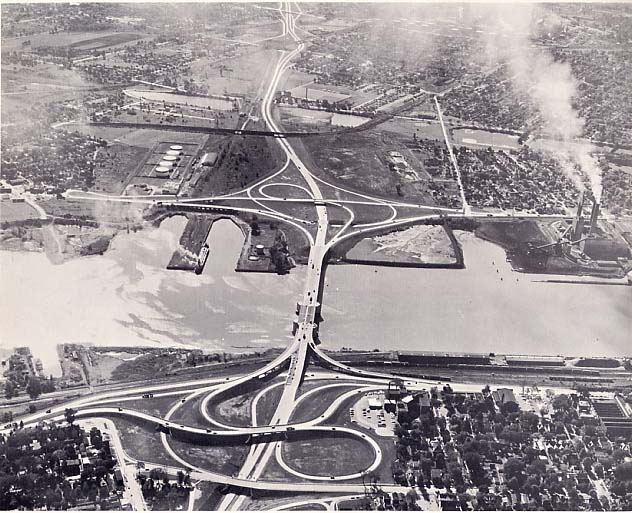 This is one of the few drawbridges on the Interstate system (list of the rest). In this ariel photo, you are looking south. It is planned to be replaced by a fixed bridge eventually (see below).
Photo courtesy Expressways: limited access highways by Howard, Needles, Tammen & Bergendoff; Kansas City [Mo., 1962]; OCLC # 3874654; Call number TE23 .H76 1962 (More info)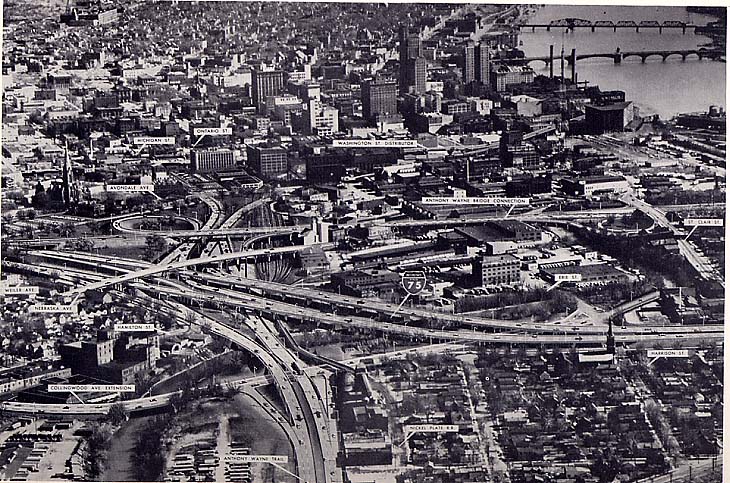 I-75 and other downtown Toledo highways from the air in the early 1960's. This was scanned from Expressways: limited access highways by Howard, Needles, Tammen & Bergendoff; Kansas City [Mo., 1962]; OCLC # 3874654; Call number TE23 .H76 1962 (More info)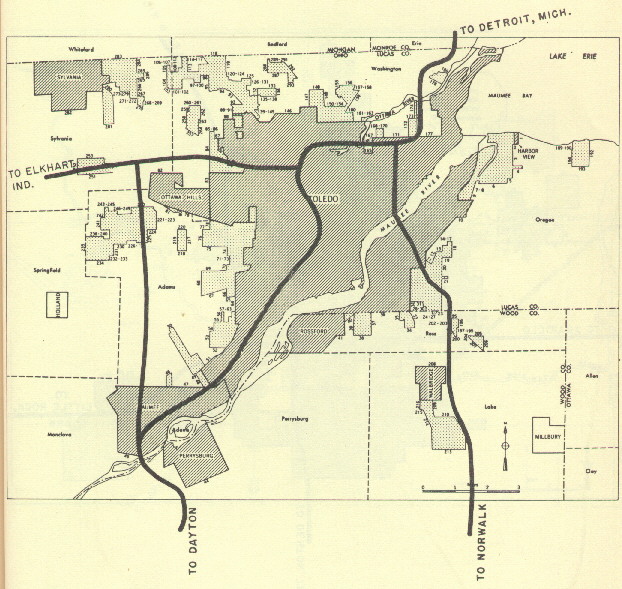 "Yellow Book" map of Toledo. From General location of national system of interstate highways, including all additional routes at urban areas designated in September, 1955 by the United States Bureau of Public Roads, Washington -- U.S. Government Printing Office [1955], OCLC # 4165975, Call number HE355.A3 A47194 1955 ("the Yellow Book") (More info)
For more about the "Yellow Book" of Interstate plans go here

---
Links
Tu-Lu-Wo Roads - By Sean Lyons. Toledo, Lucas, and Wood Counties roads.
Maumee-Perrysburg Bridge - by Gary L. Franks, PE.
A page detailing the history of the various bridges at this crossing, including one to be completed 2003.
Maumee River Crossing - Covering the replacement of the I-280 drawbridge with another bridge.
---
Page created on December 18, 2002/Last revised February 18, 2004
Questions and Comments can be directed to Sandor Gulyas
Return to NW Ohio Regional Page