Indianola
Adopted home to B.B. King
---
I find it fascinating to see this from the (old?) Billups Plantation office/house along the(distant) roadside.
Along US 82 between Leland and Indianola. (Photo taken in October, 2004)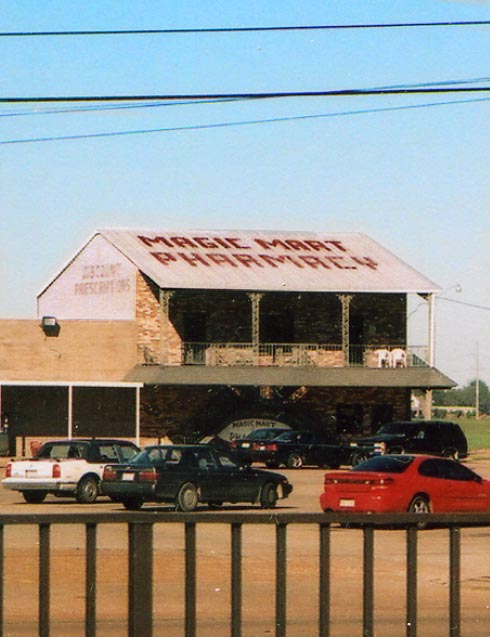 You know you're in the "south" when you get rooftop advertising. Mini mall on US 82 on the eastside of Indianola. (Photo taken in October, 2004)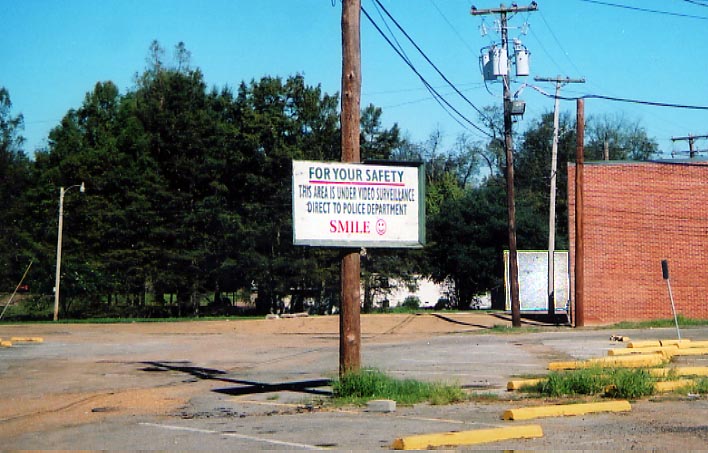 Since when does police video surveillance insure my safety? At least they have a sense of humor; smile....you're on candid camera.
Back parking lot behind Alexander Ave businesses. (Photo taken in October, 2004)
We interrupt the fun and frivolity with a solemn memorial. There once was a school here and was used by civil rights workers in the mid 60s. It was until someone firebombed it. Nothing remains of the building, so this historical placard was placed here so it would not be forgotten.
Along Oak St between Garrard and BB King [I think, email me if I am wrong](Photo taken in October, 2004)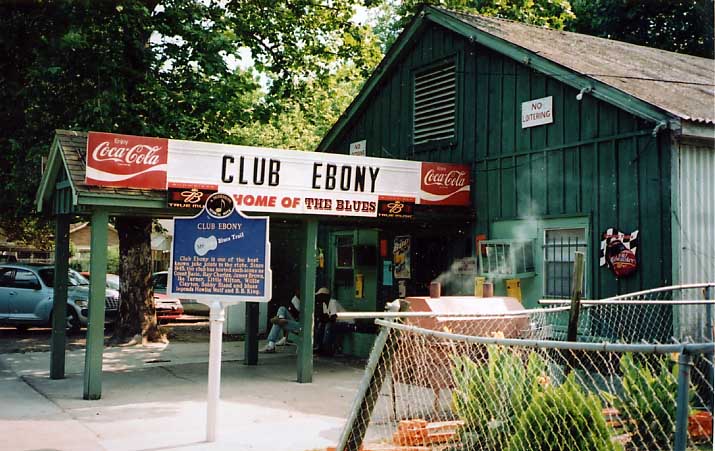 Club Ebony. It's been in business since 1948. It was once owned by a former mother-in-law of B.B. King's. (both facts come from Steve Cheseborough)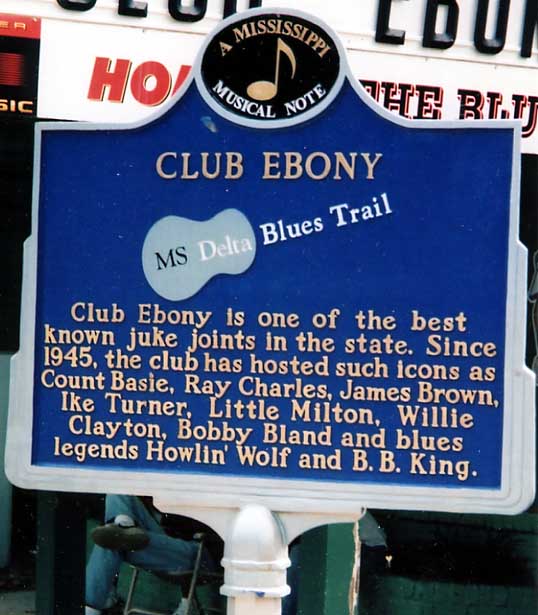 Close up of the Delta Blues Trail monument for Club Ebony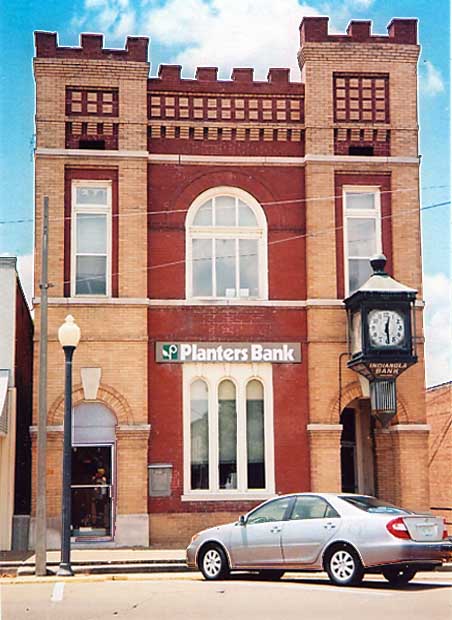 Some Indianola architecture. Note the turrets at the top of the former Indianola bank (turned Planters Bank)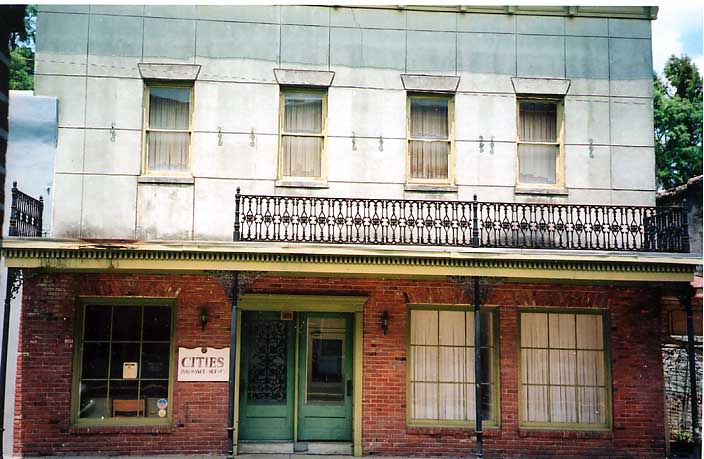 Brick and metal siding. Egads!
I don't know what I find more amusing; the name "Thrash & Trax" or the fluorescent yellow and orange color scheme.
The BB King Collection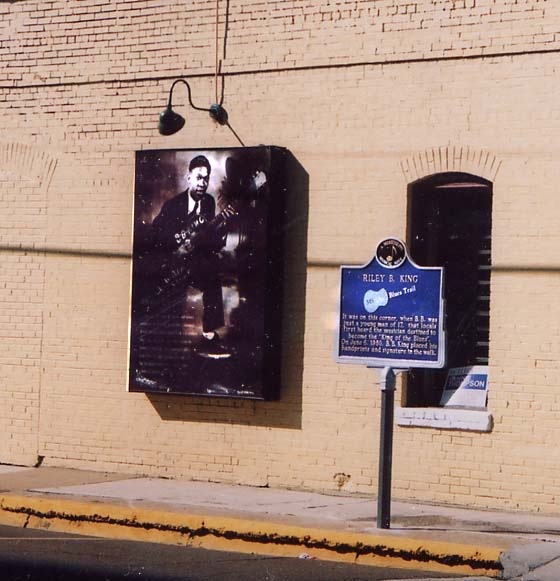 At the intersection of Church and 2nd Sts is this photo and placard concerning BB King.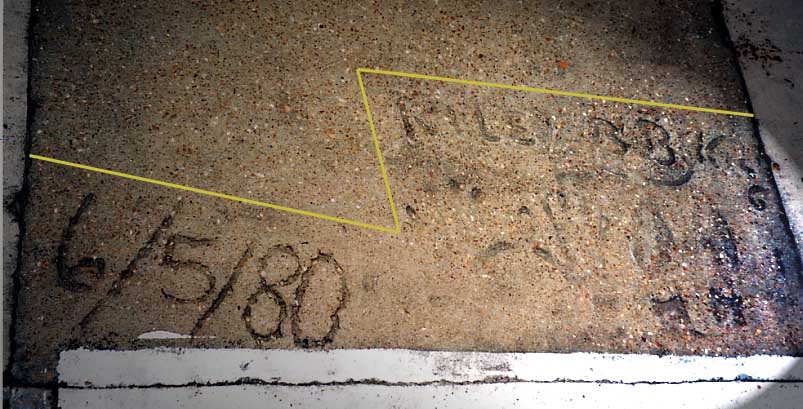 You can barely make out the hand and footprints on the right side of this photo from BB King.
Set in 1986, 20 years of sun, rain, and erosion have almost made those prints disappear (and I'm not entirely sure what the date on the left means)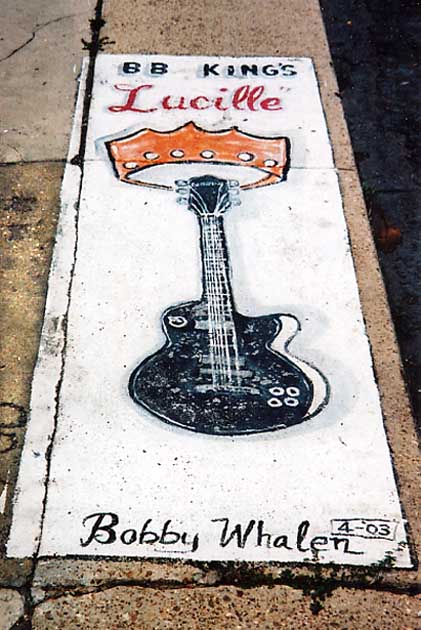 A Bobby Whalen (on his own, or commissioned) went and added this painting (in April of 2003) of BB King's guitar to the corner monument.
The reason why this corner was selected for the BB King tribute? BB King, as a teenager, used to play gospel songs for tips here on the weekends (so says BB). Photos taken in October, 2004.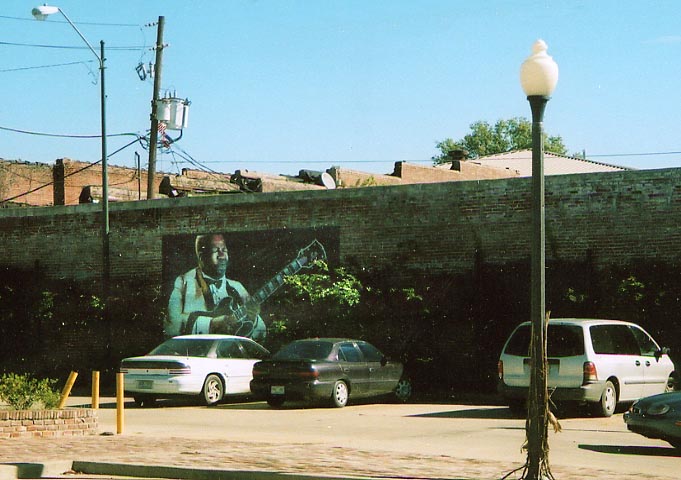 A mural of BB King has been painted on this wall facing the village green (near Percy and Alexander). Photo taken in October, 2005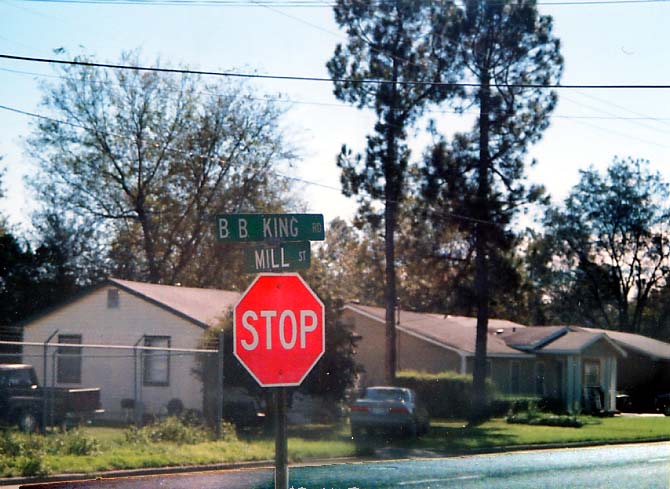 There is even a BB King Rd that goes through the (predomently black) southside of Indianola. (Photo taken in October, 2005)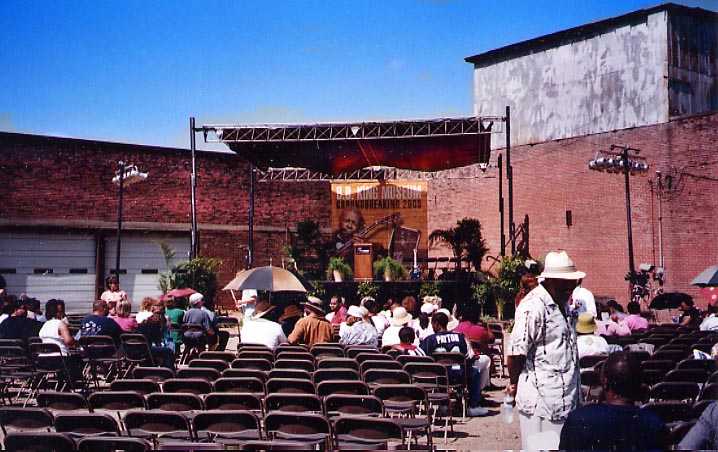 Back in the first weekend in June, 2005, in conjunction with BB King's homecoming concert was the official groundbreaking for the BB King Museum (see link below). According to the plans shown at the Museum website, this building (behind the stage) will be gone for a parking lot.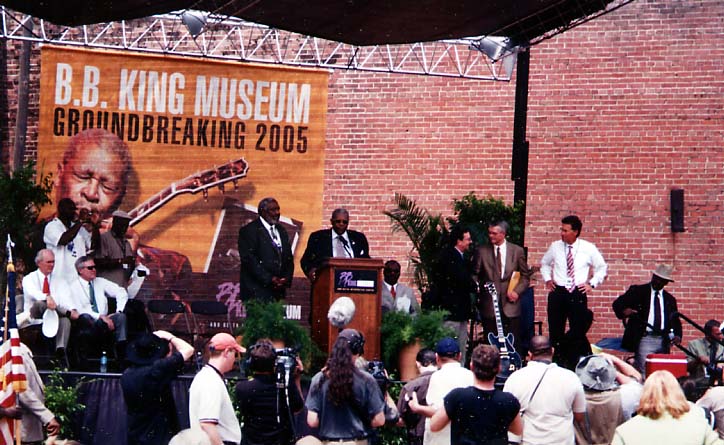 BB King takes an opportunity to speak to the crowd.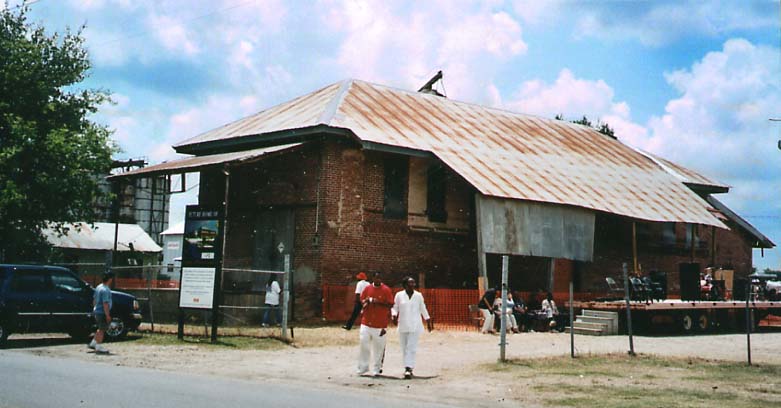 This is the cotton gin that BB King once worked at. This will be rehabed and kept as part of the museum.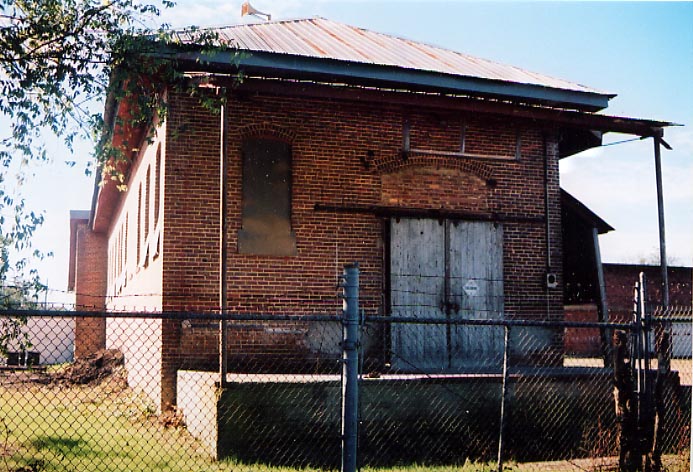 Another view of the cotton gin (this photo taken back October, 2004)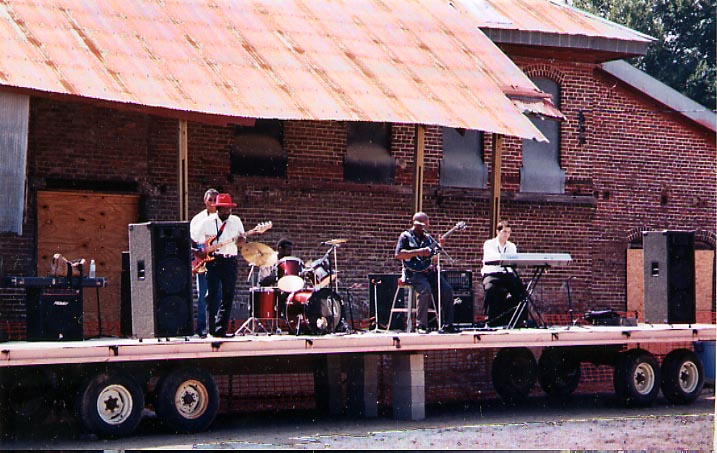 A local blues band was given the opportunity to play before the ceremony. I do not know the name of the band.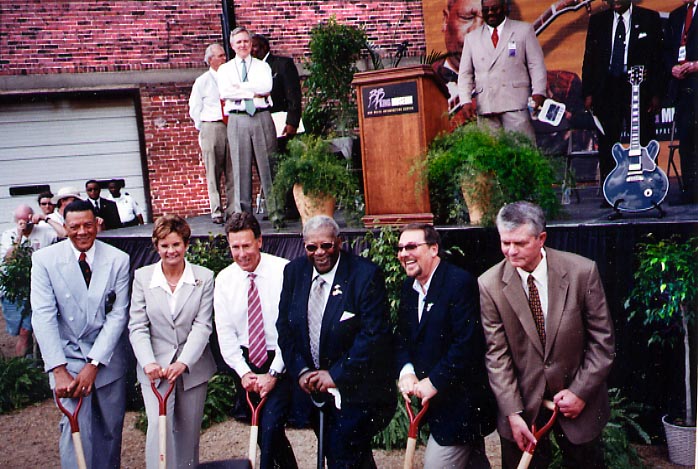 The official groundbreaking for the museum. BB King is in the middle. I have no clue as to the identity of all the others in this photo I took.
Photos on this page were taken either in October, 2004 (and noted) or June, 2005
---
Links
The official BB King website
---
Page created on August 16, 2005/ last updated on February 1, 2006
Questions, comments, and submissions can be sent to Sandor Gulyas
Return to the Key to the Highway Index page