Hope Memorial Bridge
Formerly the Lorain-Carnegie Bridge
---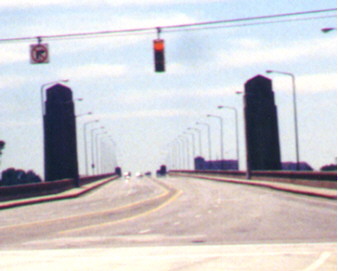 East entrance
This bridge carries Ohio 10 across the river and the Flats (though Ohio 10 signs are absent here) and connects Lorain Avenue to Carnegie Avenue. The statues are featured in the same opening sequence of the Drew Carey Show as the nighttime shot of the Main Avenue Bridge.
A closely cropped close up of one of the Hope Memorial Statues with some street signs along Canal Rd. (Photo taken in June, 2004)

This time you're looking at the Hope Memorial Bridge from Huron Avenue. The overhead sign gantry and nearby semi truck are actually on the more distant Inner Belt Bridge (I-90).
This bridge is featured in this editorial cartoon, as the bridge is named for the father of late entertainer Bob Hope (see various articles in this Plain Dealer special section).
---
Page created on May 16, 2005
Questions and Comments can be sent to Marc Fannin or Sandor Gulyas
Return to the Bridges of Cuyahoga County