Veterans Memorial Bridge
Formerly known as the Detroit-Superior Viaduct
---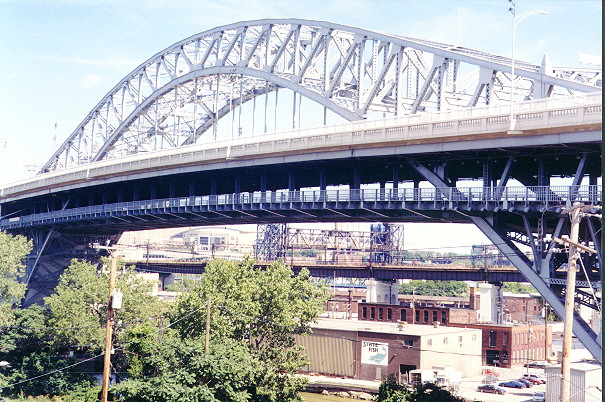 This bridge carries US 6, US 20, and US 42. It is the centerpiece of the downtown bridges. In its early days, it carried automobiles on the top level and streetcars on the lower (see this story for more info). Today the lower level is only used for storage of maintenance equipment. In the mid-1990s this bridge was overhauled, partly in preparation for Cleveland's Bicentennial celebration. As part of the overhaul, the bridge is now bathed in blue light at night. The viaduct for RTA tracks as they approach the station at Tower City may be seen in the background. This was taken facing east from the Superior Viaduct.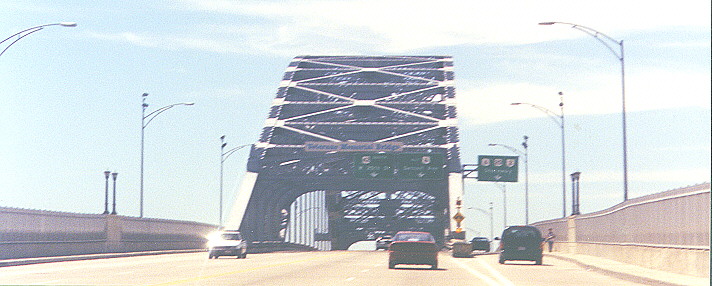 Westbound on the Veterans Memorial Bridge
Here you can see where the outer lane of each direction of the roadway went around the steel superstructure - in 2004 the bridge roadway was rebuilt as a four-lane road with wide bike lanes and other features, so that only the eastbound direction has such a split (see Cleveland Public Arts' "Detroit Superior/Veterans Memorial Promenade Project" page, as well as the Plain Dealer's September 16, 2004 article "Detroit-Superior Bridge to Unveil New Look" (accompanied by the September 29, 2004 article "Proponent of Public Art in Cleveland Steps Down"), April 5, 2004 article "Planners Envision Bridge with View", or The Detroit-Superior Bridge Project focus page for more information. The signage was installed as part of the 1990s overhaul mentioned above. Although the signs implied the destinations may only be reached by being in that particular lane at that point, this was not entirely the case, though those were the ideal lanes in which to have been. Note that US 42 was identified as going "SOUTH" (per U.S. Highway numbering convention, it should be signed as "WEST", though obviously exceptions are granted) - US 42 is still identified by north-south signs elsewhere. Similar signage existed eastbound, although the signs listed popular Cleveland areas of interest as their destinations rather than highway routes and streets.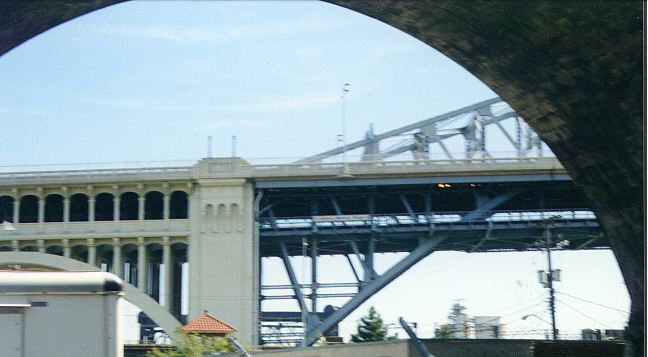 Veterans Memorial Bridge side view
Note the same type of "Veterans Memorial Bridge" sign on the side of the bridge (center of picture) that is on the superstructure of the bridge above the green guide signs.
The last picture above was taken looking southeast from the parking lot of the Nautica Entertainment Complex located on the West Bank of the Flats; photo taken through one of the openings along the old Superior Viaduct
---
Page created on May 16, 2005
Questions and Comments can be sent to Marc Fannin or Sandor Gulyas
Return to the Bridges of Cuyahoga County